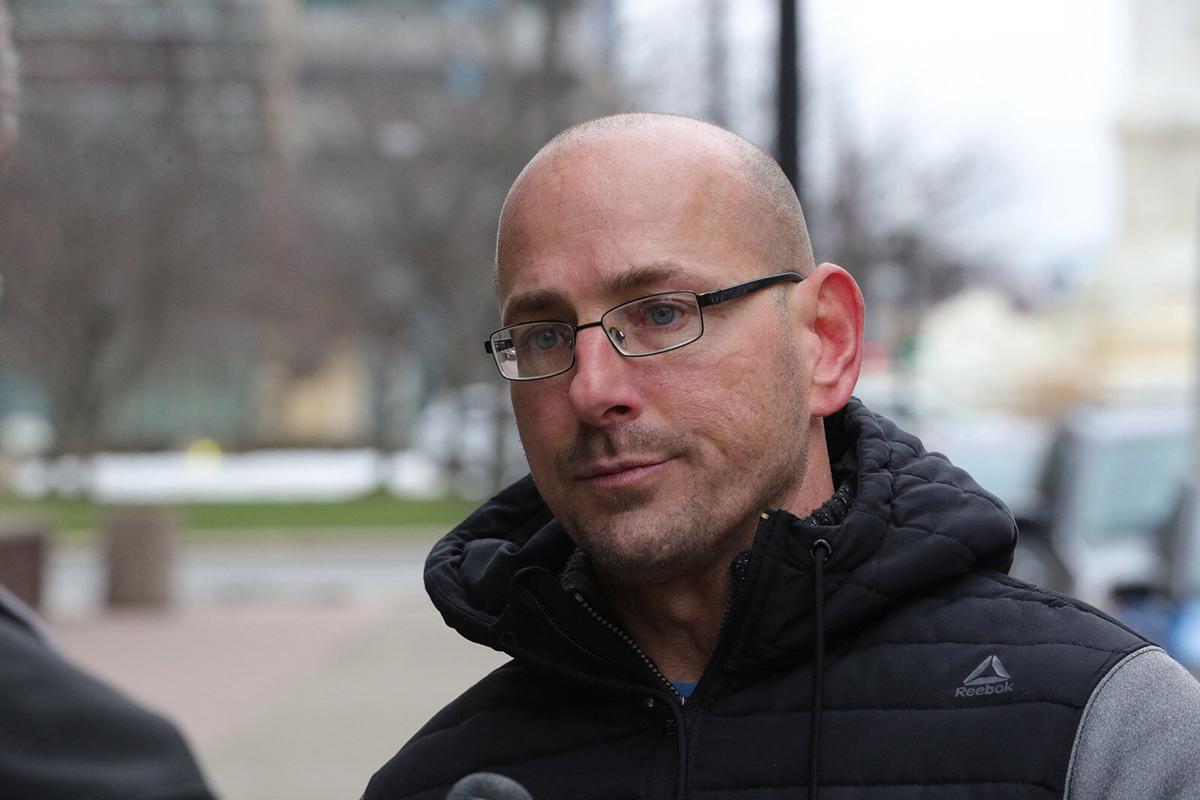 Peter J. Harding, the Cheektowaga man charged Thursday for his role in the Jan. 6 riot at the U.S. Capitol, thinks he and others "inspired billions," judging by his Facebook posts.
That thinking is what makes him dangerous, a federal prosecutor said.
"The defendant knowingly took part in a group or was a member of a group that entered the Capitol building on Jan. 6 with the intent of disrupting the constitutional process of certifying the Electoral College vote," said Assistant U.S. Attorney Charles Kruly. "There is a particularly acute risk of similar conduct in the coming days."
After the Jan. 6 riot, Harding posted messages on Facebook that expressed his desire to engage in similar conduct in the future, the prosecutor said.
During Harding's initial court appearance Thursday, Kruly read one of Harding's Facebook posts aloud: "We learned how strong we are. We learned how strong our voices are. We learned how strong our numbers are. If we can take the Capitol building, there is nothing we can't accomplish. County government, city government, town government, state government."
"The defendant also expressed the belief that – quote – 'What we did yesterday inspired billions,' " Kruly said.
Harding faces two misdemeanor charges: knowingly entering and remaining in a restricted building without lawful authority and also violent entry and disorderly conduct on the Capitol grounds.
U.S. Magistrate Judge Jeremiah J. McCarthy ordered him released with an electronic monitoring device. Kruly said that under federal law, the charges Harding faces did not allow the government to detain him.
The maximum penalty for the first charge is a year in prison, a year of supervised release and a $100,000 fine; the maximum penalty for the second charge is six months in prison and a $10,000 fine.
Harding was not specifically asked to enter a plea, but co-defense counsel Jeremy Schwartz told McCarthy that Harding would not plead guilty or no contest during Thursday's initial appearance.
Schwartz's defense colleague, attorney Jason DiPasquale, said Harding did not take part in any violence at the Capitol.
"Mr. Harding has no prior history of engaging in the alleged riots or acts that he's charged with," DiPasquale said. "In fact, he's organized and participated in numerous peaceful civil demonstrations in the Western New York area."
"Although it's alleged he was at the Capitol building ... there's no allegation that while in there, he was one of the individuals that engaged in any violent behavior in the Capitol building, as some members did," the defense attorney continued, noting the the government charged others with felonies, but not Harding.
"Mr. Harding believes that the evidence, as the case goes on, will bear out that his intention in being there was to protest peacefully and that his actions were peaceful in nature and not violent while in there," DiPasquale said.
He said Harding was not "some type of mastermind to encourage those engaged in rioting or violent behavior in the commission of the alleged offenses."
Harding left his Cheektowaga home Tuesday, after the FBI publicly disclosed its agents were looking for him, and he was apprehended late Wednesday at a friend's home in Buffalo, Kruly said.
Harding's decision to "make himself unavailable" justified the requirement of a monitoring device, he said.
Schwartz disagreed: "There's obviously nothing illegal about him being at a friend's house, and he did contact the FBI, so the claim that he was somehow avoiding them is disingenuous."
"Even when he knew charges were likely imminent, he did not flee to another state or another jurisdiction," DiPasquale said. "He went peacefully with the FBI. He was fully cooperative in the process with the FBI and did not resist in any manner."
After his arrest, Harding was held overnight in the Niagara County Jail, which has a contract to hold federal prisoners.
Thursday, Harding appeared virtually from the Lockport jail wearing a white face mask and a blue jail jumpsuit. Other than answering a couple of yes or no questions, he made no statement during the court session.
At one point he attempted to interject a comment, but Schwartz, who was appearing from the federal courthouse in Buffalo, stopped him from speaking.