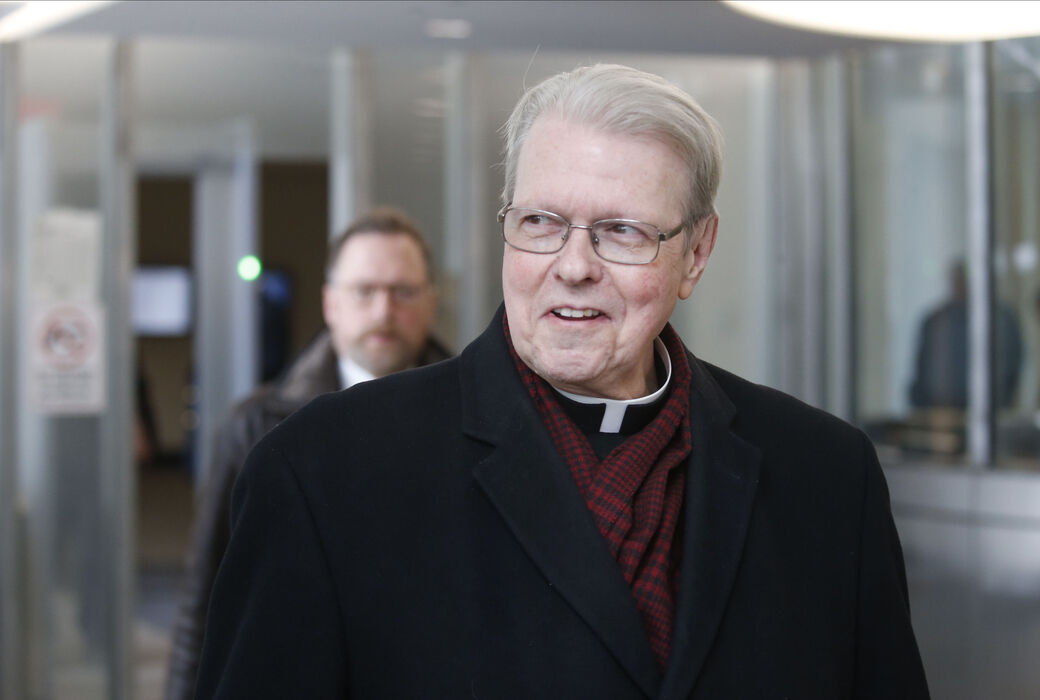 Buffalo Diocese officials, citing a sharp decline in donations and an estimated $4 million per year in bankruptcy costs, are pleading with a federal judge to speed up its reorganization by reducing the time childhood sex abuse victims can file claims and appointing a mediator to negotiate a settlement.
Diocese officials told Chief Judge Carl L. Bucki that the diocese is strapped for cash and no longer provides financial support for 19 programs and ministries, including outreach to youth and migrants, lifelong faith formation, evangelization efforts and aid to Catholic elementary schools.
The diocese discontinued tuition subsidies for 34 Catholic schools, which in the past have received as much as $4 million from the diocese, Sister Mary McCarrick, diocese chief operating officer, wrote in a letter to Bucki.
The diocese also has reduced spending for campus ministry, its outreach to deaf people, its Office of Worship and support for priest retirement homes, among other programs, according to court papers.
The diocese, trying to balance its budget, will spend $9.5 million on operations this fiscal year, which is less than half of what it spent just three years ago, Charles Mendolera, executive director of financial administration, said in court papers.
But Mendolera said the costs of the bankruptcy, including lawyers and other professional fees, will outpace any of the savings from the cost-cutting moves, especially if the diocese must litigate cases instead of trying to resolve them through mediation.
He urged Bucki to reconsider a Sept. 11 order that rejected requests for a mediated settlement process and set Aug. 14, 2021, as the deadline for abuse claims to be filed against the diocese. That's the same date the extended Child Victims Act window closes in state courts.
The diocese wants a deadline of March 15, 2021. Its lawyers argued that waiting until August could delay "meaningful negotiations" regarding a Chapter 11 plan until 2022.
The diocese also is seeking a mediated settlement process, which largely would spare the diocese and 161 parishes from having to defend themselves in individual child sex abuse lawsuits. More than 400 plaintiffs since 2019 have sued the diocese and other area Catholic entities, including parishes and schools, over alleged abuse, mostly dating back decades ago.
The Rochester Diocese, which has been in Chapter 11 proceedings since September 2019, received more than 500 claims before an August deadline.
The Buffalo Diocese filed for Chapter 11 bankruptcy protection on Feb. 28, with officials saying it was necessary to keep the diocese intact while also addressing the sex abuse cases equitably.
If cases go to trial, the diocese could face even more legal fees than the $4 million per year it anticipates paying in bankruptcy.
"It is my strong belief that the Diocese has exhausted its ability to cut administrative costs any further," Mendolera said.
To fund operations going forward, the diocese must further scale back support of ministries "at the expense of the faithful and of poor and underserved communities in Western New York" or spend down unrestricted assets that "might otherwise be available to a victim fund as part of a Chapter 11 plan," he said.
"To preserve its ability to carry out its mission, and to preserve as many assets as possible for the benefit of abuse victims, it is imperative that the diocese avoid unnecessary litigation expenses and emerge from Chapter 11 as expeditiously as possible," said Mendolera.
A lawyer for the committee of unsecured creditors, which consists of childhood sex abuse victims, said in an interview that he was still assessing the diocese's claims but doesn't believe the diocese is running out of money.
"There hasn't been a single diocese in this country that has had to shut down because of a Chapter 11 case, and that's regardless of the length of the case, the contentiousness of the case and the cost of the case," said attorney Ilan D. Scharf.
Scharf said the committee agrees with the judge's decision to set Aug. 14 as the deadline for filing claims against the diocese. Having it on the same date as the Child Victims Act lawsuit filing deadline will help "avoid any confusion about when there's a deadline and any potential prejudice to survivors by that confusion of differences between deadlines," said Scharf.
Diocese officials revealed in court papers that the diocesan workforce has been reduced from 283 employees to 160 employees.
Among the staff eliminated were the department of youth and young adult ministries, with a budget of $326,000, and the Office of Lifelong Faith Formation, with a budget of $310,000.
McCarrick also said in her letter that diocese officials had anticipated emerging from Chapter 11 within 18 to 24 months.
If the reorganization goes much beyond that time frame, she added, it could "diminish the recovery for abuse survivors and jeopardize the diocese's ability to successfully reorganize to perpetuate its mission and ministries."