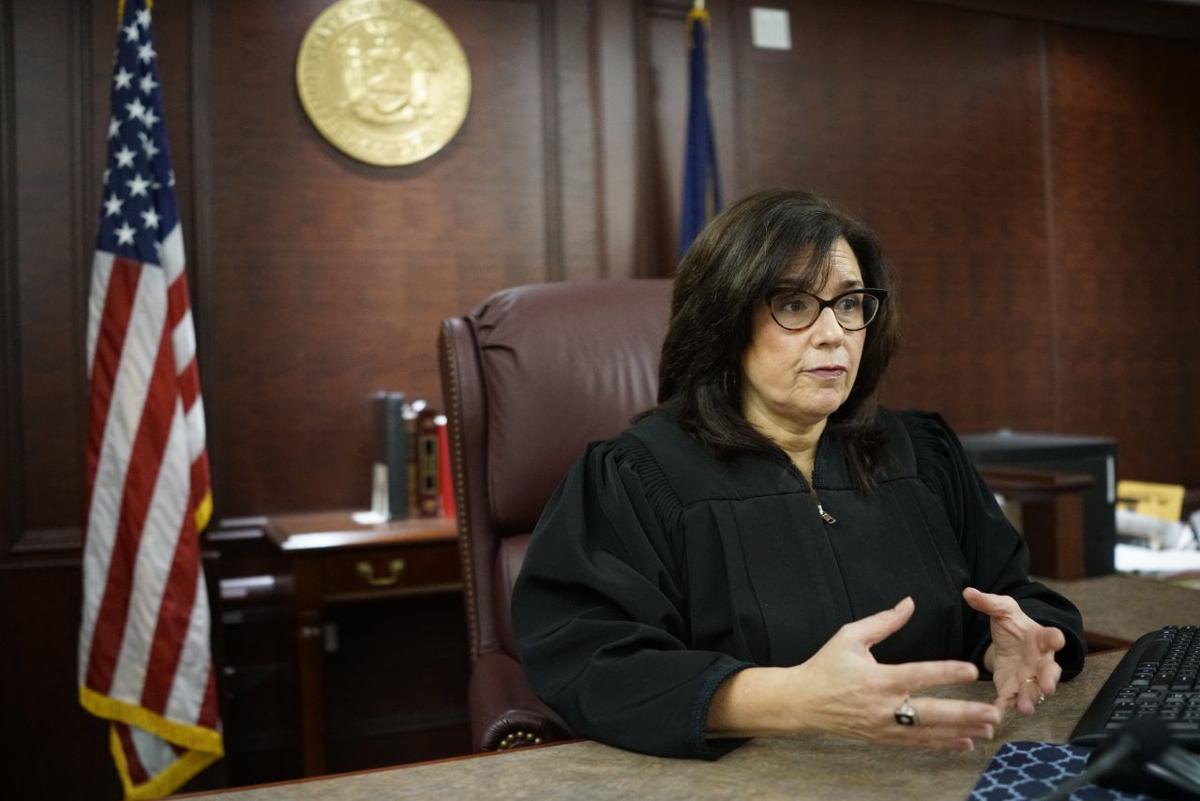 It's not every day the public gets a peek inside the courtroom of Erie County Family Court Judge Brenda M. Freedman.
Freedman handles a variety of cases involving juveniles, so there's limited access to the courtroom, to protect their privacy.
But what you might notice, like Freedman did, is that far too many cases coming before the bench have a recurring, underlying theme: bullying.
While it has long been an issue for the schools, and often left for them to handle, the bullying spilling over into the juvenile justice system is a reminder of the wider problem.
And it's what led Freedman to spearhead an anti-bullying task force.
"From the court's perspective, there are a high number of cases where youth are being hurt, because they're victims of something that started with bullying, or where the youth are becoming perpetrators because they were victims of bullying." Freedman said.
"The problem is it leads to actual physical crimes," Freedman said. "Actual physical assaults. Actual physical carrying of weapons. And because it leads to that, the judicial system is now involved. We need to try to stem this tide."
The task force is still in its infancy, but includes representatives from as many as two dozen local partners – parent groups, law enforcement, child protective services, anti-violence organizations, Buffalo Public Schools – all trying to figure out how best to address the bullying.
In fact, prevention is trending toward such community-wide efforts, said Jamie Ostrov, a professor in the Department of Psychology at the University at Buffalo.
"It's a huge discussion," said Ostrov, whose expertise is the field of bullying and aggressive behavior in children, "but to keep it simple, it really does require an all-hands-on-deck approach."
Bullying on the rise
Freedman, an attorney and former teacher, was elected as a Family Court judge in 2015.  Of the seven Family Court judges in Erie County, Freedman handles virtually all of the juvenile delinquency cases and those dealing with persons in need of supervision.
She has been working with Buffalo schools on problems affecting both the city school district and the juvenile justice system. Truancy was one, as were issues with the public transit system.
"We gave it a lot of thought, about where our next project should be, where the overlap is between our justice system and the school district, and we independently agreed that bullying would be the hot key topic for us," Freedman said.
In the schools, a biennial survey of Buffalo students taken in 2017 showed bullying was on the rise, both in high school and middle school, where 38 percent of those who responded reported being bullied on school property in the past year.
"We both talked about many efforts happening across Buffalo Public Schools to address bullying in our schools," said Eric Rosser, associate superintendent for student support services, "but we had never taken the approach to pull together a variety of stakeholders to address the issue holistically."
In Family Court, Freedman is concerned, in particular, with the more violent incidents, where that intersection between bullying and the justice system lies.
"There's so much more going on online, out of the sight of anybody else, whether it's texting or some kind of social media," Freedman said. "By the time we see it, it's very late in the game so maybe one of our conversations can be, 'Could we figure out a way to intervene earlier to have a better understanding of what's going on?' I don't know. That's one of the things we'll have to look at."
Research on bullying has been going on for years, said Ostrov, the UB professor, but it's only been the past decade or so where there's more public attention being paid to the physical and emotional harm it causes.
That spotlight is partly because bullying was a factor in some of the high-profile national tragedies, including incidents of suicide and school shootings, said Ostrov, a faculty affiliate at UB's Alberti Center for Bullying Abuse Prevention.
Beyond school walls
Ostrov said national statistics estimate that about 1 in 5 students in elementary through high school are bullied by their peers.
"Fundamentally, being engaged and having appropriate communication within the school is important for parents," Ostrov said. "Schools may not know what's happening, if it is more covert in nature or if it's an electronic form of bullying, so parents need to know what bullying is and how it can manifest, and they need to take some steps so they're on the lookout for potential problems."
"Step two," Ostrov said, "is really being an advocate for your child, particularly if they are the victim. Follow up with administrators and make sure the schools are following procedures they have in place."
While there probably are school intervention programs that are effective at reducing bullying, scholars for several years have called for reaching out beyond school walls, Ostrov said.
They argue that various social factors – like family, neighborhood, culture – all contribute to the issue of bullying and that a more systemic approach is needed to make a lasting impact.
"My view is the more stakeholders, the more members of the community who are educated on what bullying is, the greater likelihood we can effect change," Ostrov said. "Awareness is one of the core features of prevention and not just for students, but anyone coming into contact with this, and that has to be part of the solution."
Ostrov sits on the task force, as does Hope Jay, a Buffalo School Board member who appears frequently in Family Court in her job as an attorney representing kids.
She has seen her young clients deal with being bullied by their peers and hopes this task force can help keep other kids out of the criminal justice system.
"It appears that bullying, both online and on school grounds is a very common catalyst for when juveniles behave in physically violent ways for which a consequence is police involvement," Jay said.
The partnership with the city schools doesn't mean bullying is absent from the other districts around Erie County, Freedman said. But the focus will be on Buffalo, at least for now, until the task force knows how it wants to proceed, she said.
"My guess is it will involve an educational piece, because I believe that parents need to be more astutely aware of what they're children are doing online or receiving on line," Freedman said.
"My guess is that it will also involve education in the schools – listening and observing for some specific things – and generally in our communities to educate people about what's going on so that we can all be the eyes and ears for our youth," she said.
Beyond education, the judge hopes there might be more formal steps that can be taken by either the school district or the court system to better handle both the bullies and those being bullied.