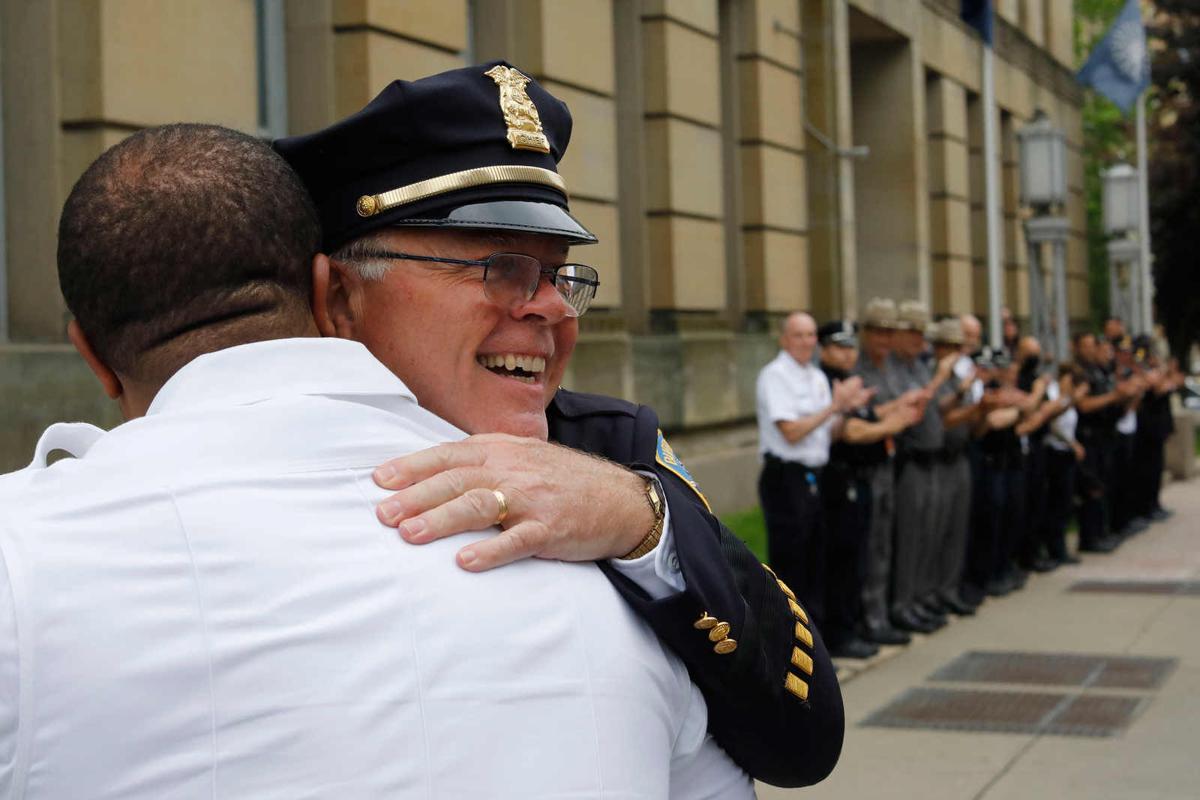 Forty-three and a half years after he started at the Buffalo Police Department as a report technician, Dennis J. Richards, the chief of detectives of the Buffalo Police Department, walked out of police headquarters Wednesday afternoon to an honor guard of police brass and plainclothes detectives on the sidewalk along Court Street. 
"Now exiting – Chief Dennis J. Richards. Present. Arms," the honor guard captain bellowed as two lines of fellow officers saluted and Richards and his family walked through them, capping Richards' last day with the department.
As of Wednesday, he was the most senior member of the 150-year-old agency, having served under four mayors and 10 police commissioners. He watched the department evolve from the days of typing reports on typewriters to an era when crimes are solved by DNA matches and surveillance videos.
While he won't be with the department any longer, Richards will still be in law enforcement. He's the new director of the Erie Crime Analysis Center, through the state Division of Criminal Justice Services. Richards had mulled running for Erie County sheriff this year, but changed his mind when the crime analysis center job opened up, he said.
Honor guard for Dennis J. Richards, chief of detectives of the Buffalo Police Department who retired today after 43.5 years with the BPD. pic.twitter.com/00E6StaeiW

— Maki Becker (@makibecker) May 26, 2021
The mass shooting at the now-closed City Grill restaurant in downtown Buffalo was by far the worst carnage Richards said he ever saw.  
"It was the single most horrific incident in the city's history with four, ultimately five people murdered by Riccardo McCray," Richards recounted.
Eight people in all were shot. Four died right away and a fifth man, who was left severely injured, died seven years later. McCray was found guilty of four counts of murder and sentenced to life in prison. He was also involved in the multiagency investigation that led to the capture of Altemio Sanchez, a serial rapist and killer who sexually assaulted 16 girls and women and killed three women and eluded the authorities for decades.
Richards' most recent boss, Commissioner Byron W. Lockwood, said Richards was a professional but also known for his kindness toward families who had lost loved ones.
"He made sure his detectives were thorough in their investigations. Dennis spent a lot of time speaking with the families of homicide victims," Lockwood said.
He also noted that Richards was well known for never having taken a sick day since being sworn in.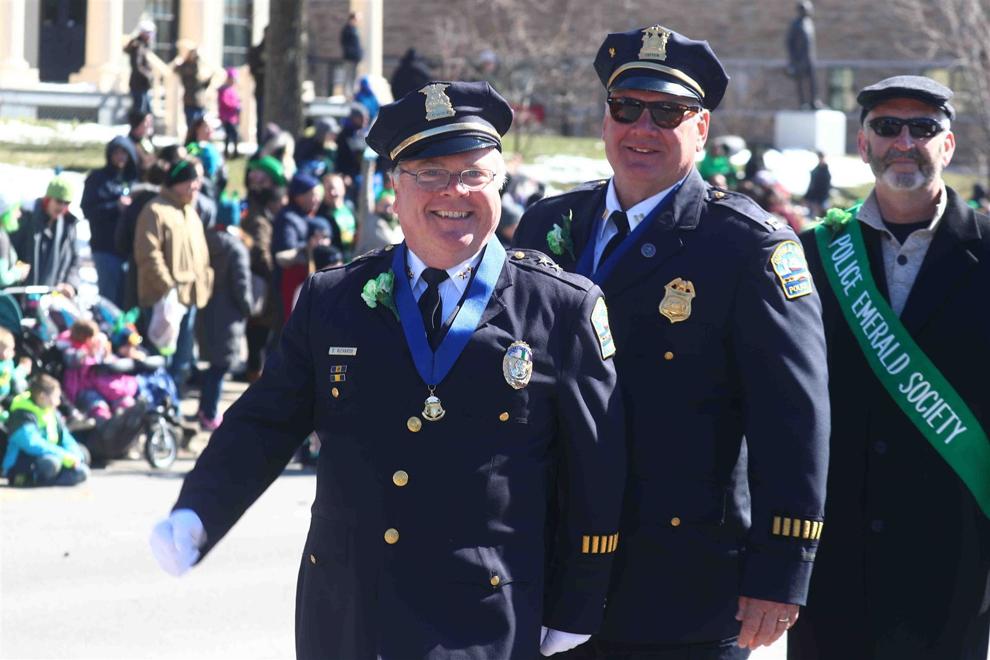 Deputy Police Commissioner Joseph Gramaglia said Richards was a true "mentor" to him and many other law officers.
"You cannot meet a more consummate law enforcement professional who is well respected among local, state and federal colleagues," said retired State Police Capt. Michael Nigrelli. "I've worked with Dennis on cases and known him since childhood. He treated his profession like a vocation."
Richards, like many other Buffalo cops, grew up in South Buffalo and dreamed of becoming a police officer one day, like his big brother, Danny.
"It's in the blood. It's one of those things. He was my hero and role model," Richards said. His brother died of leukemia at 28 and would continue to inspire Richards throughout his career.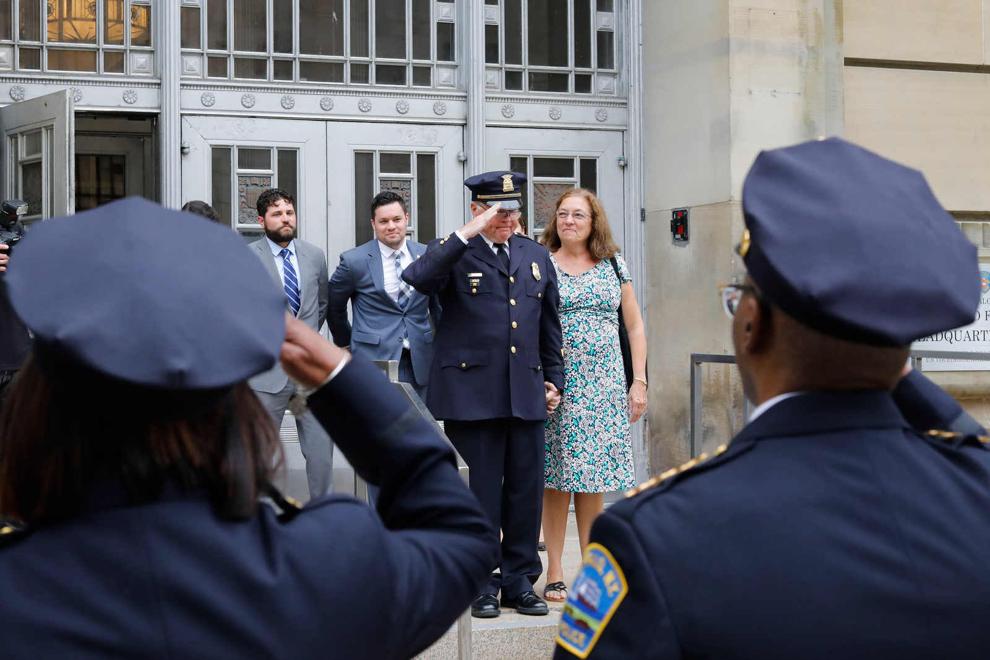 Richards graduated from Canisius High School and was going to Canisius College when he took the civil service exam and, in November 1977, got the job as a report technician, known as an RT. He became a police officer in 1982.
He made detective in 1992 and became a lieutenant in 1996, then captain in 2004 in the Northeast District, also known as D District.
During Richards' tenure as chief of detectives, the department added a cold case squad as well as a confidential tip call line.
He also went back to college and also earned his master's degree in social policy at SUNY Empire State College. "I always loved learning," he said.
He wore other hats as well. Richards was in charge of protocol for the department, and had the solemn task of coordinating funerals for officers, including those who died in the line of duty. That included Craig Lehner, the underwater recovery team diver who drowned in the Niagara River during a training exercise in 2017. His service at KeyBank Center drew thousands of mourners from around the region and was one of the largest funerals ever in Western New York.
He has been a major supporter of the Buffalo Police Athletic League, most recently serving as its president.
He's also often the one called on to act as master of ceremonies for police events, from swearing in rookies to promotion ceremonies and awards presentations, including the one held Wednesday afternoon at the end of his day.
Following that event, Lockwood read from a proclamation from the mayor, who couldn't make the event because he's in isolation due to a possible exposure to Covid-19.
Brown said he has had his first Covid-19 shot and is scheduled to get his second dose sometime next week.
The mayor declared May 26, 2021, Chief Dennis J. Richards Day.
And Richards was presented with a surprise award for his distinguished service.
Richards spoke, sometimes growing emotional as he reflected in his career and current attitudes about law enforcement.
He spoke of Sir Robert Peel, who established the London Metropolitan Police and is considered the father of modern policing.
"The police are the public and the public are the police," Peel was known to say.
"And he was so right," Richards said. "We are a reflection of the very public that we serve, and we get our marching orders from them. That's why police reform is an oxymoron to me. We are by our very nature reformers. We are the seekers of social justice for all, in spite of the most recent national narrative, which makes cops out to be cold blooded serial killers. I don't know a person who joined the police department, who did not want to help people, and to make a difference in the world. Keep believing in those lofty goals. You can change the world."
News Staff Reporter Lou Michel contributed to this article.