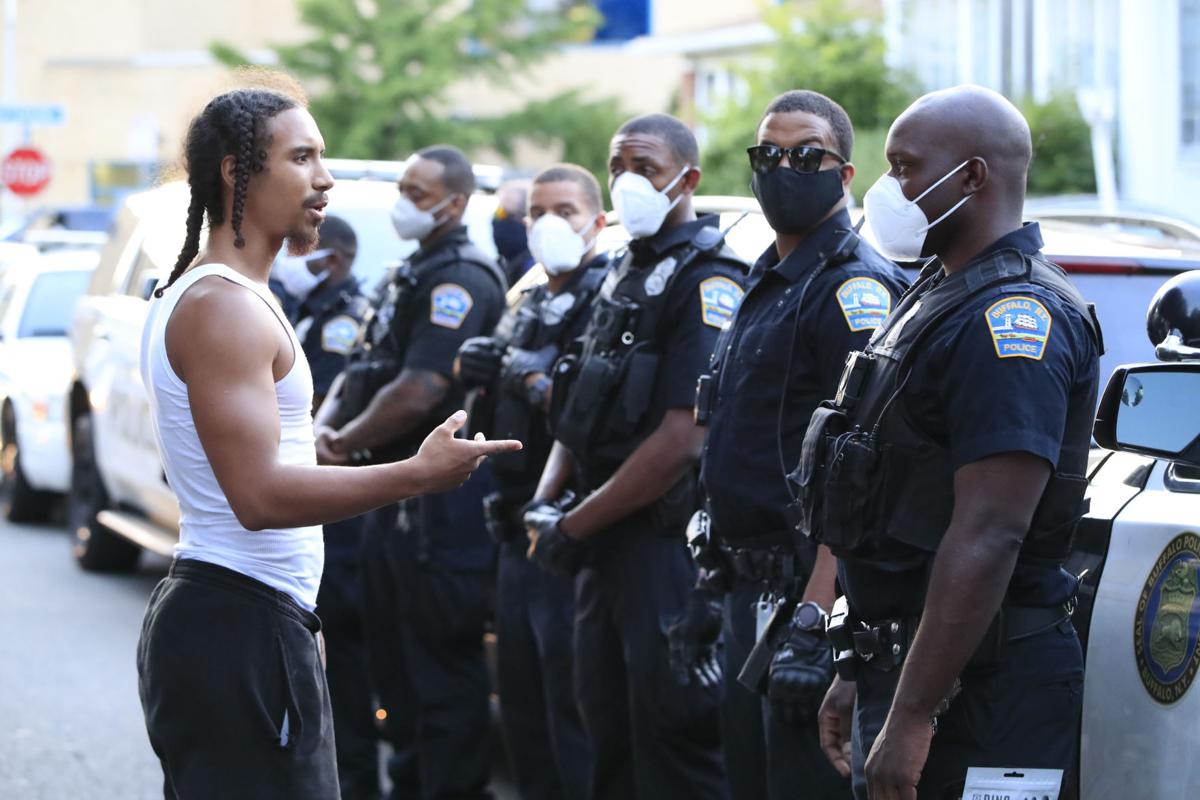 Federal prosecutors have lodged an additional charge against a Buffalo protester accused of threatening to kill Mayor Byron W. Brown, according to court documents and the man's defense attorney.
A federal grand jury last week indicted Samuel Mara, 24, on a charge of cyberstalking. Mara was arraigned Monday morning before U.S. Magistrate Judge Jeremiah J. McCarthy via videoconference.
Matthew Albert, Mara's defense attorney, entered a not guilty plea on his client's behalf.
Federal prosecutors accused Mara of making a death threat against the mayor in a June 6 video posted on Facebook Live. He's also accused of making other threats against the mayor, the mayor's son and a Buffalo police officer only identified by his initials, "A.B."
In August, prosecutors brought a charge against Mara of making threats via interstate communications. The grand jury also indicted Mara on that charge.
On June 6, according to prosecutors' August complaint, Mara was recorded on a two-hour, 10-minute video streamed on a friend's Facebook account. The video initially shows a crowd "peacefully protesting" in front of the Buffalo Police Department's Ferry-Fillmore District Station, according to court documents. The video shows that the crowd leaves the police station and starts marching.
"Listen … what they're gonna do is, they're gonna drive themselves crazy outta all the overwhelming fear and one of them is (inaudible) gonna hurt us or kill us and that's gonna start (inaudible) and then we gonna do whatever the (expletive) we want. It will happen, we are in power. They are scared. They will act off impulse and they will try to kill us, when they do that. Then they will all die. We will kill them all. I will personally kill [individual known to law enforcement as B.B.]," Mara is accused of saying.
The cyberstalking charge covers a period of alleged activity on several social media accounts from roughly June 6 to July 29, according to the two-count indictment.
In a photo and a video posted on Instagram June 18, according to court documents, federal authorities allege Mara is shown in the posts with a reddish-brown handprint on the McKinley Monument in Niagara Square. In the posts, he claims the handprint is his blood and the monument is his throne, according to the allegations.
Court documents also allege Mara was seen in a June 25 Instagram video approaching the mayor as he walked down the street toward a parked car. A police officer prevented Mara, who was within several feet of the mayor, from getting any closer, according to the criminal complaint.
Federal authorities also allege Mara made a threat against the mayor's son on Snapchat on July 5.
Mara also allegedly posted a Facebook video July 15 that showed police and personnel from Crisis Services at his home. Mara was admitted to Erie County Medical Center that day and stayed there until July 27, according to court documents. On July 18, ECMC staff notified the mayor's office of a "potential threat."
Albert told the judge on Monday that Mara has sought and undergone mental health counseling.
Prosecutors have not named Brown as the target of the alleged threats. A person identified as a victim in the case is referred to in court papers as "B.B." The court documents also reference the victim's "official Facebook page."
Michael J. DeGeorge, spokesman for the mayor, declined comment on Monday.
Albert called the prosecution a "really concerning case of government overreach" and "politically motivated."
"My client was protesting against systemic inequities within the system, primarily the ones perpetuated by Byron Brown," Albert said.
"He might have been overly strident in some of his deliveries, but he was voicing Byron Brown's name repeatedly, as were so many within the community," he said. "I take this as an attack upon both the First Amendment as well as the Black Lives Matter movement that has questioned Byron Brown's practices and the City of Buffalo's practices."
Mara remains under home confinement, a condition of his bail. Albert asked the judge to replace home confinement with a curfew for his client. McCarthy said he wanted to get a report on Mara's compliance from federal probation officers and told Albert to file a motion making the request for a curfew.
If convicted, Mara faces up to five years in prison and fine of up to $250,000. The next scheduled court date for the case is Jan. 28.
Federal prosecutors believe Mara's alleged actions cross the line from protected speech to conduct that is prosecutable.
"Much as an act of violence is not a Constitutionally protected form of protest, neither actual threats of violence nor cyberstalking are Constitutionally protected forms of speech," U.S. Attorney James P. Kennedy said in a written statement.