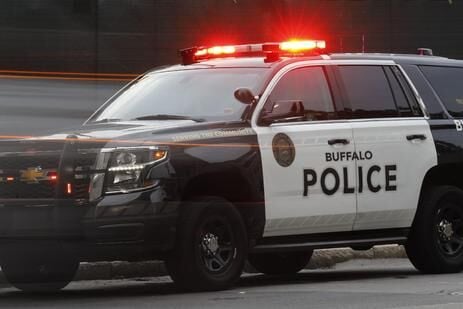 The New York Civil Liberties Union filed a lawsuit Tuesday against the Buffalo Police Department for failing to fulfill the organization's request for police disciplinary records.
Such records, long shielded from the public, became subject to state Freedom of Information Law last year amid calls for police reform.
"Police transparency is now codified into law, and police departments can no longer respond to an investigation into pervasive patterns of discrimination with foot-dragging delays or by arguing that the police must be trusted to police themselves, immune from public scrutiny," said Bobby Hodgson, senior staff attorney at the NYCLU, in a statement.
The NYCLU said Buffalo police have so far provided some records related to one police officer. But the organization had asked for a much wider array of records.
Capt. Jeff Rinaldo, who handles police records, "acknowledged the request in a letter dated Sept. 21, 2020," according to the lawsuit. "His letter stated '[d]ue to the large number of requests the department is currently handling, please allow (40) business days' for a determination regarding the request," the lawsuit said.
The lawsuit filed in State Supreme Court asks the court to compel the Buffalo police to produce a wider array of records "including basic information about officer discipline, use of force, stops, and civilian complaints."
The NYCLU has filed similar suits against the Rochester and Syracuse police departments, it said.
The state last year repealed Section 50-a of state Civil Rights Law, which allowed police and municipalities to conceal police misconduct and allegations of misconduct. The action came in response to the killing of George Floyd last year by a Minneapolis police officer.
Soon after the 50-a repeal, the Buffalo Police Department released to The Buffalo News an index of disciplinary cases against a small number of individual officers, documents referred to as "disciplinary cards." They have also released additional documents related to the individual officers. In addition, the department provided The News with a list of 179 citizen complaints against officers since 2015.
But releasing the underlying documents that explain those cases has been another matter.
Rinaldo told The News in December that it's not a simple matter, especially for blanket requests for records involving the entire police force.
"The Buffalo Police Department has every intention of complying, as we have been in releasing personnel records," he said. "Hundreds of those records have been released to date. However, each record requires redaction and review." Personal information, such as home addresses, phone numbers and Social Security numbers in some cases, must be combed from the documents, he explained.