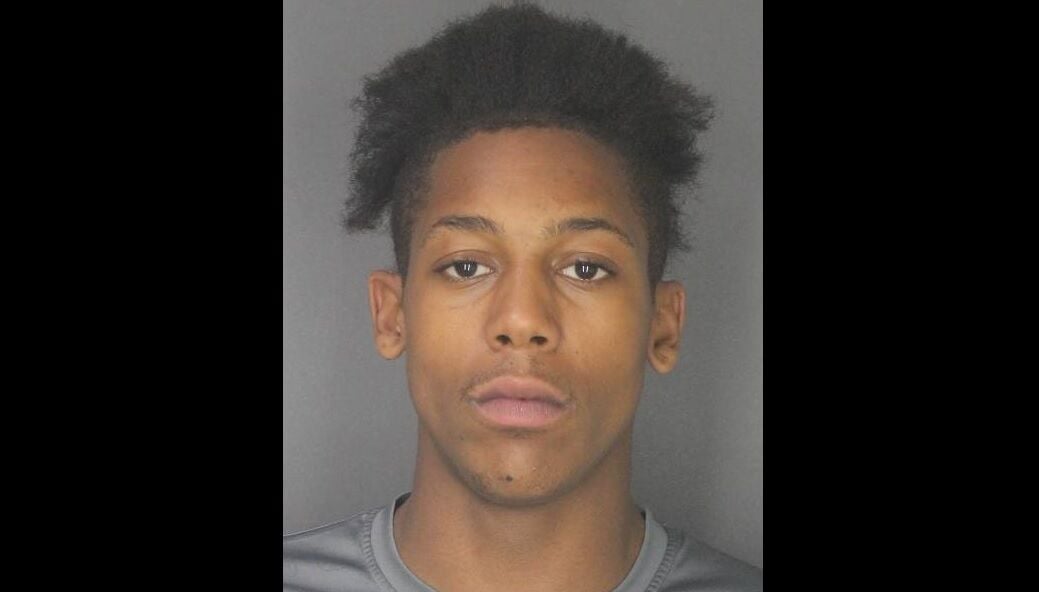 A Buffalo man admitted in federal court Tuesday he started a fire in City Hall during a May 2020 protest and was part of a group that looted an Elmwood Avenue convenience store.
Courtland M. Renford, 22, pleaded guilty to a federal rioting charge before U.S. District Judge Richard J. Arcara.
Renford admitted he threw a burning laundry basket through a broken City Hall window during a protest in Niagara Square, and that he entered a 7-Eleven at Elmwood Avenue and Summer Street as part of a large group people who smashed the store's windows about an hour and 20 minutes before starting the fire at City Hall.
Brandy Easley, Renford's mother, said her son made "a lot of bad decisions," but she hopes the judge will be lenient at sentencing. She hopes for a sentence of probation, which would "help him get back on track."
"Jail is not the answer for him because he can get into other things, besides being in jail," Easley said after her son's court appearance. "Because he doesn't have the proper help in there. I just want my son to get help and come home and take care of his son."
Renford, a graduate of Buffalo Academy for Visual and Performing Arts, told Arcara he has a 1-year-old son.
Assistant U.S. Attorney Jeremiah E. Lenihan told the judge the government's evidence would have shown Renford waived his Miranda rights and admitted to police he set the fire.
The evidence also included cellphone records which demonstrate Renford communicated after the incidents about a need to change his appearance, including getting a haircut and a chest tattoo, Lenihan said.
Though Renford faces a maximum of five years in prison at sentencing, federal sentencing guidelines recommend a term ranging from four years, nine months to five years.
Under terms of his plea agreement, Renford's defense attorney, Samuel P. Davis, will be able to argue for a sentence outside the range in the recommendation.
Arcara, who is not bound to issue a sentence within the guidelines, is scheduled to sentence Renford on Dec. 17.
The incidents happened on the evening of May 30, 2020, near the end of a protest in Niagara Square against police brutality in the wake of the killing of George Floyd by Minneapolis police. The protest drew a crowd of hundreds to downtown Buffalo that started peacefully but later turned violent and destructive.
Renford, who also faces separate charges in Erie County Court, was initially charged under a federal law that involves the destruction or attempted destruction of a building involved in interstate commerce.
The federal charge for arson, which is not common, was lodged because authorities knew they would not have been able to hold him after his arraignment in local court.
If Renford had been found guilty of the original charge he faced, he would have faced a mandatory minimum prison term of five years, according to prosecutors.
Renford, who has been in custody since his June 1, 2020, arrest, also faces two felony charges in county court – third-degree arson and third-degree burglary. The burglary charge stems from an accusation that Renford stole multiple packs of cigarettes and a beverage from the 7-Eleven.
He was allegedly among a group of about 30 or 40 people who entered the store, prosecutors said in October 2020 when the burglary charge was added. He allegedly took a beverage and packs of cigarettes, prosecutors said.
His client's guilty plea may play a role in the outcome of the state case, Davis said.
"I believe the state may adjust its position based on this, but, if not, I'm more than willing to go to trial on an arson charge because I don't believe that's sustainable," he said.
Renford has a previous felony conviction for grand larceny and his June 2020 arrest was his eighth in two years, Arcara has said.
Davis called Tuesday's plea "more appropriate, given the evidence."
"While we maintain that there was no true arson here, there were some behaviors that he regrets," Davis said. "It was a traumatic time for everyone, a sort of group trauma that the whole country experienced."
The plea agreement puts Renford in a better position to get the tools he needs to be successful, his attorney said.
"Our goal is to simply restore him and, in fact, support him so he could lead the life that we were protesting he should have," Davis said.