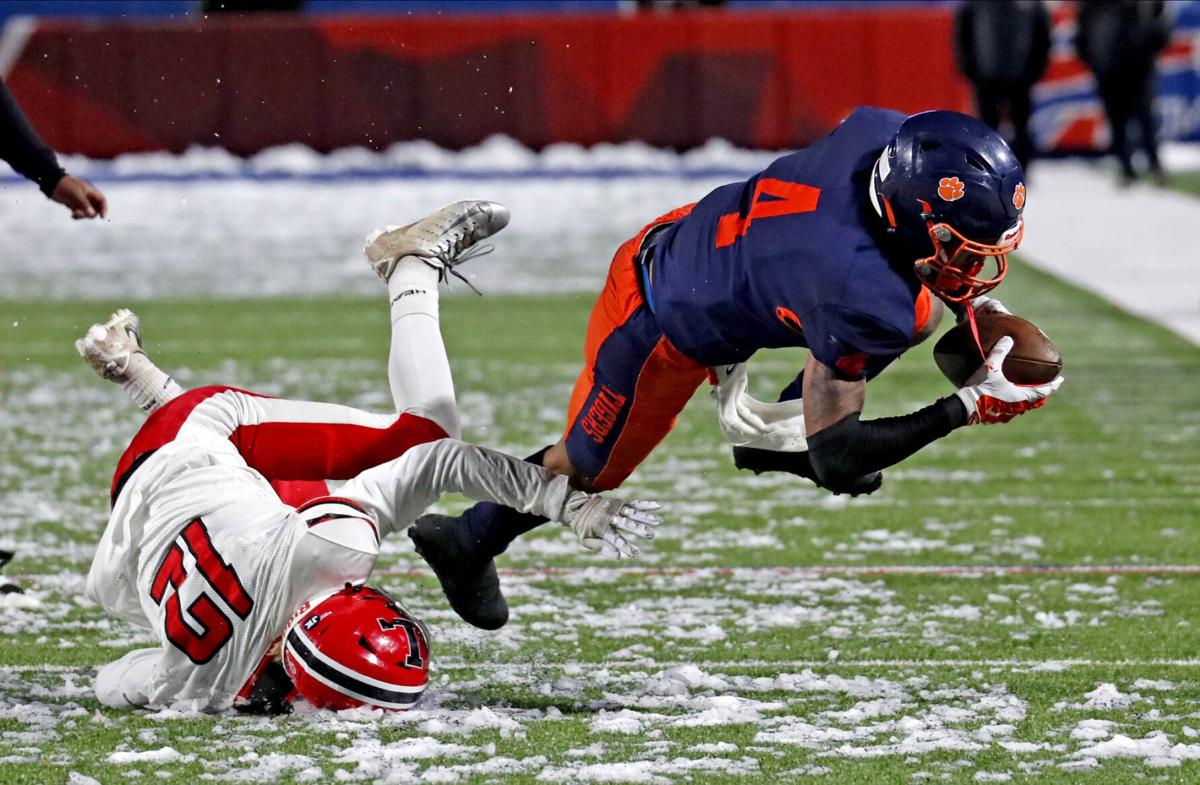 The legal battle over which players will be allowed to play in a high school playoff football game is scheduled to continue Tuesday morning in a Buffalo courtroom.
Attorneys for McQuaid Jesuit High School in Rochester and the Erie County Health Department are scheduled to appear at 11 a.m. before State Supreme Court Justice Emilio Colaiacovo.
The New York State Public High School Athletic Association Class AA Far West Regional game that was supposed to be played Saturday between McQuaid and Bennett High School was postponed hours before kickoff after a dispute arose surrounding positive Covid-19 tests among McQuaid's team and coaching staff.
After Erie County health officials ruled only vaccinated McQuaid players could play, McQuaid filed a lawsuit and got a judge to temporarily block the county's health requirements.
The game has been rescheduled for 6 p.m. Tuesday at Williamsville South, and remained on as of Monday afternoon, pending the court ruling. The winner is scheduled to play in the West semifinals against host Cicero-North Syracuse at 6 p.m. Saturday.   
In a statement issued Monday, McQuaid said there were zero positives in testing Monday and the team expects to test again Tuesday. 
Mcquaid added, "Barring further developments, we look forward to sending a healthy team, all of whom will have received five negative Covid tests since last Thursday, to Williamsville tomorrow night for an opportunity to compete for a spot in the New York State football semifinals."
According to a statement issued Saturday by McQuaid, "some players" and a coach tested positive for Covid early last week, triggering a 72-hour pause in team activities.
McQuaid players who had two consecutive negative tests and were asymptomatic attended practice Friday, according to the school's lawsuit. McQuaid said county health officials informed the school on Friday that it wanted the players tested again Saturday, which McQuaid agreed to, according to its court filing.
In their lawsuit, McQuaid's attorneys asserted county health officials – by requiring that only vaccinated players from McQuaid would be allowed to play in the game – were applying a standard they were not applying to Bennett's players.
State Supreme Court Justice Mark Montour on Saturday issued a temporary restraining order blocking the county from restricting McQuaid's participation only to vaccinated players.
Meanwhile, late Saturday, Section VI announced it intended to petition the state association to rule the game as a forfeit and allow Bennett to advance to the state semifinals. The section said NYSPHSAA rules do not allow for rescheduling of postseason games and McQuaid should have played with the players who were eligible. 
Section VI President Brett Banker said Monday that the section's petition to the state association will be on hold until after the court ruling. 
"We have been informed by NYSPHSAA that any discussion pertaining to a McQuaid forfeit or any other solution cannot be made until the court hears the arguments," Banker said in a statement. "We understand that due to this action NYSPHSAA is now forced to wait. We remain in support of our Section's AA Champion Bennett and we are hopeful that a resolution will be fair for these deserving athletes."