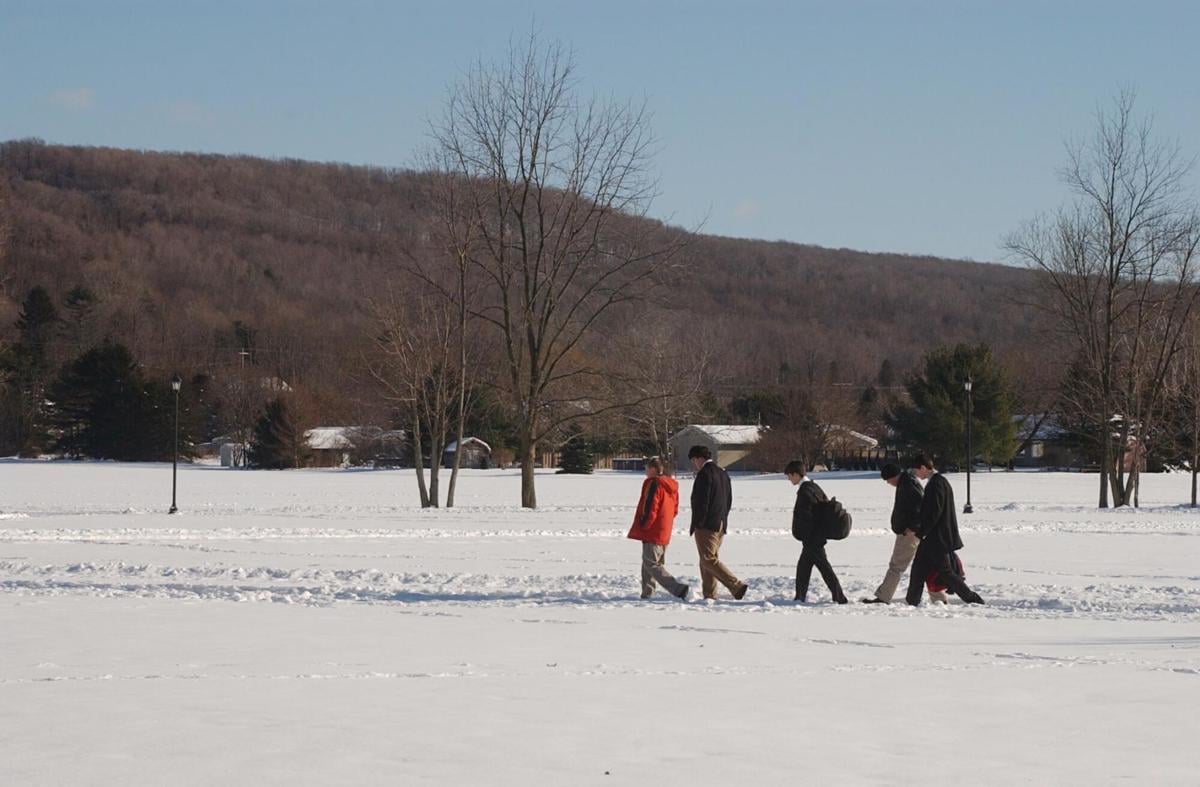 A former student at the Gow School alleges he was sexually abused and assaulted by an assistant headmaster there in the 1990s.
Tarek L. Adam's claim against the private school in the Town of Wales was among six new Child Victims Act lawsuits filed this week in Erie County, as state courts began accepting non-emergency cases for the first time in more than two months and as the State Legislature passed a bill that will extend the Child Victims Act deadline by another year.
Two other CVA lawsuits filed this week against the Buffalo Public Schools alleged that a former School #29 principal sexually abused a 13-year-old girl in the 1970s and a former Lafayette High School principal abused a 17-year-old male student in 1989.
Due to the novel coronavirus pandemic, the state court system issued an order in March barring lawyers from filing nonessential lawsuits until further notice. That was not lifted until late last week.
A one-year window to file lawsuits in child sex abuse civil from years ago had been set to expire Aug. 14, and sponsors of a bill extending the Child Victims Act to Aug. 14, 2021, cited the pandemic and its impact on the courts as reasons. On Wednesday, the bill passed the Senate unanimously and by a 135 to 9 vote in the Assembly.
Gov. Andrew M. Cuomo's anticipated signature will make moot his executive order that would have extended the window until January.
Adam alleged in his lawsuit that Michael Holland, a faculty member and assistant headmaster, started touching him inappropriately in 1992 and 1993, when Adam was a 14-year-old freshman living in a Gow dormitory supervised by Holland. The touching escalated to criminal sexual abuse and assault, including sodomy, according to court papers.
In a statement to The Buffalo News, attorneys Cheryl Meyers Buth and Brian Melber said that their client was exposing what happened to him at the school to protect other children who had no way to fight back against adult sexual predators.
"We're not talking about just one employee or an isolated incident or ancient history. Our client and other pre-teen/teenage boys were subjected to repeated sexual assaults in the early to mid-90s when there was public awareness about these types of crimes," they said.
It is the third CVA lawsuit against the Gow School, a college-prep boarding and day school for students with dyslexia and similar language-based learning disabilities. It was an all-boys school until going co-educational in 2013.
In March, the school released a report by attorney Julia Hilliker that detailed allegations against four faculty members and a nurse alleged to have occurred more than 20 years ago. The allegations included "student bullying; inappropriate, but nonsexual, verbal exchanges with teachers; and inappropriate or forced sexual interactions," according to the report.
Holland was one of the accused faculty members mentioned in the report.
But Hilliker said in an interview with The News that the Gow School had received no complaints about Holland during his time at the school from 1985 to 1998. The school first learned about the claims alleged in Adam's lawsuit in its own investigation last year, Hilliker said.
The two previous lawsuits against Gow accused teachers Thomas Simmeth and Jack Jackson of child sex abuse.
In 2003, Simmeth was fired from another private school for dyslexic boys, Linden Hill School in Northfield, Mass., according to an Associated Press article. Simmeth was charged with indecent assault and battery on a student at the school, the AP reported. He was acquitted in 2004 following a jury trial, according to court records.
Holland was headmaster at Linden Hill School at the same time as Simmeth taught there, according to the AP report, and state child welfare officials investigated Holland following an allegation that he sexually assaulted a student on a school trip to New York City.
Holland denied the allegations to state investigators, the AP wrote, and was suspended pending the outcome of the investigation.
Suits against Buffalo schools
Two other CVA cases filed this week were against the Buffalo Public Schools.
In one, an Erie County woman accused Frederick Speidel, an instructor and assistant principal, of sexual abuse when she was 13 or 14 and in eighth grade at School #29. The abuse happened around 1970 or 1971, according to court papers filed by attorney Daniel Chiacchia. The school closed in 1980, court papers said.
In the second filing, a Florida man alleged that former Lafayette Principal Frederick Ganter repeatedly sexually abused and harassed him over several months in 1989 and 1990, when he was a 17-year-old student at the high school.
Ganter, 79, who now resides in Wilton Manors, Fla., was a principal at Lafayette from the early 1970s to the mid-1990s.
He told The News in March he did "not really" recognize the name of the former student who filed the first lawsuit accusing him. He declined to make any other comment.