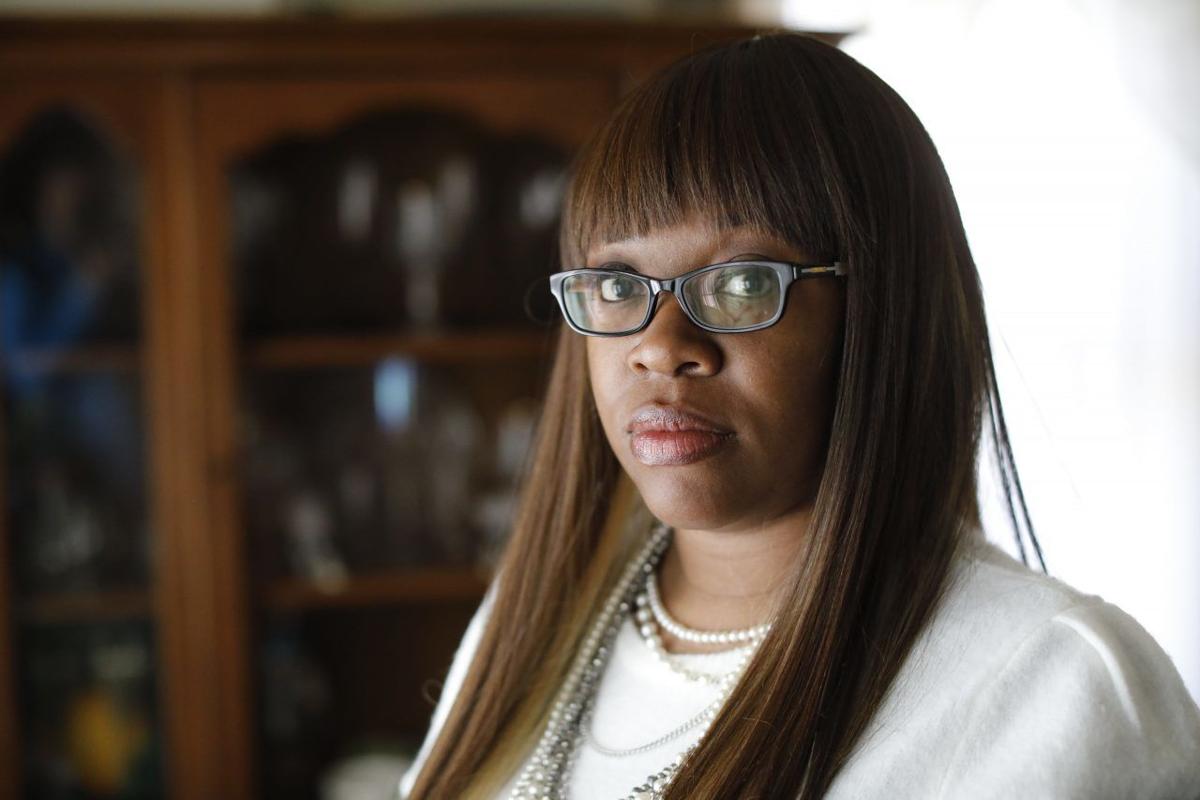 A 4-year-old girl is in the middle of a tug of war between Erie County foster parents who raised her since birth and the girl's aunt in North Carolina who has never met her.
The African-American child has bonded with her white foster parents, her "only constant and true family," a lawyer for the Department of Social Services said in recommending that the couple be allowed to adopt her.
But the aunt has petitioned Erie County Family Court to let her adopt her niece, saying she will provide the girl with a more suitable home and stronger connection to her black cultural identity and blood relatives.
"We're family," said Amber Wilkes-Smith, who grew up in Buffalo and now lives near Raleigh-Durham, N.C., with her husband and two children.
The case offers a rare glimpse into the high-stakes, emotion-packed operations of a local foster care and adoption system that in 2017 alone took in 554 new foster children and arranged 141 adoptions.
And with a pivotal decision expected Tuesday in Family Court, the county's Department of Social Services is under fire for allegedly failing to notify the aunt when the infant girl was taken from her birth mother and put into foster care.
The Buffalo News is withholding the identity of the girl and the foster family to protect their privacy. The couple declined to comment and referred questions to their attorney, Patricia Maxwell.
"Because it's pending, I really don't feel at liberty to discuss it," said Maxwell.
A Department of Social Services official declined to talk about the case involving the 4-year-old girl but said that the department "works diligently" to place children with relatives when they cannot safely reside with their parents.
"The Department of Social Services recognizes that it is in the best interest of the child if he or she is able to remain with kin if possible. That is our goal. If this is not possible, however, we work to place them in their community to avoid disruption," said Brian Bray, DSS special assistant to the commissioner.
Mother is in prison
The child is the daughter of Wilkes-Smith's sister, who gave birth shortly before she was sentenced to 3½ years in state prison for felony criminal possession of a weapon. It's unknown who the father is.
Wilkes-Smith said her sister suffers from severe mental illness and didn't tell Wilkes-Smith until last summer that she had had a baby in 2015.
By that time, the path to adoption was clearing for the foster parents, who had been caring for the child in their home in a suburb of Buffalo for more than three years. A judge terminated the birth mother's parental rights in 2017 on grounds of abandonment, a decision that was affirmed by a state appeals court in 2018.
A law guardian for the child also has recommended that the adoption by the foster parents move forward.
But federal child welfare law stipulates that states give preference to adult relatives over nonrelated caregivers in determining placement for a child, as long as there are no safety issues.
Erie County is required to identify and contact adult relatives within 30 days of a child's removal from custody of a birth parent.
County officials maintain they did their due diligence in 2015 after the birth of the child by speaking with Rosalyn-Renee Brooks, a half sister to Wilkes-Smith. Brooks also lives in North Carolina, close to Wilkes-Smith. Brooks provided foster care for the first-born daughter of the woman who is now in prison. Brooks eventually adopted the girl in 2015.
County officials said they alerted Brooks in April 2015 about the birth of the second child. Brooks indicated to them that she would discuss it with Wilkes-Smith. The infant was placed with the foster parents a few days after the birth.
In August of 2015, Brooks reached out to county social services staff, asking if her adopted daughter could visit with her new sister. At that time, Brooks indicated to county workers that she was not interested in being a "permanent resource" for the second child, according to the county's lawyer, Natalie M. Stutz.
In an interview, Brooks said she didn't tell Wilkes-Smith about her second niece being born.
Wilkes-Smith had helped Brooks in providing kinship foster care for the first niece, caring for the girl at night when Brooks was working. But the half sisters had a falling out. They had stopped talking with each other for a while.
"It was a lot of stuff going on," said Brooks.
Nonetheless, Brooks denied that she told child welfare workers she wasn't interested in being a permanent resource for the second child. She said she told county staff that she would need financial help to make it work, and they responded by saying she wasn't eligible because she lived outside of New York.
Brooks said she also told county workers to contact her again when a judge terminated the birth mother's parental rights for the second child. The county never did, she said.
Nor was the county successful in arranging any visits between the two siblings, even though Brooks periodically traveled to Buffalo with her adoptive daughter to see other family, Brooks said.
In hindsight, Brooks wishes that she had acted sooner to get custody of the second child.
"I thought I had more time, but I just didn't do what I was supposed to do. Now, she's about to be adopted," said Brooks. "I think the girls should be together. I think she should be here with her sister."
"Aren't they supposed to try and keep families together?" she added.
The first girl is now 14 and has yet to meet her younger sister.
"That's the only sibling she's going to have," said Brooks. "Of course, she wants to know her."
DSS didn't contact aunt
Wilkes-Smith said she would have pursued custody years ago if she had known about the child. Her sister in prison told her last August that she gave birth to a second daughter in 2015 and did not know where the child was, she said.
Wilkes-Smith said she called the Department of Social Services multiple times to find out more about the child and was not told until late November that the girl was in a foster home. Wilkes-Smith hired a lawyer and petitioned for custody on Dec. 4.
An attorney for the county has since claimed in court that the county was unaware of Wilkes-Smith and had no way of contacting her – even though Wilkes-Smith was heavily involved in foster care and adoption proceedings on behalf of her half sister, Brooks.
"That information should be in the records," Brooks said.
Besides, Brooks mentioned Wilkes-Smith when she initially spoke with county child welfare workers in 2015 about the second child.
The county's attorney also argued that the birth mother did not identify Wilkes-Smith as a potential caregiver and would not have consented to her daughter being placed with her.
But Wilkes-Smith said her sister objected when Brooks moved to adopt the first daughter, and the county proceeded anyway.
Amanda Darling, regional director of the state Office of Children and Family Services, reviewed Wilkes-Smith's complaint and said she found "no areas of concerns" with how the Erie County Department of Social Services handled its obligation to identify relatives who might be considered as foster parents.
Decision expected Tuesday
Family Court Judge Margaret O. Szczur is scheduled to decide Tuesday on a motion from the county to dismiss Wilkes-Smith's adoption petition.
Wilkes-Smith said she was a foster child raised by an unrelated adoptive family, and her birth mother was raised in an orphanage. She wants to end that cycle.
"The difference this time around is there are family members trying to help children and raise them in a loving family," she said. Wilkes-Smith said her niece has a cousin who is nearly the same age.
"We live in a safe, diverse neighborhood. The schools are great. She'd have the comfort of knowing her cousins, her aunts, her sister," said Wilkes-Smith.
If the judge rules in favor of the county, Wilkes-Smith worries she might never see or speak with her niece.
And she's concerned the girl will grow up with the same gnawing questions that still haunt Wilkes-Smith.
"Being a child in the system, I always wanted to know where I came from," she said. "You just want to know: Where are my people? Why won't they come get me?"