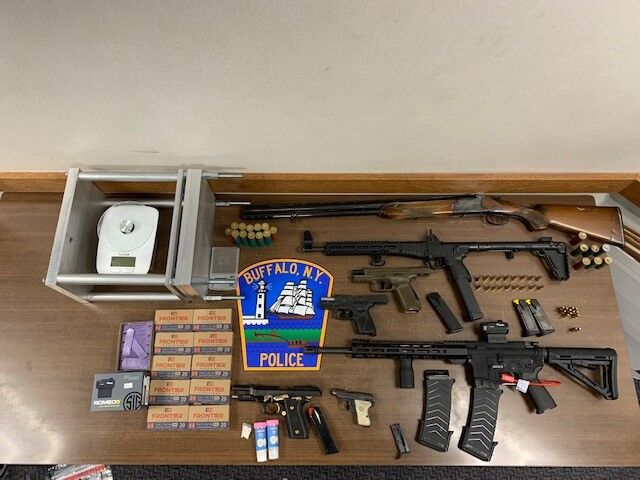 The Buffalo Police Department's Intelligence Unit seized 21 illegally owned guns over the last seven days, police announced Saturday.
Police executed search warrants at six locations in "all sections of the city – north, south, east and west," police spokesman Michael J. DeGeorge said in a statement.
The search warrants were conducted with the assistance of a U.S. Attorney-led task force called the Violence Prevention and Elimination Response initiative targeting gun violence in Buffalo. The task force brings together multiple agencies, including the FBI, ATF, Erie County Sheriff's Narcotics Unit, the Erie County District Attorney's Office and Lackawanna police.
Six people were arrested as part of the raids and will be charged in federal court.
The Intelligence Unit uses "data-driven analysis" to identify the people driving the violence, said Deputy Police Commissioner Joseph Gramaglia. 
"Our Intelligence Unit – they go looking for the guns. They are very targeted on specific people who are driving the violence. They are very good at it," he said. The unit has removed 130 guns so far this year, DeGeorge said.
While the overall number of shootings this year remains high, the rate has slowed down during the second half of the year, Gramaglia said. 
"We have been trending in the right direction. We're going to keep working on it to get it even lower," he said.
Buffalo, like many other cities across the country, has endured a disturbing rise in gun violence since the Covid-19 pandemic struck. As of Sept. 7, 262 people were shot so far this year in Buffalo. In 2020, a total of 355 people were shot in the city.
Working with federal agencies has been helpful in making arrests, Gramaglia said. Federal laws allow law enforcement officials to remand people who have previously been convicted of a felony and are found in possession of an illegal gun, for instance.
"We see as a model to continue on to help drive down our violence – through combined community efforts, community programs and resources and going after violent offenders who at this time aren't interested in any resources. They need to be removed from the streets for everyone's safety," Gramaglia said.
To further combat gun violence, Buffalo police are seeing the public's help in identifying people who are selling illegal guns in the city. They asked anyone with information to call or text the Buffalo police confidential tip line at 716-847-2255.
Illegally-owned guns are often used in multiple crimes and sold over and over, Gramaglia said. "Somebody could use a gun and then want to get rid it and it goes from hand to hand to hand," he said. Illegal guns circulate for an average of 15 years, he said.