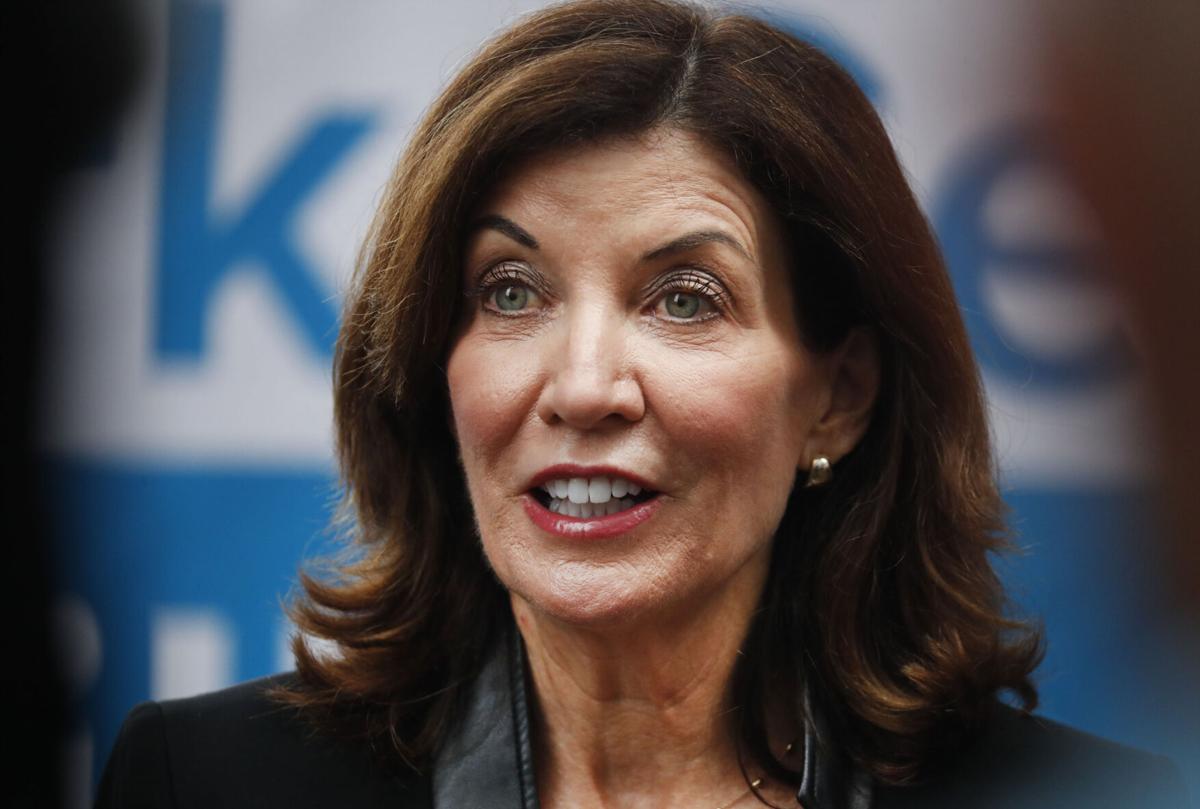 ALBANY – While speaking Wednesday at a community center on Mott Street in the heart of Manhattan's Chinatown Wednesday, Gov. Kathy Hochul all but declared a looming end to the Covid pandemic.
"We are the safest community in the country," she said of Manhattan, urging employers to bring workers back to the office and end remote assignments. "It is very safe here and we want people to come back."
The Big Apple has been a good Covid story of late. Indeed, positive signs abound downstate, according to Covid infection and hospitalization numbers.
The same can't be said for Western New York, and much of upstate, where infection rates have been far higher than the state average for a couple of months or more, and vaccination rates are lower than in many downstate counties.
Her predecessor, the now-disgraced Andrew Cuomo, who left office in August under a sexual harassment cloud, made a public point of almost embarrassing regions with high Covid rates. He would call out government leaders and hospitals when infection rates peaked in 2020. As few would forget, he shut down entire economies, sometimes based on geographically confusing sets of rules imposed by the state.
In short, he played the role of Covid Czar, and he was criticized for the heavy hand, the shutting out of some health experts and local officials.
In contrast, Hochul has made clear from the start that local government experts would be in the driver's seat for many Covid response decisions. She imposed controversial vaccination mandates, but they have varied based on employment sectors, and haven't touched many consumer-facing jobs, or most have had loopholes that call for semi-regular testing instead of shots.
Hochul has been on a pandemic optimism tour downstate, where officials believe encouraging numbers are a result of high vaccination compliance, strict adherence to mask-wearing and some of the state's strictest rules, like proof of vaccination to get into a restaurant.
But the picture upstate is not nearly as rosy. What is Hochul going to do about it?
The question is simple. The answer is anything but.
In Manhattan, where Hochul was celebrating good news, fewer than 1% of people tested in the previous seven days, on average, had Covid. In Western New York, it hit 6.4% the day before her Chinatown trip. The Finger Lakes was at 6.7%. Others above or near 5% are Capital District, Central New York, Mohawk Valley and North Country.
Hospitalizations of Covid patients rose in New York City in July as the Delta variant spread, but have been falling during the autumn months. In Western New York, state data shows, hospitalization numbers have not seen that decline.
The last full month of data – October – showed worry signs for Western New York. On rates based on per 100,000 people, confirmed case rates were in the single digits in October 2020. Last month, the per 100,000 positive test rates in Western New York were at least double and on many days triple or even more compared with the same period a year ago, according to state Health Department tracking data.
A recent Newsday analysis showed more people died over the past four months during the pandemic's Delta variant stage in upstate than on Long Island and New York City – even though upstate is home to nearly 3 million fewer people.
Many health officials point to a mostly singular reason: vaccinations. In Nassau County on Long Island and Queens in New York City last week, 96% of people over the age of 18 had gotten at least one vaccine dose. In Erie, it was 80%, according to the state, though the county put the level at 74%. In Cattaraugus County: just 60%. And there were lower counties elsewhere upstate.
Niagara County Public Health Director Daniel Stapleton said few issues in public health come down to a simple solution. Covid is the exception.
"We don't need to shut things down; we need people to get vaccinated," Stapleton said of people who have moved from "vaccine hesitant" to "vaccine resistant."
Stapleton looks at Niagara County where he said people over 12 years of age have vaccination rates of about 62%.
The Niagara County health leader had a couple ideas for the state government to do.
One: Keep a reliable flow of vaccines for newest eligible residents, who are those between 5 and 11 years old. A week ago, not enough of those doses were delivered. On Wednesday, he got a mega order delivered. "We hope the supply chain continues to be uninterrupted," he said.
Second: Restore the supply of free and convenient testing centers. The state had mass testing sites, now largely a memory for most places. It means, Stapleton said, that people in his county have to pay and drive longer distances to find testing sites. That has discouraged some from getting tested. That is a major problem for public health officials who say more infected people are walking about in public, without having a test to catch the presence of the virus.
On Saturday, Hochul announced 10 state mass vaccine sites will start to administer vaccines for 5 to 11 year olds, including at the University at Buffalo's South Campus. Hochul has been heavily relying on pediatricians to administer the shots.
Cuomo had an array of geographic responses, hyperlocal at times, and then by huge geographic regions that treated inner cities the same as the most rural. The Hochul administration has kept some rules in place, with asterisks. For instance, health workers must get vaccinated; teachers and others are given the option of getting vaccinated or regularly tested.
Business groups are watching closely, especially with the approaching holiday and winter periods, which saw Covid caseload jumps last year. Dottie Gallagher, president of the Buffalo Niagara Partnership, said her group is largely supportive of federal vaccine mandates as long as there are options for regular testing instead.
Gallagher said employers will comply with policies that make workplaces safer if that is a route the Hochul administration has to take, such as enhanced mask mandates.
"However, should the state … impose lockdown type measures, like reducing capacity, I would expect a very strong reaction," she said of the business community.
Hochul has shown no indication of returning to an economic lockdown mode. Indeed, she said last week that mask mandates will be relaxed "when the kids are vaccinated."
The Hochul administration told The Buffalo News that the governor is not declaring victory over the pandemic until more New Yorkers are vaccinated and positivity rates stay low.
"In response to rising positivity in upstate regions, the governor directed the Department of Health to pursue an aggressive, multifaceted approach, including deploying vaccine pop-up sites, conducting an ad campaign to encourage New Yorkers to get vaccinated, adding incentives for the vaccine hesitant and coordinating with partners on the ground," a Hochul spokesperson said.
Officials provided a transcript of a Binghamton news conference – nearly three weeks ago – where she said the Southern Tier region had "a little work to do" and that she didn't "want to have to call you out" about infection rates. That region's infection rates have only increased since then.
A mixed geographic response
Masks are still required, per federal health guidance, in a number of settings, such as health care facilities and public transit. Also, unvaccinated people are supposed to wear masks in public settings, but there has been little to no enforcement of that guidance in most areas.
Some health experts say there could be more consistency regarding certain entrance rules to public places. Dr. Nancy Nielsen, senior associate dean for health policy at the University at Buffalo, said she recently visited New York City where proof of Covid vaccination was required for admittance to restaurants, museums, theaters, hotels and even the Central Park Zoo.
"And people complied willingly and most wore masks as they walked on public streets. No one complained or seemed bothered at all. It was just the 'new normal' for them. The effect: new Covid case rates hover around 1% in Manhattan, compared to 8.4% this week in Erie County," she said in an email exchange. She said the same requirement should be in places like Erie County.
That said, the public health expert added, she would prefer those decisions be made at the local level with state involvement only if a county's infection rate and/or hospitalization rate remains high over a period of time. She noted Hochul's comments shortly after becoming governor about leaving it to counties to decide what's best at the local level regarding most Covid matters, except matters like employer mandates for workers, which is a state concern.
Local Covid rules can vary by municipality, but they aren't specifically tracked by groups that represent counties, cities and villages. In Erie County, some schools were offering "mask breaks" to students during the school day. In Syracuse, city workers must get vaccinated or be tested weekly. In Erie County, Mark Poloncarz, the county executive, ordered proof of vaccination to attend Bills or Sabres games.
State Sen. Sean Ryan, a Buffalo Democrat who on Nov. 3 tested positive for Covid, noted the extraordinary powers lawmakers gave Cuomo at the start of the pandemic. "Some would say he micromanaged. By micromanaging the problem, it allowed many local governments to remain relatively uninvolved in fighting the pandemic," he said.
Those direct gubernatorial powers largely ended in June. "Now, the onus is on local governments to respond to the shifting realities of the pandemic," Ryan said, noting New York City is the only one with such sweeping Covid vaccine and mask rules.
In Erie County last week, Health Commissioner Dr. Gale Burstein said the number of Covid cases increased 54% compared with the period just two weeks prior; the case rate per 100,000 population is nearly three times the level that federal health officials consider an area to be designated as a "high transmission" location.
In a written statement, a spokeswoman for Burstein said the commissioner is supportive of state efforts such as pushing vaccines as the primary prevention strategy, and says the state has indicated county health departments will continue to play a "major role" in what the office called "the next phase" of the Covid response.