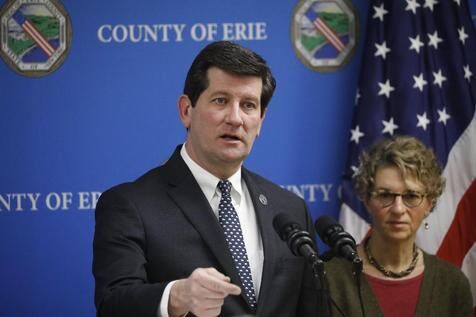 Covid-19 cases and hospitalizations have trended downward over the past couple of weeks, suggesting the latest surge is past its peak.
But more Erie County residents have died of Covid-19 in recent months than died during the same period last year, said Erie County Executive Mark Poloncarz on Wednesday.
That's a worrisome sign for the next few months as cold weather drives more people indoors and with more traveling and gathering for the upcoming holidays, he said.
Poloncarz said he hopes the death toll won't be as high this fall and winter as last year because so many Erie County residents are now vaccinated.
"But it's not good when you see the total number of deaths for August, September and October of this year – after we vaccinated so many people – be higher than last year," he said.
With October not yet over, the county has already recorded 54 Covid deaths, compared with 31 deaths last October. In August and September, the number of deaths more than doubled from the same months a year ago, from 11 to 41 for August, and from 18 to 55 for September.
The county has reached a point where people who are still not vaccinated aren't hesitant but completely resistant.
"We have a lot of people, unfortunately in our county, in the past few months who died, who should not have died but only died because they didn't get vaccinated," he said. "I don't know what to do at this point. We've offered everything, the Shot and a Chaser, the free beer, all that stuff, all kinds of giveaways. There are a certain group of individuals in our community that will not get vaccinated."   
Deaths are a lagging indicator of Covid-19 infections and naturally follow the surge in Covid-19 cases that began in mid-July and began leveling off in late September and early October.
In August through October of last year, vaccines were unavailable to residents, but the Delta variant had not yet arrived and some capacity restrictions were still place, Poloncarz said. New cases of Covid-19 were counted in the dozens.
But since early August, confirmed Covid-19 cases in Erie County have exceeded 100, 200 and 300 a day, on average. As of Thursday, the county confirmed 400 new cases.
"This is actually one of the largest new cases we've seen in quite some time," Poloncarz said.
That's an about face from the recent trend of an overall decline in confirmed cases. Poloncarz and Health Commissioner Dr. Gale Burstein said the number of cases among those under the age of 18 has remained fairly steady. About half of Erie County youngsters ages 12 to 17 are vaccinated, according to the Health Department.
Overall, 65% of all Erie County residents, and 75% of all county adults, have now received at least a single Covid-19 vaccine dose. Among all residents, 60% have been fully vaccinated, the county reported. That includes 69% of all adults, based on 2020 population census data.
Burstein also pointed out that 40% of unvaccinated residents accounted for two-thirds of all Covid-related hospitalizations.
The county continues to offer free Covid-19 PCR tests to Erie County residents, as well as free rapid tests to students and school staff in kindergarten through high school. Appointments may be made by calling 858-2929.