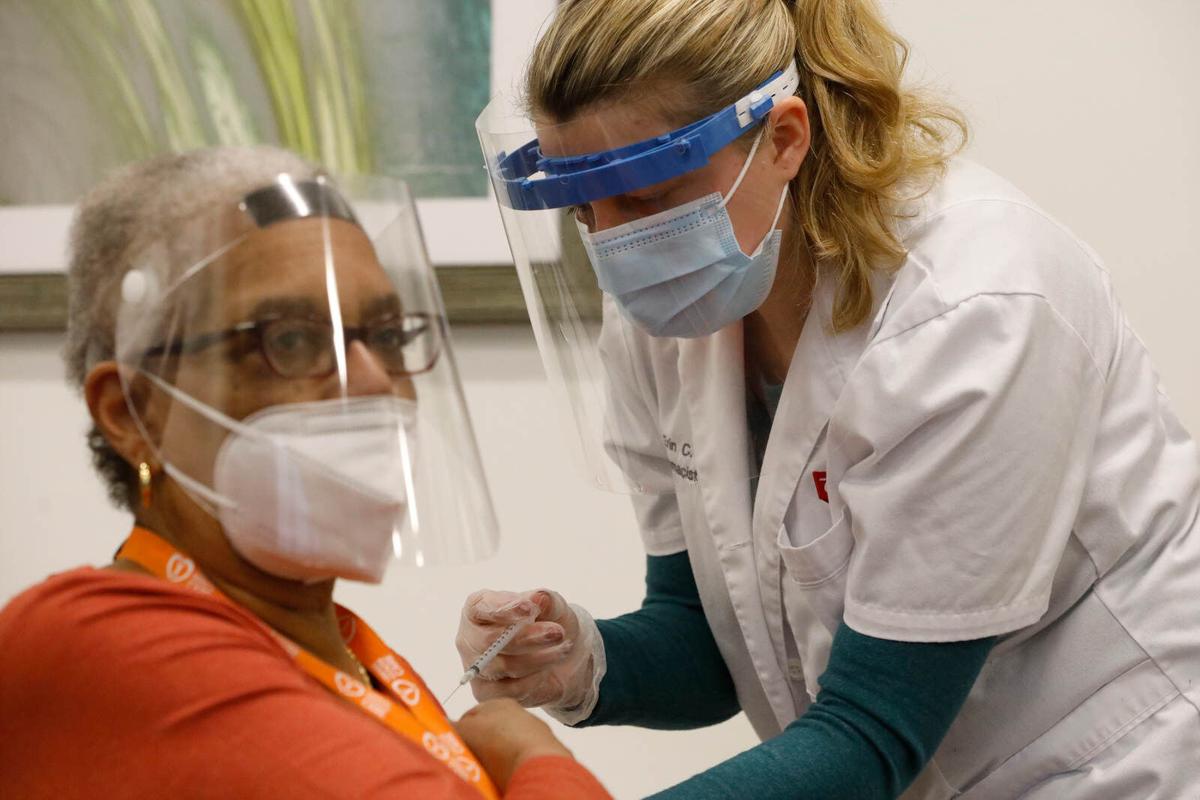 One-third of New York State's nursing home workers have refused to be vaccinated against the novel coronavirus that has killed as many as 8,400 nursing home residents.
Nearly 49,000 nursing home workers – or 37% – have been vaccinated.
Another group of 40,000 workers will get their chance to be injected over the next three weeks, according to the state Department of Health.
But more than 41,000 nursing home workers statewide have already refused, including 2,378 in Western New York.  
"...you did have a high, well I think higher than expected, rate of declination by staff," Gov. Andrew M. Cuomo said this week during a Covid-19 briefing.
County officials remain anxious about their ability to follow through on existing vaccination appointments for Thursday and Friday of this week.
 Dr. Thomas A. Russo, one of the region's leading experts on infectious diseases, said the vaccine plays an important part in protecting nursing home residents who often have bad outcomes when they contract Covid-19.
"We know the dominant mode of transmission in nursing homes is in staff, those who administer care, who are asymptomatically infected. If that is the dominant mode, it would be important to protect them so that they don't subsequently infect nursing home residents," said Russo, a professor and chief of the Division of Infectious Diseases at the Jacobs School of Medicine and Biomedical Sciences at the University at Buffalo.
The nursing home staffers who have declined the vaccination, Russo said, "are not taking advantage of a golden opportunity to afford an additional layer of protection for nursing home residents since public health measures are imperfect."
Public health measures include masking, social distancing, hand hygiene and not coming to work when sick, he said.
In five Western New York counties – Erie, Niagara, Cattaraugus, Chautauqua and Allegany - 41% of the nursing home workers have been vaccinated, while 21% refused. 
Across the state, 65 nursing home workers have died from the virus, including one at McAuley Residence in the Town of Tonawanda and one at Terrrace View Long Term Care at Erie County Medical Center's campus in Buffalo, according to federal statistics.
Statewide, there have been 25,061 confirmed Covid-19 cases involving nursing home staff.
Statistics provided by nursing homes to the federal government offer an even grimmer picture of the havoc caused by the virus to residents.
At Harris Hill Nursing Facility in Lancaster, which was turned into a facility just for Covid-19 patients, 113 residents died from Covid-19, the highest total in the state. At Absolut Care at Aurora Park in East Aurora, the 66 Covid-19 deaths there put it 14th statewide.  
In all, there have been 8,426 nursing home residents to die from Covid-19 statewide, according to the state Health Department.   
With nursing home residents dying at such high numbers here and across the state, that may explain why they appear to be embracing the vaccine more than the workers.
State Health Department statistics show that 67% of the state's 86,490 nursing home residents have been vaccinated. Sixteen percent of the residents have refused the vaccine.
In Western New York, 71% of the 6,790 nursing home residents have been vaccinated. Thirteen percent have declined the vaccine, according to the state.
There are 15,000 nursing home residents statewide who are classified as having "not yet declined" the vaccine, and doses will be available to them during the next three weeks, the Health Department said.
A total of 225,000 vaccine doses were reserved for long-term care facilities. The doses that were declined will be reallocated to the state's overall vaccination program, according to Cuomo.
Not required to get vaccine 
Under federal guidelines, employers generally can require their workers to show proof of vaccination before being allowed to enter the workplace. But the nursing home industry is promoting a different approach.
"Everyone is best served when we educate and don't mandate," said Stephen B. Hanse, president of the New York State Health Facilities Association, which represents more than 425 skilled nursing and assisted living facilities.
When asked why there are high numbers of nursing home workers refusing the vaccine, he cited early distrust voiced about a coronavirus vaccine.
"... as we have seen, the vaccination is extremely safe and all standard protocols and requirements in the analysis of the vaccine have been conducted," Hanse said.
To increase the number of nursing home staff being vaccinated, he said, there is a need "for better and coordinated education, starting with the state in partnership with all providers."
Frequent changes in guidance from the U.S. Centers for Disease Control and Prevention and state directives regarding the virus, Hanse said, have created "a level of mistrust among certain health care workers. That ties right into education."
Conducting a campaign on the importance of the vaccine for its union members is Local 1199, Service Employees International Union, which represents 60,000 nursing home workers statewide, with more than 5,000 of them in Buffalo and Rochester.
"Our members are a little anxious and these are anxious times. We have members who have received the vaccine and have gone public to encourage their coworkers to do the same," said Todd Hobler, vice president at Local 1199. "We are not shy about encouraging our members to get vaccinated for themselves, their families and the people they care for."
The state Health Department also issued a statement Tuesday on its efforts to promote vaccinations:
"As the governor and health commissioner have said, we are conducting outreach in communities across New York State to help dispel vaccine hesitancy and will continue to promote vaccine confidence to ensure the highest vaccination rate possible. It is critical that the public understand the facts: the Covid-19 vaccine is safe and effective; it cannot give you Covid-19, the vaccine's side effects are generally minimal and an indication that it is working; and the vaccine is free."
At Erie County Executive Mark Poloncarz's weekly Covid-19 briefing Tuesday, he also weighed in on refusals to receive the vaccine at nursing homes and the need to reach herd immunity.
"There are patients, as well as employees, who have declined the vaccine. They have the right to do that, though if we do not get to a certain percentage, we will have a difficult time dealing with this because we will still have individuals who are sick. We will never reach herd immunity," Poloncarz said.
He also said nursing home residents constitute a large number of county's Covid-19 deaths, and he's hoping that the vaccinations will help drive those numbers down.
"That's what's driving a good portion of our deaths," Poloncarz said.
Some area long-term care facilities provided The Buffalo News on Tuesday with statistics on vaccinations for their staff.
At Catholic Health's four nursing homes, 54% of staff have received the vaccine, according to spokeswoman JoAnn Cavanaugh.
At the Elderwood chain of nursing homes and its other senior care facilities, 52 percent of direct care staff have received the vaccination, according to spokesman Chuck Hayes.
He added, "… another 25 to 30% have not yet been vaccinated due to a number of factors, including staggered vaccine administration as recommended by the CDC."
At the Greenfield Health and Rehabilitation Center in Lancaster, 73% have been vaccinated, according to Christopher E. Koenig, president of the Niagara Lutheran Health System, which owns the GreenField Senior Living Community in Lancaster.