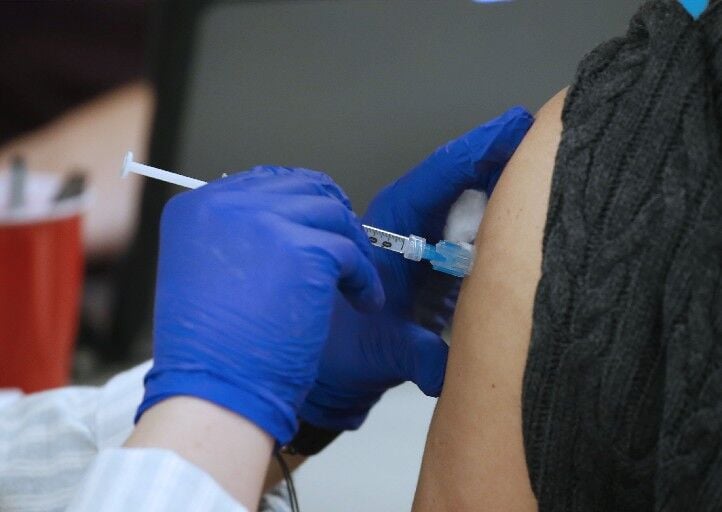 For a year, the epicenter of the Covid-19 threat was among senior citizens.
But after nearly four months of vaccinations focused primarily on the elderly, Erie County officials said Tuesday that young adults are now the most likely to catch the virus, and it is more common for someone under age 65 to be hospitalized than it is for seniors.
"I think the vaccine logjam is really going to break into March and April, and we'll really be rolling," said Dr. Thomas Russo, chief of infectious diseases at UB's Jacobs School of Medicine and Biomedical Sciences.
• As of Sunday, 218 Erie County residents were hospitalized with Covid-19, and 53% of those were under age 65, while the overall number of people in hospitals with the virus rose from 148 on March 22 – a 47% increase in the past two weeks.
• Statewide figures show that three months ago, 67% of those hospitalized with Covid-19 were over age 65. As of Sunday, that figure was down to 49%, the state Health Department said.
• On Sunday, the percentage of the hospitalized between ages 20 and 64 also was 49%, while in early January, that age range accounted for 32% of hospitalizations in New York.
As has been the case with much of the pandemic, reaction to the data was cause for either optimism and pessimism.
"New York State hospitalizations are currently at half of what they were in January, and have steadily decreased each month," state Health Department spokesman Jeffrey Hammond said.
"Because so many of our seniors have been vaccinated, they're protected from developing a severe illness and hospitalization and death, and the vaccine is working," said Dr. Gale Burstein, Erie County health commissioner.
"It's not surprising that people that are younger are the ones that are being hospitalized," Erie County Executive Mark C. Poloncarz said Tuesday during his weekly briefing with the the local media. "We're seeing cases primarily among individuals who haven't been vaccinated."
The numbers bear that out, too. In Erie County in February and March, 372 people age 60 and older died of Covid-19. In March, the number dropped to 53.
Average daily case numbers are up almost a third over the past week, the first such climb since January. And Covid-19 is ticking up across the state, as well.
"So who's getting infected?" asked Dr. Thomas Russo, chief of infectious diseases at the University at Buffalo's Jacobs School of Medicine and Biomedical Sciences. "It tends to be younger people. Our 20-year-olds: That decade has been the leader for cases overall."
Of the 3,182 cases detected in tests given last week, 714, or 22.4%, were among 20-somethings. Thirty-somethings accounted for 535 cases, or 16.8% of the total.
And 504 cases were found in Erie County schools, up 198 from the previous week. Meanwhile, less than 5% of the new cases were among those ages 70 and up, and 8.4% were among the 60-to-69 age group.
In part, that means that young people may not be following the public health guidelines of wearing masks, avoiding crowds and washing their hands, Burstein said.
"As we've seen from the start of the pandemic, new cases are typically driven by behavior," Hammond said. "And as we've also said from the beginning, the best way to beat the virus is wear a well-fitted mask, avoid large crowds, social distance, wash your hands and now get vaccinated when it's your turn."
"Now we really need to focus our vaccine efforts on the younger people, number one, to prevent more community transmission, as we saw from our data that young people in their 20s and 30s are driving transmission," Burstein said.
In Erie County, 70.6% of the population over age 65 has been vaccinated at least once, while those under 30, unless they had a qualifying job or a pre-existing condition, weren't even eligible to make a vaccination appointment until Tuesday.
"Right now, we have two positive cases in Niagara County nursing homes, where a few months ago, we were over 100," said Daniel J. Stapleton, Niagara County public health director. "The key is always the hospitalization rate, and that is still considered low."
Niagara County had 698 active cases on Tuesday, a figure that had risen 67% in the past week – but only seven patients were hospitalized.
"Of course, any increase is a reason for concern, and while we are going as fast as the supply dictates in getting shots in arms, we need people to remain vigilant," Stapleton said. "Over the Easter weekend we reported 345 new cases, and 64% of those were age 45 and under. People know what they need to do – wearing masks, maintaining social distance and so on – but they have to have the will to do it."
Since early March, new cases among 20-somethings more than doubled. By comparison, elderly residents in their 70s and 80s saw a far more moderate uptick, from 104 to 145 weekly cases.
Russo said it makes sense for those in their 20s to lead the way in Covid-19 transmission, and not only because few have been vaccinated.
"Behavior and what you do is critical as to who gets infected," Russo said.
Often, he said, 20-somethings are found indoors, without masks, in a setting that "usually involves food and drink and congregate settings with poor ventilation."
Many have service jobs that involve high public interaction.
"That sort of continues and is exacerbated as these individuals had spring break, increasing fatigue, wanting to be done with this, etc.," Russo said.
"Vaccinations are certainly the key for controlling positive case numbers in every age group, but again it's an issue of supply," Stapleton said.
Nationally, seniors are still the age group most likely to be hospitalized, according to the U.S. Centers for Disease Control and Prevention, but the difference in hospital rates between them and younger people has almost disappeared.
As of March 27, 12.5 out of every 100,000 Americans age 65 and up were in the hospital with Covid-19, the CDC said. The rate of 50-to-64-year-olds in hospitals with the virus is now 9.5 out of every 100,000, only 3 people less than the rate for seniors.
"We're very worried about what this means for our region in the next few weeks," Poloncarz said. "Thankfully, we've vaccinated a lot of people in our community, and if we hadn't, I'd be very concerned."
Poloncarz told reporters there have not been any discussions with the state about returning to economic lockdowns.
"It's just not great out there. I know people are sick of Covid, they're over it, but the pandemic's not over," Poloncarz said. "I need people to hold out for a little longer until we can vaccinate more individuals."