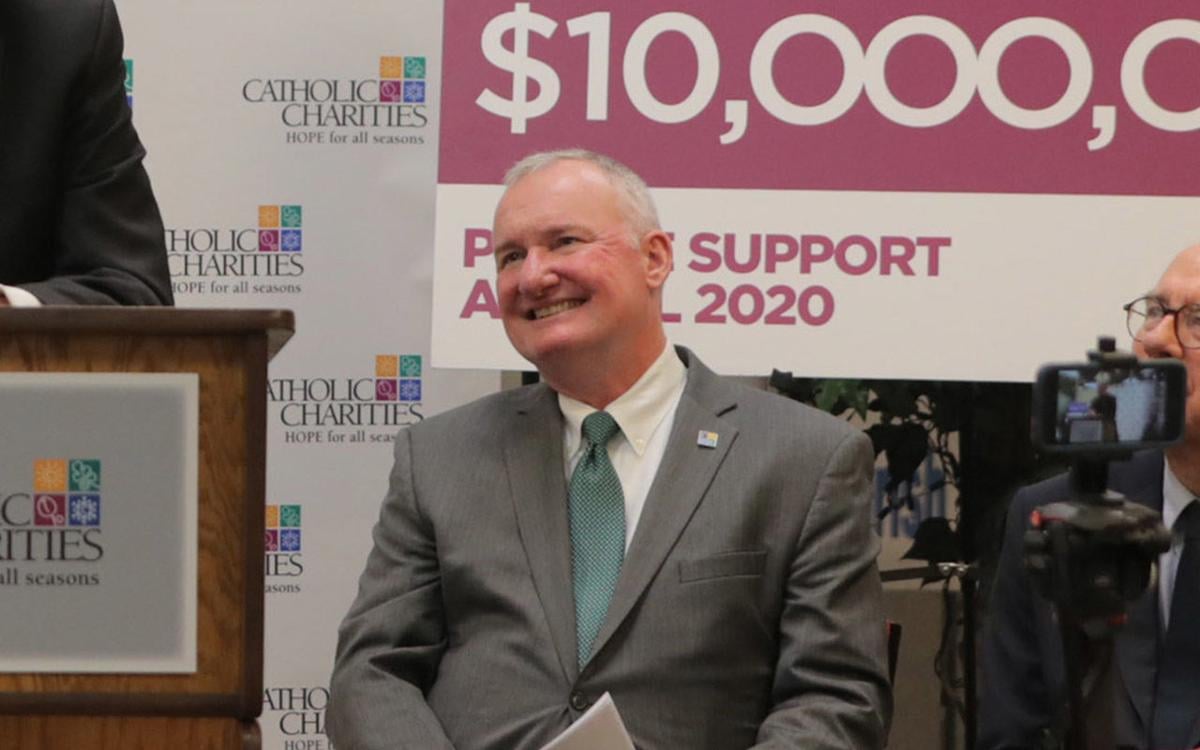 The Covid-19 pandemic and its negative effect on the local economy has posed a unique fundraising challenge for Catholic Charities of Buffalo.
The needs of the community are growing deeper as the resources to address them become more shallow, said Deacon Steve Schumer, president and CEO of the agency.
"When the rest of the economy takes a nosedive, that's the time when entities like Catholic Charities have to step forward," said Schumer, during a recent meeting with The Buffalo News Editorial Board.
Catholic Charities launched its 2020 appeal on Jan. 14, and it runs through June 30.
When Covid-19 began to appear on the horizon, the agency became concerned with how to continue servicing clients and those in need while keeping them, as well as staff and volunteers, safe, Schumer said.
"We've been able to continue all of our critical services. Most of our volume is up. We're seeing more people... and doing more good in the community," said Schumer.
But while the volume of services is up, donations to Catholic Charities are lagging behind last year's pace, according to Rick Cronin, chairman of the 2020 Catholic Charities Appeal.
"We're down from our usual 87% at this time," said Cronin, who said the appeal is several million dollars behind where it was this time last year.
"A lot of folks who normally would be helping us to help their neighbors are now going to need help themselves. That's the sad reality of this," Cronin added.
The fundraising goal this year is $10 million.
"Based on the past track record, we're still more than $4 million below our goal, but if we're going to hit the goal, we should be at 80% of the goal, not 57% of the goal," said Schumer.
Last year, the fundraising goal was higher, but the actual amount that was raised was lower.
"So our goal was $11 million and we raised $9.3 million," said Schumer. "This year,  we set a goal right in the middle, more than we raised last year, but less than last year's goal. So we thought $10 million was the sweet spot."
Cronin said demographic changes also affect the goal.
"Part of the drop in the goal is due to demographics. Probably 2,000 to 3,000 people leave the diocese or die each year, and that affects how many people you can reach. That's been consistent for decades," Schumer said.
He estimated that the appeal relies on between 40,000 and 45,000 donors annually.
"Given everything that's going on – no Masses and everyone on lockdown – 8,000 people still put something in an envelope and mailed it in. That's impressive. We're encouraged by that," Schumer said.
"We're going to leverage every dollar that we receive and go out and seek opportunities to provide services based on that," he added.
Much of the agency's funding covers overhead, salaries for professional services and gaps in funding streams for programs that are funded by federal, state and local governments.
Hope Day on May 22 is a big fundraising day for the appeal that will incorporate phone banks and online giving.
"We've got some matching funds we're trying to add to," Schumer said. "We're hopeful that Hope Day will be successful."
Catholic Charities spokeswoman Rose Caldwell said the funds raised from private sources are important.
"The fewer the donations, the fewer the federal dollars we'll have to leverage," Caldwell said.
Despite shrinking resources, Schumer said: "We have not trimmed our workforce at all."
"We don't help people because they're Catholic. We help people because we're Catholic," said Cronin. "It's what we're called to do as part of our gospel mission."