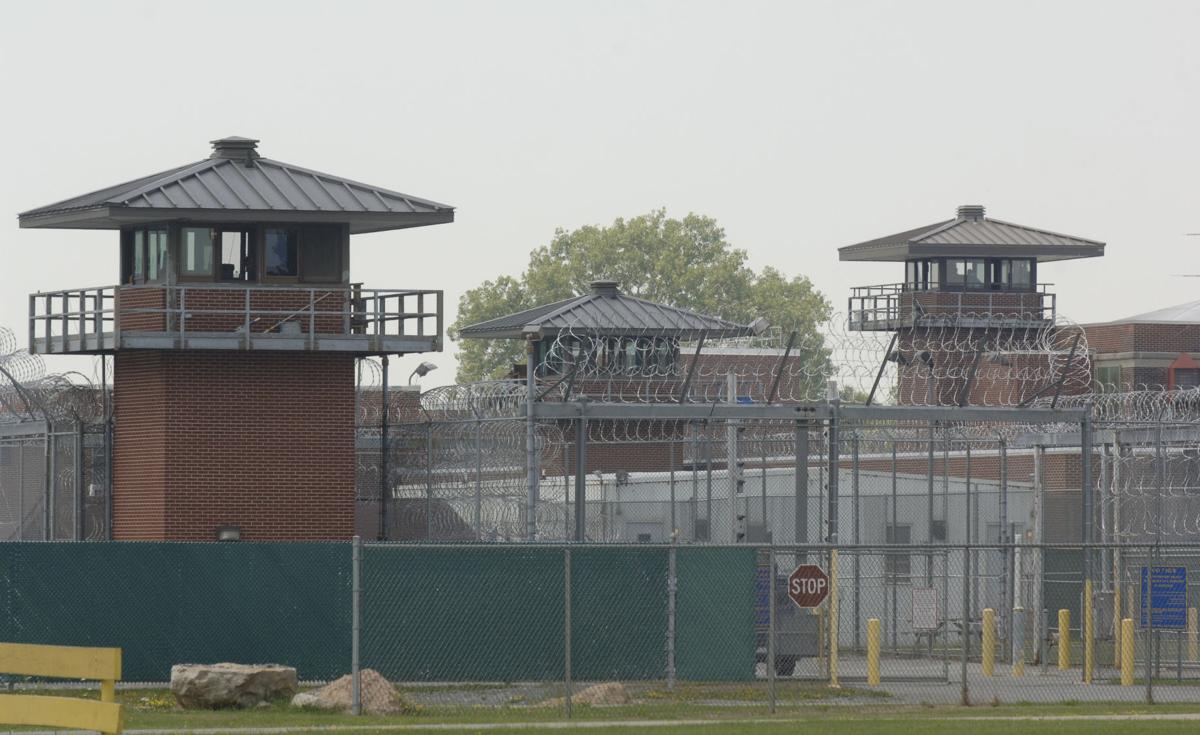 With Wende Correctional Facility recording the fourth-highest Covid-19 positivity rate among the state's prisons, inmate Taiwu Jenkins is terrified of catching the virus "and dying in here."
So Jenkins, 47, has sued for his release, saying his asthma, high cholesterol, obesity and two medications that suppress his immune system make him significantly more susceptible to serious illness and even death were he to become infected.
"The medically vulnerable and aging at Wende along with staff members, their families, and the communities to which they return on a daily basis, are in especially grave danger," said Heidi Bota, a lawyer for Jenkins, in court papers filed in State Supreme Court.
The lawsuit comes as prisoner advocates push for better protections and even early release for inmates, while prison officials seek to reassure those anxious about conditions in the facilities that safeguards are in place.
Bota noted that the number of confirmed Covid-19 infections at Wende went from 31 in November to more than 170 in January. The prison had a 16% positivity rate through Thursday, with nearly 80% of the 177 infected inmates having recovered, according to state figures.
In the meantime, Wyoming County Correctional Facility reported 103 inmates currently infected with the virus, the second-highest among the state's 52 prisons, according to state data posted Friday. Attica Correctional Facility and two other state prisons have had more positive cases than Wyoming, but more of their inmates have recovered.     
"These outbreaks demonstrate the Department of Corrections and Community Supervision's objective inability to control the virus," according to the court filing from Bota, a staff attorney with the Criminal Appeals Bureau of the Legal Aid Society in New York City.
The correctional department's policies, uniform throughout the state's prisons, "are ineffective to control the rapidly increasing number of positive cases," Bota said.
In all, some 4,631 inmates have tested positive – 30 of whom died. As of Friday, inmates at state prisons numbered 33,651.
New York's correctional facilities have experienced the same trend of community spread that the entire state has seen. 
"Every facet of the state's response to the Covid-19 outbreak has been guided by facts, scientific data, and the guidance of public health experts at NYS Department of Health and the CDC, and the work of DOCCS to protect the safety of New York's corrections staff and incarcerated population is no different," according to a statement from the department. "DOCCS is currently following all NYS DOH guidelines regarding congregate settings at each of its facilities."
Jenkins is serving a 50-year sentence for two first-degree assault convictions in New York City. Without a compassionate release, his earliest release date is May 21, 2034.
He said he lives with fear.
"I have been incarcerated for 21 years, I am paying my debt to society," he said, according to court papers.
Since the start of the Covid-19 pandemic, those who are incarcerated in state prisons, their families, prisoner rights advocates and medical experts "have been absolutely terrified of the impacts behind bars," said Jared Chausow, who works with the People's Campaign for Parole Justice.
"Social distancing is impossible in prisons and health care is atrocious," Chausow said. "Access to PPE, at best, is very limited. And in New York, there's been a need for parole reform for many years because there is a crisis of aging and dying in our state prisons as a result of brutal sentences."
Jesse Johnston, 33, of Rochester, was released from Wyoming County Correctional Facility in October 2019, about six months before the pandemic.
Those with whom he was incarcerated are enduring an inadequate supply of personal protective equipment against the coronavirus, as well as medical care that is wanting, he said.
"Nobody signed on for this," said Johnston, a community advocate with the Center for Community Alternatives.
"Most people incarcerated are there by plea bargain. It's no secret that 90-something percent of the inmates pleaded guilty, and this isn't part of their plea bargain," he said. 
Johnston has heard from inmates who complain that they receive just one mask every two weeks.
As the director of Release Aging People in Prison, or RAPP, Jose Saldana of the Bronx said he also regularly hears from those in state prisons about the precarious nature of being incarcerated during a pandemic.
"Everybody is telling me the same story, and it's in conflict with what doctors reported. Men, and also some women, tell me the same thing, that the lack of PPE is still so outrageous," Saldana said.
"People are actually forced to wear the same mask ... and forced to wash these disposable masks. They must lose their effectiveness after repeated washing," he added.
There are some 200 people over the age of 50 at Wyoming Correctional Facility, said Katie Schaffer of the Center for Community Alternatives, which organizes with people who have incarcerated loved ones in prison.
"It's a sizeable number that the Department of Corrections deems as elders, or incarcerated people over the age of 55," she said. 
"In addition to the longstanding parole reforms since the pandemic started, we have also been advocating for PPE and for a more robust testing regimen. Since the vaccine was released to the public, we've also been advocating for vaccine access for incarcerated people," she added.
The Jenkins lawsuit alleges that he has received only two handmade masks made from extremely thin material, and that he has never received a disposable surgical mask.
Also, he has no access to hand sanitizer or bleach – only "state soap," according to the lawsuit.
When he's allowed to make calls, there are three telephones within inches of one another, and inmates stand shoulder to shoulder, with no social distancing, according to the suit.
Jenkins is housed in involuntary protective custody at Wende, occupying one of seven cells in his area. The cells are approximately 3 inches apart from one another. Each cell has one small window – which can only be opened from the outside – and currently all are closed because the heat is on, according to the lawsuit.
In its public statements, the Department of Corrections and Community Supervision has said it is focused on ensuring its employees and inmates are protected, "just as we have successfully managed infectious outbreaks in the past."
It has put emergency protocols in place and made adjustments in the prisons to limit any outbreaks.
Staff must wear face masks while on duty and inmates are supplied with surgical-type masks, according to the department. The department said it has issued hand sanitizer to all facilities for staff and inmates.
Inmate visits have been suspended statewide.
In facilities that have had spikes of cases, rapid testing has been deployed for staff.
Last month, intake of state-ready inmates from county jails was suspended. Movement within the system has been slowed as well.
The department developed an asymptomatic surveillance testing plan that began Dec. 21, allowing for a number of inmates from each facility to be tested every weekday to identify which housing units are emerging as a problem. The asymptomatic surveillance testing is in addition to testing individuals who display symptoms and those who are identified as part of a contact trace. Incarcerated individuals displaying symptoms are immediately isolated and tested.
The pandemic has reinforced the need for state legislation affecting parole decisions, specifically for older and immuno-compromised prisoners, the advocates say.
The Center for Community Alternatives has joined forces with the People's Campaign for Parole Justice in support of the state bills.
"There are two pieces of legislation that we're focusing on. One is the Elder Parole bill, which is specifically targeted for older adults in prison, people 55 and older," Chausow said.
The second piece of proposed legislation is called the Fair and Final Parole bill, which would affect anybody who, as part of their sentence, goes before the state Parole Board.
"So that's a range of people, and a range of ages, and what that does is change the ways the Parole Board considers parole applications," Schaffer said.
In lieu of blanket denials by the board on the basis of what people were convicted of decades ago, the bill would re-orient the Parole Board process away from excessive punishment and toward opportunities for transformation, Schaffer said.
Some 3,556 inmates have been released early due to the pandemic, including 791 who had their low-level parole violations canceled and 2,753 who were within 90 days of their approved release date for non-violent, non-sex offenses. Those who were released underwent individualized reviews to ensure they were connected with housing and health care services. 
Johnston said he has a good friend, nearing 50 and with COPD, at the Wyoming facility, where the two were once incarcerated together.
"He has scarred lungs. He has breathing problems," Johnston said. "He is the perfect example of the sort of people that CPA is advocating for clemency and up for review to get released. These are people with serious health concerns, although all of them may not be old but .... they can't handle an infection with Covid," he added.