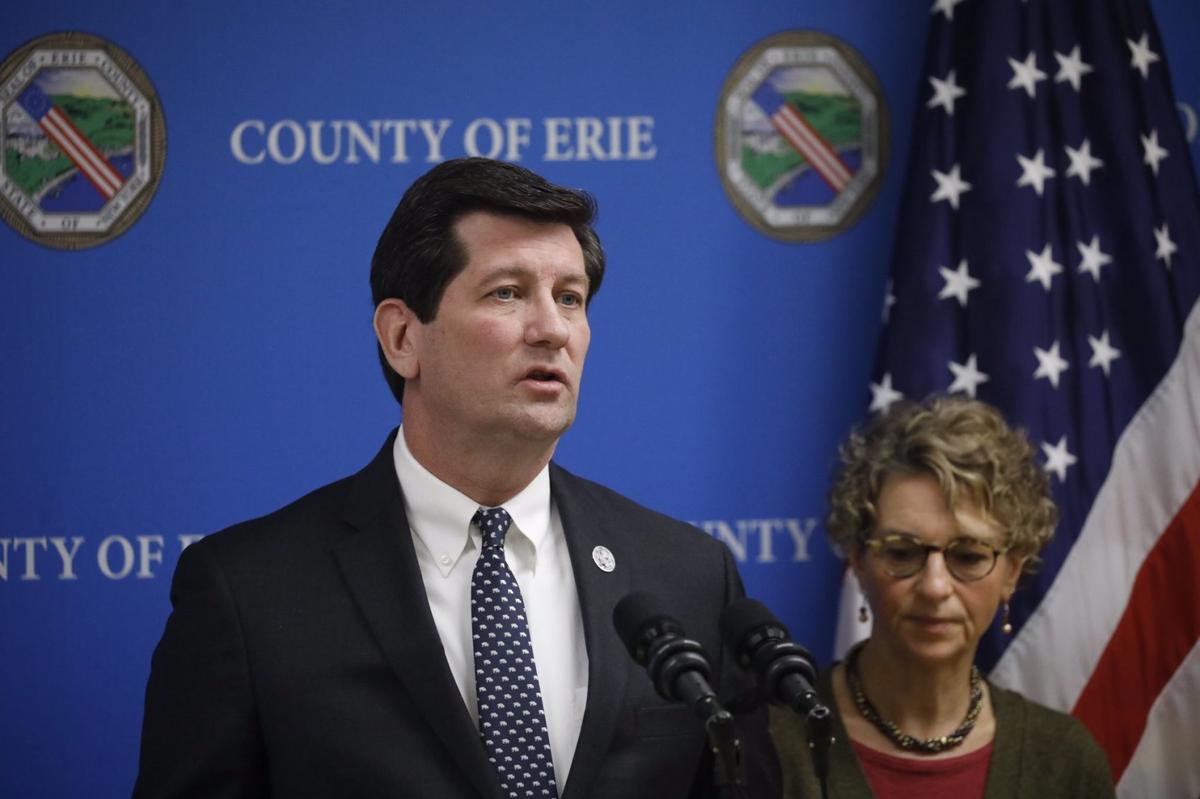 The Western New York region and Erie County continue to see steady declines in the percentage of people testing positive for Covid-19 and the number of people being hospitalized with the virus, but the identification of a more infectious U.K. variant of the coronavirus in Erie County presents a new worry.
County Executive Mark Poloncarz said Tuesday that last week's positive test rate of 4.3% was the lowest in Erie County since October. The region's average positive test rate has remained below 3% for several days.
"So we've gotten through the fall and winter, and we are headed in the right direction," Poloncarz said.
Gov. Andrew Cuomo also stated Tuesday that "the light at the end of the tunnel is brighter and brighter each day."
But a few developments poked a hole in the otherwise positive picture:
• Cuomo announced that two Erie County residents have tested positive for the U.K. variant of the new coronavirus. This variant was previously identified in Niagara County in late January and in Allegany County early this month.
Scientists say that the U.K. variant, named as such because it was first discovered in Britain, is more contagious than the virus currently infecting the vast majority of United States residents. The two Erie County U.K. cases announced Tuesday were among 18 new cases found in New York State, bringing the state's total of the U.K. variant cases to 154.
• Poloncarz expressed concern about younger adults becoming lax regarding health safety protocols such as mask-wearing. He pointed out that 67 county residents under the age of 60 have died of Covid-19 since November. That is more than all the people who have died under age 60 in the first eight months of the local health crisis.
"I know people are over the pandemic, but the pandemic's not over," Poloncarz said.
In regard to the more infectious strain of the novel coronavirus, first discovered in Britain, Cuomo said that there are currently 154 cases of the U.K. variant identified in New York State. Two cases involving a South African variant have also been identified in the state, both in Long Island.
The two Erie County UK cases were among 18 new cases found in New York State, bringing the state's total of the UK variant cases to 154.
The two Erie County cases with the U.K. strain were identified from specimens collected at the end of January, Erie County Health Commissioner Dr. Gale Burstein said. Close contacts of the infected individuals were quarantined, but there is no evidence yet of anyone else being infected.
"Because it's a more transmittable strain, it's a more aggressive strain, until we see more people in the community that are immunized, we're going to expect to see more of these cases," Burstein said. "So, this is really considered just the beginning."
The good news is that individuals who are immunized with either the Pfizer or Moderna vaccines are protected against this virus strain. In addition, those who have contracted Covid-19 and recovered also gain natural immunity against the U.K. variant, said Dr. Thomas Russo, chief of infectious disease at the University at Buffalo Jacobs School of Medicine and Biomedical Sciences.
That is not equally true for other coronavirus variants.
"If we're going to have a U.K. variant, this is the best variant to have," Russo said.
Research is mixed regarding whether it causes more severe illness, but because the virus is more transmittable, a greater proportion of people will either need to be immunized or develop natural immunity if this U.K. variant becomes the dominant strain, he said.
But since overall cases of Covid-19 in the community are going down, and vaccinations are rising, it is not clear how this variant will affect the local community.
"I don't think there's anything we can assume at this point," he said.
Both Russo and Poloncarz said that there is no way to know how long this variant has been in our region or whether it could cause a bump in the number of people getting infected or hospitalized.
"It's something we have to track," Poloncarz said. "If we started to see a rise in cases and the variant is the reason, then it would affect a number of actions that would have to be taken, including youth sports, including weddings and the like. Thankfully, our numbers are going down."
County officials and Russo emphasized that preventative measures such as mask-wearing, social distancing and hand-washing continue to be effective forms of prevention from contracting any form of the virus.
Russo also said that people who are getting vaccinated still need to make sure that they follow up with the second dose of the vaccine.
The second dose strengthens the length of time a person will remain immune to Covid-19 and boosts the body's antibody response roughly tenfold, Russo said.
In related news, county officials said that Covid-19 infections have resulted in 49 youth sports teams being placed on a 10-day pause because of positive cases among athletes and/or coaches. Of the 49 teams that have been affected, 25 are youth hockey teams.
Burstein said that the cold, dry air associated with youth hockey causes more viral aerosol particles to remain suspended in the air for longer periods of time and travel farther. Locker room usage is also a trouble spot for virus transmission, Burstein added.
Both she and Poloncarz planned to meet with hockey representatives Tuesday to discuss their concerns and review the rules for safe competition.
News Staff reporter Keith McShea contributed to this story.