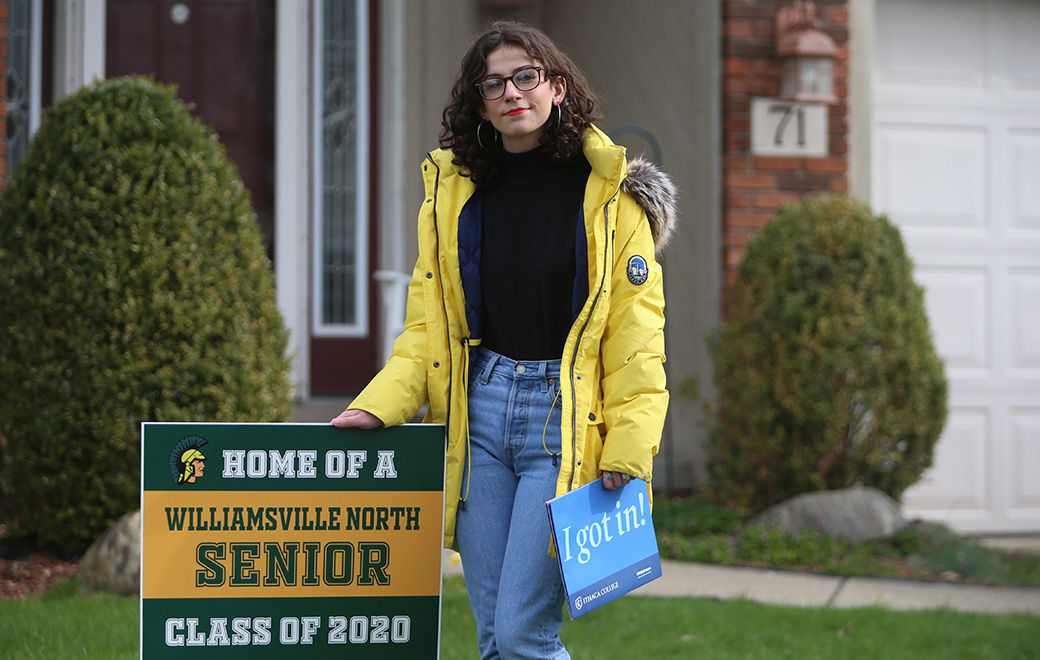 Elisabeth Frank is pondering a gap year instead of starting college in the fall amid uncertainty around Covid-19.
The outbreak has made Gabriella Galante think about sticking closer to home for college.
And until this public health crisis settles down, community college may be the way to go for Adriana Bollinger.
"I definitely have to consider that as an option," said Adriana, a senior at Williamsville North High School. "That really didn't even occur to me until very recently, because I've always wanted to use college as an opportunity to go away, experience new things and meet new people."
The traditional May 1 deadline, when high school seniors commit to a college, looks a lot different this year, with so many unanswered questions caused by a pandemic that has closed campuses, moved courses online and created more financial stress for families.
In turn, it is also creating a lot of uncertainty for colleges and universities, many of which have extended their admission deadline to June 1 in the face of their own financial pressures after years of stagnant enrollment.
"We know there are going to be a good number of students who are going to take the month of May to really make that decision," said Ian Day, vice president of enrollment management at Canisius College. "What that really does is it just makes it more unpredictable for us."
"We're in a waiting game," said Harry Gong, registrar at Niagara University. "If a school that a student is interested in decided to go totally online in the fall, does that change their perspective? I think students are waiting to see."
A quarter of decided high school seniors said they may change their mind about the college they want to attend as a result of Covid-19, according to a survey of 1,100 students conducted in late March by Simpson Scarborough, a higher-education marketing and research firm.
A poll by another marketing researcher, Art & Science Group, found that nearly two-thirds of graduating seniors are concerned they may have to change their first choice of college – family finances amid layoffs and furloughs being the biggest reason.
"I think there's a lot of families out there who, for financial reasons, are probably going to have to make different decisions because mom and dad no longer have the income coming in," said David Coates, a retired high school guidance counselor who now has a consulting business.
Coates, who is co-chairman with Gong of the National Association for College Admission Counseling college fair in Buffalo, suspects most seniors are making their decisions right now with hopes the world will be back to normal come fall.
But he recommends a Plan A and a Plan B. That may include a discussion with colleges about the possibility of deferring for a semester or two.
"How comfortable are parents going to be sending their students away? Are they going to want to pay for an online experience when they thought it would be a different experience?" Coates said. "These are all unanswered questions."
Consider Galante, a senior at Starpoint High School. She was interested in enrolling at Baldwin Wallace University in Cleveland for the fall.
But now, during a pandemic, she is leaning toward the theater program at Niagara. She can live at home and it will be less expensive.
"After talking with my parents, Niagara just seemed like the best choice," said Galante, 18.
The uncertainty surrounding Covid-19 comes at a time when many in higher education already have endured flat or declining enrollments in recent years. Changing demographics have made for a smaller pool of high school graduates, while the high cost of college and low unemployment the past few years have kept prospective students away.
Despite the unknowns for the fall, Gong and Day said freshman enrollment is tracking fairly well at Niagara and Canisius. Still, no institution is going to feel comfortable until there is certainty about when the country will reopen for business, Gong said.
There's a good chance that colleges could lose plenty of students who had planned to come from outside the state or country.
"We are hearing concerns about coming from other areas across the state and traveling and not really knowing what the unknowns look like for them," said Jackie Malcolm, vice president of enrollment, marketing and communications at SUNY Buffalo State.
"We don't know the impact that will have, not only for our incoming class, but our returning class, as well," Malcolm said. "So it's going to be a real uncertainty for us all the way through our drop-add period the first three weeks of school – and that's just the reality."
Likewise, there could be heavy competition among area colleges and universities for those local students who choose to stay closer to home rather than go away.
Miami of Ohio and Ohio Wesleyan are still the front-runners for Frank, a senior at Williamsville South High School. She plans to commit by May 1, but would re-evaluate her decision over the summer as college draws closer.
Her parents have talked to her about taking a one-year hiatus from her studies while the pandemic subsides.
"I never felt I wanted a gap year and never looked at it seriously," said Frank, 18, "but we kind of came to the conclusion that should this affect my ability to get the college experience, then it just doesn't seem worth it to go away and go through that whole process."
Universities and colleges, such as Canisius, are readjusting or sweetening the financial aid for students whose families have been furloughed or laid off because of the pandemic.
It also has forced higher education to ramp up online engagement with virtual campus tours and other recruitment strategies.
For example, when Canisius canceled its March event for accepted students, the college designed a series of webinars to give prospective students a last look before making their decision, Day said.
SUNY Buffalo State, too, is trying to get as creative as it can online, which includes plans to hold 75 summer orientation sessions remotely, Malcolm said.
"My front-runner is Ithaca College," said Adriana, the senior from Williamsville North, "but I feel like putting down those payments and committing to a school that's more expensive might be irresponsible on my end and give me a lot of debt I don't know I should take on if I'm not living on campus and getting all those opportunities."
Now Adriana, 16, is thinking about staying home for a semester or two to attend Erie Community College. Her mother is a professor at ECC and Adriana would get a break on tuition.
Thankfully, Adriana said, most schools have extended the decision date to June 1.
"I talked it over with my parents and I decided I'm not even ready to make a final decision within a week of that date, because I feel like I need the most current information possible," Adriana said.
"Otherwise," she added, "I could very easily make a decision that's not the wisest or the most informed."