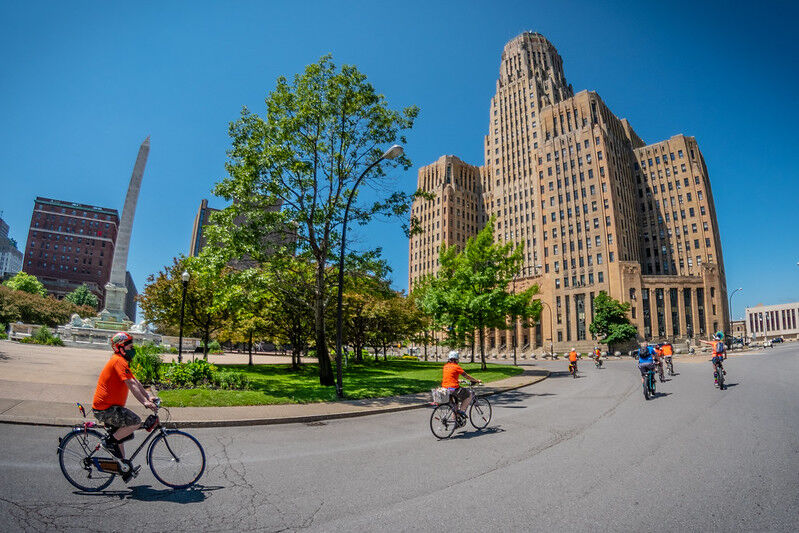 Slow Roll Buffalo got off the ground this week halfway through its planned 2020 summer season, as riders braced themselves against Covid-19 and set out from Babeville on Delaware Avenue.
The 60 participants were but a small fraction of the hundreds of bicyclists who typically sweep through city communities on Monday evenings from May through October.
They broke into two groups – because no more than 50 bikers will leave at the same time during this pandemic-plagued season – and wore masks over their mouths and noses as they went.
They rode a bit faster at a slightly longer distance, unaccompanied by ride marshals, a mechanical support crew or police escorts.
And they ended non-traditionally, in a different spot, dispersing without an official after-party.
"Sadly, we've really had to turn upside down our usual approach of wanting as many people as possible to come out, and being as inclusive as possible," said Seamus Gallivan, co-founder of the nonprofit civic organization.
Free group rides through the rest of the season will pretty much run the same, starting at 6:30 p.m. the first working weekday in a different spot and governed by federal health guidelines and state rules designed to prevent Slow Rolls from becoming coronavirus super-spreaders.
Participants are asked to stay home if they're sick or have traveled to a state with high Covid-19 case numbers during the past two weeks, to keep young children at home and to abide by the same traffic rules that dictate other transportation on city streets.
Also gone during this seventh Slow Roll Buffalo summer season are related weekend excursions that became common in recent years in small cities and suburbs beyond the City of Good Neighbors.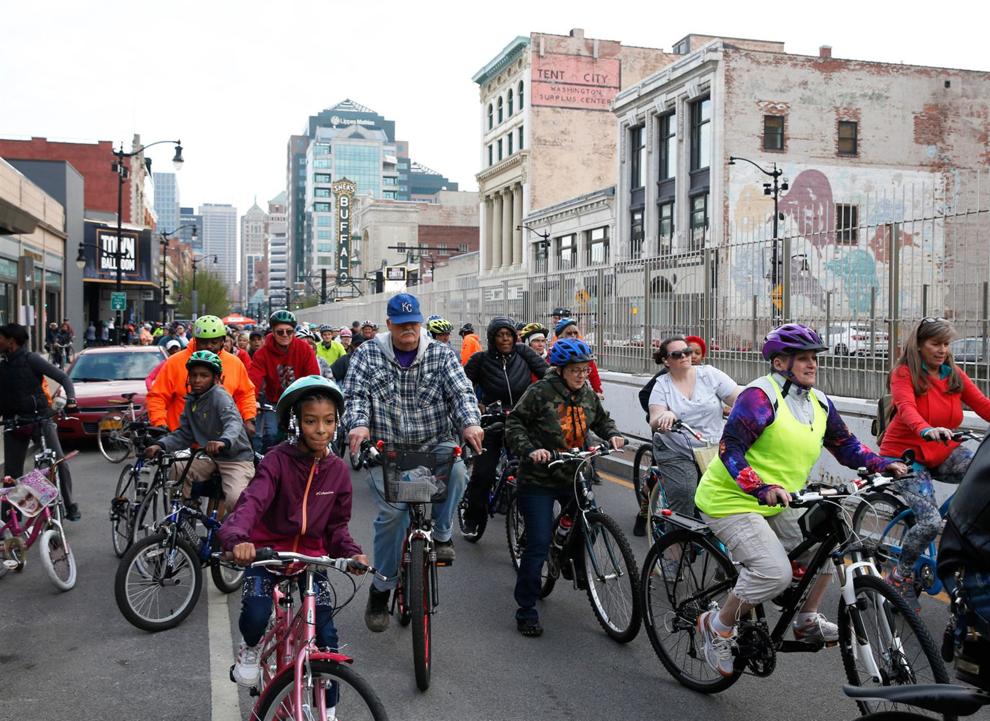 "We'll still make Monday routes in somewhat of a loop," Gallivan said, but they will stretch about 15 miles, instead of 10 or 12, and end a mile or more from where they started. On Monday, that was three miles away from Babeville at Martin Luther King Jr. Park.
Groups of 50 or fewer will set out in intervals – this week, the two groups left 10 minutes apart – and some may set out before 6:30 if a sizable number of people show up early. There will be no stops along the way to hear from residents about their neighborhood architecture, culture, history or plans and dreams for the future, either.
Walking climbed 500% from March through May, bicycle riding ballooned by 3000%, and both activities continue at higher levels, according to the Buffalo Niagara Regional Transportation Council.
"We put a lot of time into figuring out how we can still be free and open to all with the current (Covid-related) restrictions," Gallivan said of rides conducted in partnership with Independent Health. "What we didn't want to have to do was become exclusive to the point that you had to sign up in advance or pay, or limit things to one group when we got to 50."
Still, the pandemic-fueled requirements hurt.
"Our mission transcends bikes," the co-founder said. "The bike is a vehicle for authentic communal connection and Buffalo is already one of the most segregated cities in America. We are an ever more polarizing society and we see Slow Roll as medicine to help heal that."
The next ride starts at 6:30 p.m. Monday outside the Central Terminal. Go to slowrollbuffalo.org for more information and to register once for the season. Future rides will be announced weekly on the website, which also includes footage from unofficial rides that Slow Roll Squad members and leading regional bike enthusiasts took in small groups since May.
Other group riding options include:
Big Wheels Bicycle Club: Offers bike tours, with an outdoor stop or two along the way, almost daily during good weather. Riders must bring a mask and wear it at all times when they cannot physically distance at least 6 feet from others. All must wear a helmet, as well as bring a spare tire tube and their own water. Join the club at bigwheelsbikeclub.com.
Blues & Rock n "Roll": Free Wednesday evening rides led by 97 Rock DJ Anita West on the Tonawanda waterfront that require masks, social distancing and registration, the latter of which is limited. Register in advance at the Anita West Blues & Rock n Roll Wednesdays Facebook page.
East Side Bike Club: Free rides at 10 a.m. Saturdays through September from the Martin Luther King Jr. statue in MLK Park for trips around the city. Masks and social distancing are required and there is a limit of 50 riders. Learn more at facebook.com/esbcbuffalo.
Niagara Frontier Bicycle Club: The group offers members socially distanced daily rides at an athletic pace. Learn more at nfbc.com.
Slow Spokes Buffalo: The club leads a free 10 a.m. Saturday ride from the Clarence Hollow Farmers Market along town roads. There is a strict limit of 25 participants (not counting volunteer ride leaders), and those who wish to participate are asked to arrive early for a health screening. Masks are required any time you cannot socially distance. For more information, visit facebook.com/groups/SlowSpokesBuffalo.