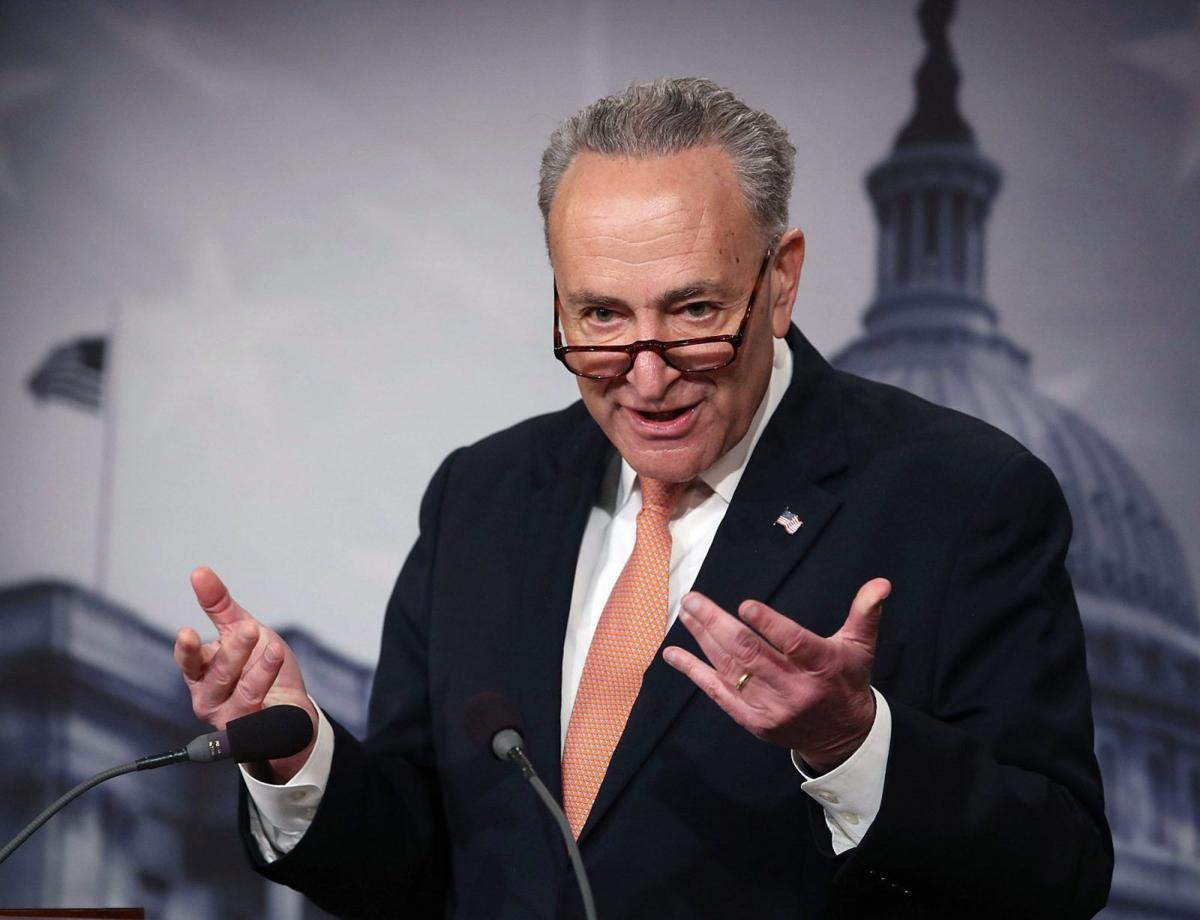 WASHINGTON – Small businesses and hospitals in Western New York and around the country may soon get the government-backed cash infusion they've been hoping for amid the coronavirus crisis – but state, county and local governments across the country will have to wait.
That's the bottom line in legislation nearing the finish line in Congress Tuesday. Republicans got the $320 billion in small-business lending aid that they and Democrats have long agreed upon, while Democrats got $75 billion in funding for hospitals and $25 billion for coronavirus testing.
But Republicans rejected a proposal from Senate Minority Leader Charles E. Schumer that would have brought $12.2 billion to the cash-strapped coffers of New York State government.
"I think it's a terrible mistake not to provide funding for the states" now, Gov. Andrew Cuomo said at a press briefing in Buffalo. "I guess more (money for) businesses, I get airlines. How about police? How about fire? How about health-care workers? How about teachers?"
Schumer's proposal would have brought $142.2 million to Buffalo and $81.46 million to Erie County, along with millions to other local municipalities. All those communities, like local and county governments nationwide, have seen their revenues plummet as the Covid-19 pandemic has pushed the nation into a shutdown.
"I'm sorely disappointed that Republicans turned a deaf ear to governors, mayors, tribal leaders, county and local officials – Democratic and Republican – and all 50 governors, who have been pleading with the federal government for more help," Schumer, a New York Democrat, said on the Senate floor while announcing the agreement.
But that Republican resistance to funding for state and local governments appears to be temporary. Also on Tuesday, President Trump indicated that he's open to helping state and local governments in the next major spending bill Congress draws up to cope with the coronavirus crisis.
"After I sign this Bill, we will begin discussions on the next Legislative Initiative with fiscal relief to State/Local Governments for lost revenues from COVID 19, much needed Infrastructure Investments for Bridges, Tunnels, Broadband, Tax Incentives for Restaurants, Entertainment, Sports, and Payroll Tax Cuts to increase Economic Growth," Trump tweeted.
What's in the bill
Dubbed "Covid 3.5," the latest congressional coronavirus bill stems from need. The $2 trillion economic rescue plan Congress passed in late March included a $349 billion forgivable loan program that aimed to encourage small businesses to keep employees on their payrolls. But with millions of businesses shut down and in need of cash, that loan program ran out of money last week.
Republicans and Democrats immediately agreed that the fund needed to be replenished, and the bill that's emerging will do so.
Amid criticism that the original loan program allowed big corporations to apply for loans, the $310 billion supplement includes $60 million targeted at community banks, credit unions and other small lenders. Those institutions will lend the money to smaller businesses that otherwise might get left out, such as those run by minorities and in rural areas.
Told of that provision in the bill, Susan A. McCartney, director of the Small Business Development Center at SUNY Buffalo State, said the measure addresses "very important problems."
She said the earlier coronavirus legislation Congress passed appeared to be aimed at larger businesses, and that many of the supposed "small businesses" that got loans under the Paycheck Protection Plan loan program were anything but local mom-and-pop operations.
Republicans wanted the new measure to include aid to small businesses only, but Democrats pushed for much more. Most significantly, Democrats won another $75 billion for cash-strapped hospitals.
"This additional funding will help ensure that critical care can continue to be provided by front-line providers throughout the country," said Rick Pollack, president and CEO of the American Hospital Association.
Some of that money could filter down to Western New York hospitals that have faced cash crunches due to the postponement of elective surgeries and higher costs associated with the pandemic. Amid those fiscal problems, Eastern Niagara Hospital in Lockport and Niagara Falls Memorial Medical Center last week announced employee furloughs, while Catholic Health and Kaleida Health asked senior administrators to take pay cuts.
The bill also includes $25 billion for a national coronavirus testing and contact-testing effort, another Democratic priority.
"We need to dramatically dramatically expand testing capacity and frequency," Schumer said.
What's not in the bill
While Democrats got several of their priorities in the legislation, Republicans were adamant that a quick-hit measure aimed at boosting small business should not provide billions to state and local governments, too.
The widespread attitude among Republicans in Congress was: "You're not going to get into other issues now," said Rep. Tom Reed, a Corning Republican who has pushed for additional funding for states and localities.
Negotiating the final bill, congressional leaders faced a delicate balance, Reed noted. Senators wanted to pass the measure by unanimous consent so they would not have to return to Washington – but that meant that just one opposing senator could kill the measure. The Senate passed the measure late Tuesday, and the House is expected to pass it later this week.
Reed stressed that Republicans are open to funding state and local governments in the next major coronavirus bill, which congressional leaders expect to begin work on immediately.
Local leaders such as Amherst Town Supervisor Brian Kulpa said their communities need the help.
At a press briefing on Zoom, Kulpa said the town has lost approximately $6 million in revenues due to the coronavirus crisis.
"We cannot create enough expenditure cut to offset our revenue loss during this time," Kulpa said.
The town of Eden faces the same problem, said supervisor Melissa M. Hartman.
"It's extremely important for everyone to understand that this isn't your local politician asking for money," she said. "This is your local politician fighting for the residents in your town, so that it won't directly impact having to raise taxes next year on a population that 's not going to be able to afford that."