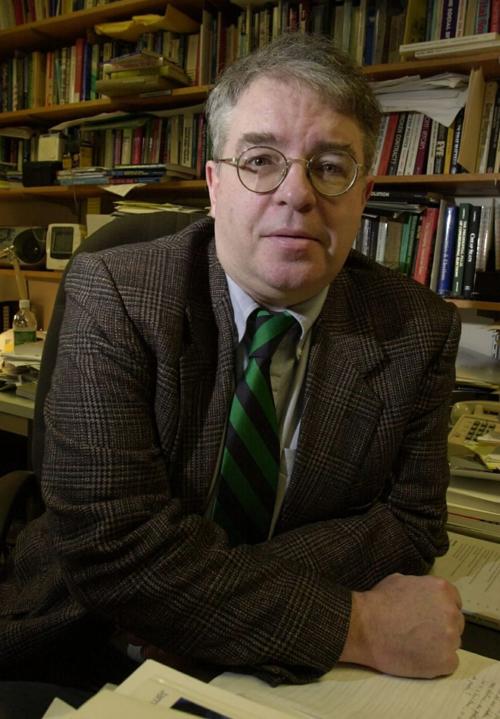 The Covid-19 pandemic now has affected even James E. Campbell's much-anticipated presidential vote prediction.
Each presidential election year, the University at Buffalo's distinguished professor of political science plugs his various pieces of data and analysis into a statistical model that almost always predicts the popular vote of the world's most closely watched election.
This year, Covid-19 and its drastic effects on the economy altered how he arrived at his conclusion. But the UB political scientist, who has been sought by major newspapers and television networks for his insights, still expresses confidence in his prediction of a popular vote too close to call between President Trump and Democratic challenger Joe Biden.
"Both are so close to 50-50 that you can't say either will lose the popular vote with any degree of certainty," he said a few days ago at the conclusion of his 2020 study.
"It's going to be tight," he added. "A tossup; a flip of the coin."
Campbell says the 31.7% percent drop in the second quarter gross domestic product would normally skew the formula's outcome against the incumbent. But Trump's high poll ratings for handling the economy also favor him, Campbell reasons.
The analysis, Campbell emphasizes, does not take into account the Electoral College vote and its ultimate role in deciding the next president. Indeed, Democrat Hillary Clinton earned almost 3 million more popular votes than Trump in 2016, but lost the electoral vote contest.
And Campbell noted that big states like California can rack up millions of votes for one candidate without affecting the all-important electoral tally.
"It all goes back to California," he said. "The Democrats run up the vote there but don't get any more electoral votes."
Not everyone playing this year's prediction game agrees with Campbell's analysis. American University Professor Allan Lichtman, one of the few who called Trump's victory in 2016 and who has correctly forecast all presidential elections since 1984, says Biden will win.
The Economist magazine model, meanwhile, lists the probability of a Biden win at 84%. But both analyses are based on votes of the Electoral College, and Campbell allows that electoral votes may very well provide a Biden win.
Campbell also acknowledges that just as he predicted a popular vote win for Clinton in 2016 (when she won 48.2% of the popular vote to Trump's 46.1%), electoral votes ultimately decide the election.
Campbell's analysis stems from two statistical equations. His first set, called the "trial heat," examines preference polls that formerly relied on the Gallup sample, and now rely on the Real Clear Politics amalgam of early September polls. It also includes reports from the Treasury Department's Bureau of Economic Analysis that depict the second quarter state of the economy.
His second calculation also considers the second quarter gross domestic product. He calls it the "convention bump" model because it measures the traditional poll spike candidates can receive after the nationally televised party conclaves. Previous conventions boosted Bill Clinton's poll numbers by 10 points in 1992 and George H.W. Bush's by 8 points in 1988. But Campbell expects this year's virtual affairs and their low television ratings to have little effect.
According to his normal calculations, the president would be facing big trouble on Nov. 3. They show Trump getting 44.4% of the popular vote under the trial heat method, and 44% under the convention bump model.
"But that's based on the absurd assumption that Trump gets the blame [for the economy]," Campbell reasons.
As a result, Campbell has changed – for this year only – the importance he assigns to the second quarter GDP results. That's because the nation's economic meltdown (an unprecedented 31.7% drop) skews the numbers downward for Trump. But he also notes the president gains his highest polling numbers for his economic stewardship – 50% in the Real Clear Politics sample.
Under the new models, Trump jumps to 49.1% under trial heat and 49.3% under convention bump.
"Trump is still losing to Biden in the preference polls," he said. "But this cuts Biden's lead in half."
The professor said he is reporting the earlier model results to be consistent.
"But this year, my regular models are not supported," he said. "The assumptions just don't hold in very unusual circumstances, when the economy is forced into a lockdown during a pandemic.
"I'm not saying it's good for Trump or Biden either way," he added. "But given the overriding effects of the pandemic, the economic numbers should not be held against Trump."
Campbell said Trump's relatively high economic marks in most polls justifies his assumption that voters blame the faltering economy on Covid-19 and not the president.
"In this race, I don't believe Trump takes the heat for the bad economy," he said. "And given his approval rating [on handling the economy], they're not holding it against him."
He also said his alterations to the formula follow accepted practice in political science models.
"These particular circumstances are unprecedented, but the principle is not," he said.
Only in 2008 and the September economic bust that followed his prediction that year has the formula failed –even when plugged into presidential contests dating to 1948. Campbell also does not view the recent slew of books and magazine articles that negatively depict Trump as affecting his conclusion.
"It's all put Trump on the defensive, and whenever you're defending yourself you're not making up ground," he said. "I put these things in the category of normal politics." 
Campbell said he has always held enough confidence in polls to assign them a major role in his formula, and notes the past track record of success. But he does offer trepidation this year, noting the theory that some respondents may be hesitant to reveal support for Trump – especially as movements like Black Lives Matter work largely against him.
He wonders if mail-in voting will alter the outcome in any major way, and believes the Trump/Biden debates may loom as a post-formula development with major consequences – especially as many observers question the former vice president's ability to compete with the incumbent.
"I think the debates are crucial," he said. "They could turn things upside down in this election."
He also said his willingness to alter the models that have proven so successful in the past underscores the unique circumstances of the 2020 election.
"A key assumption should be that history is no guide in this case," he said.