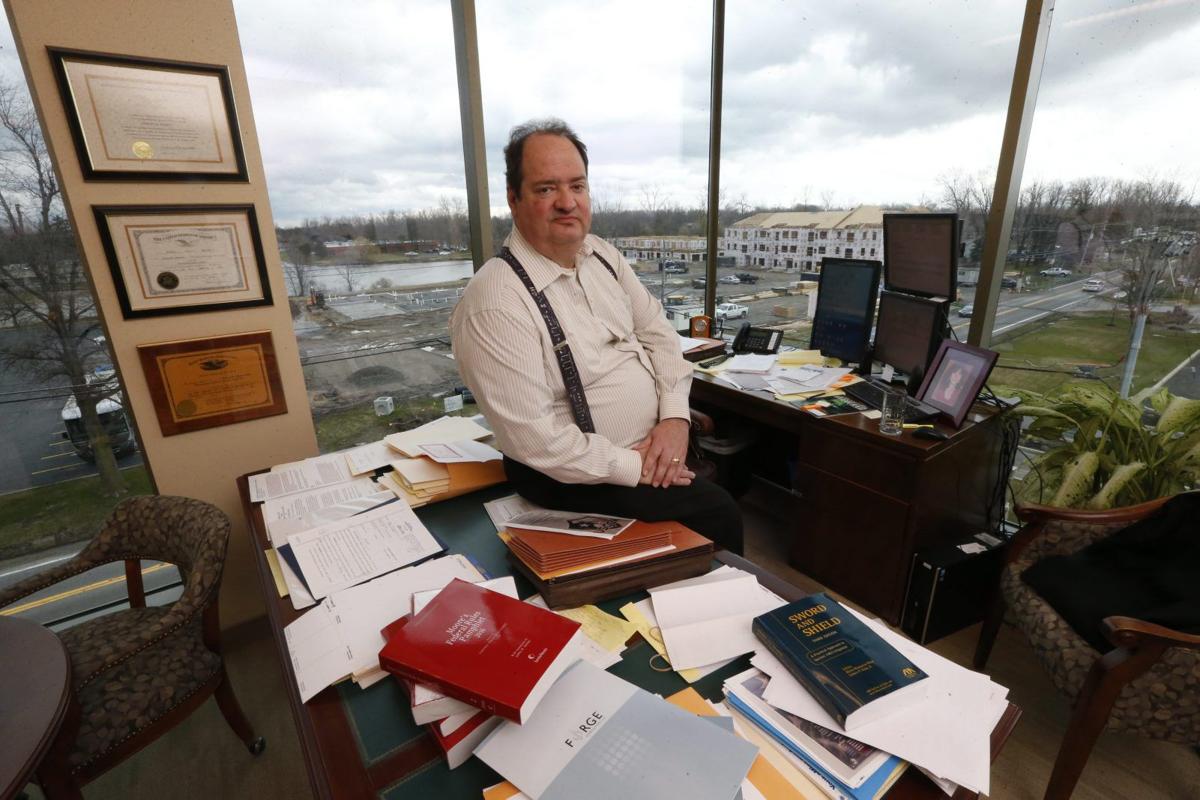 To keep trying to pry Covid-19 contact tracing data from New York State seems futile, said an Amherst lawyer who has represented more than 100 clients in 17 pandemic-related lawsuits in Erie County.
After losing a court ruling last week, attorney Steven M. Cohen said it is clear that the state won't reveal even the summary data that would show how the novel coronavirus has spread in the state. Cohen did not seek personally identifiable data that would reveal who provided information to contact tracers, but sought only the kind of overall data that Gov. Andrew Cuomo showed during a press briefing in December.
"They already said they're not turning anything over, so it's a waste of time," Cohen said of continuing his Freedom of Information Law efforts with state agencies. "Things are opening up now anyway. I don't know how hard I'm going to be pushing this because I'm doing it on my own dime."
Last December, Cohen filed FOIL requests with Cuomo's office, the Liquor Authority and the Health Department seeking contact tracing data that he thought could help his legal efforts on behalf of the restaurants, movie theaters, bowling allies, pool halls, and dance and martial arts schools he represents – all which have been restricted in various ways during the pandemic.
"They're finding reason after reason after reason not to provide this data," Cohen said.
A slide displayed during the governor's Dec. 11 news conference showing 1.4% of Covid cases came from restaurants and bars "is informative, yet taken alone can be misleading," according to Debra S. Blog, the director of the Division of Epidemiology at the New York State Department of Health.
At the State Supreme Court hearing, Assistant Attorney General Christopher Boyd pointed to a public health law that was passed late last year that he said expressly prohibits contact tracing information from being disclosed. The law was passed after the governor disclosed the contact tracing data at the briefing, Boyd said.
The law "is crystal clear that even de-identified contact tracing data cannot be disclosed except for limited purposes," Boyd said during the court hearing.
"De-identified contact tracing information may only be disclosed for a public health or public health research or evaluation purpose," he said, adding that anyone receiving that data must be approved by the state health commissioner and only with safeguards put in place.
"He's already admitted he wants the data for a lawsuit," Boyd said of Cohen. "It's not for a public health or a public health research purpose."
Assistant Attorney General Ryan L. Belka, in court papers, said the New York State Legislature "was unambiguously over-protective on restricting the release of this type of personal health information."
"The former executive law has been repealed, meaning the petition challenges a law that no longer exists," the judge wrote in his ruling.
If Cohen isn't happy with the law, his remedy lies with the legislature, not with the governor's office or State Supreme Court, Belka said.
Cohen provided no contrary argument supported by case law or any creditable interpretation of the public health law, Belka said in court papers, asking the judge to agree to the state's motion to dismiss Cohen's case.
Cohen said the statutes referenced to by Belka "talk about individual data" to protect people from having their identities known.
"He has acknowledged that they have contact tracing data, a ton of it, and he just says that they're not allowed – they wish they could – but they're not allowed to produce it because the public health law prohibits it," Cohen said at the hearing. "That is absurd. It is ludicrous."
The data revealed by Cuomo in December showed that only 1.4% of state's Covid-19 cases in September, October and November were traceable to restaurants and bars, and Erie County restaurateurs seized on that figure as key evidence in their court fight at the time to reopen indoor dining. The summary contact tracing details presented by the governor represented approximately 20% of the known positive cases between September and November. Household and social gatherings accounted for nearly 74% of the exposure source.
Cohen said he believes the state resisted releasing the data because "the decimation of the state's economy would be shown to have been entirely unnecessary. That's why the governor has gone to these extraordinary measures to prevent this contact-tracing data from being revealed."
A slide displayed during the governor's Dec. 11 news conference showing 1.4% of Covid cases came from restaurants and bars "is informative, yet taken alone can be misleading," according to Debra S. Blog, the director of the Division of Epidemiology at the New York State Department of Health.
State Supreme Court Justice Henry J. Nowak on Wednesday granted the restaurants' request for a preliminary injunction to prevent the state from enforcing the Covid-19 restriction.  
Cohen's lawsuits included bids by hockey teams to return to play and allowing school sports and other school activities to resume.
"The data that they provided for that little three-month slice of time doesn't address that, and that's what we're seeking," Cohen told Justice E. Jeannette Ogden.
The judge, however, cited procedural grounds related to the FOIL process in dismissing Cohen's legal action to get the data. She did not base her ruling on any interpretation of the public health law on contact tracing data.
Cohen hadn't filed appeals to the state's rejection of supplying the data through the FOIL process, so he did not exhaust the administrative remedies before turning to the court for an order, Ogden said.
"My hands are tied, and I must grant the state's motion," Ogden said.
Cohen told the judge that he did not consider the state's response to his FOIL request timely nor responsive to the data he requested, so he sued.
"Now that I brought an action before Your Honor in New York State Supreme Court, all of a sudden, there's, 'Oh, OK, well, we're going to deny your request, and now you have to go through the administrative process of internal appeals,' " Cohen said.