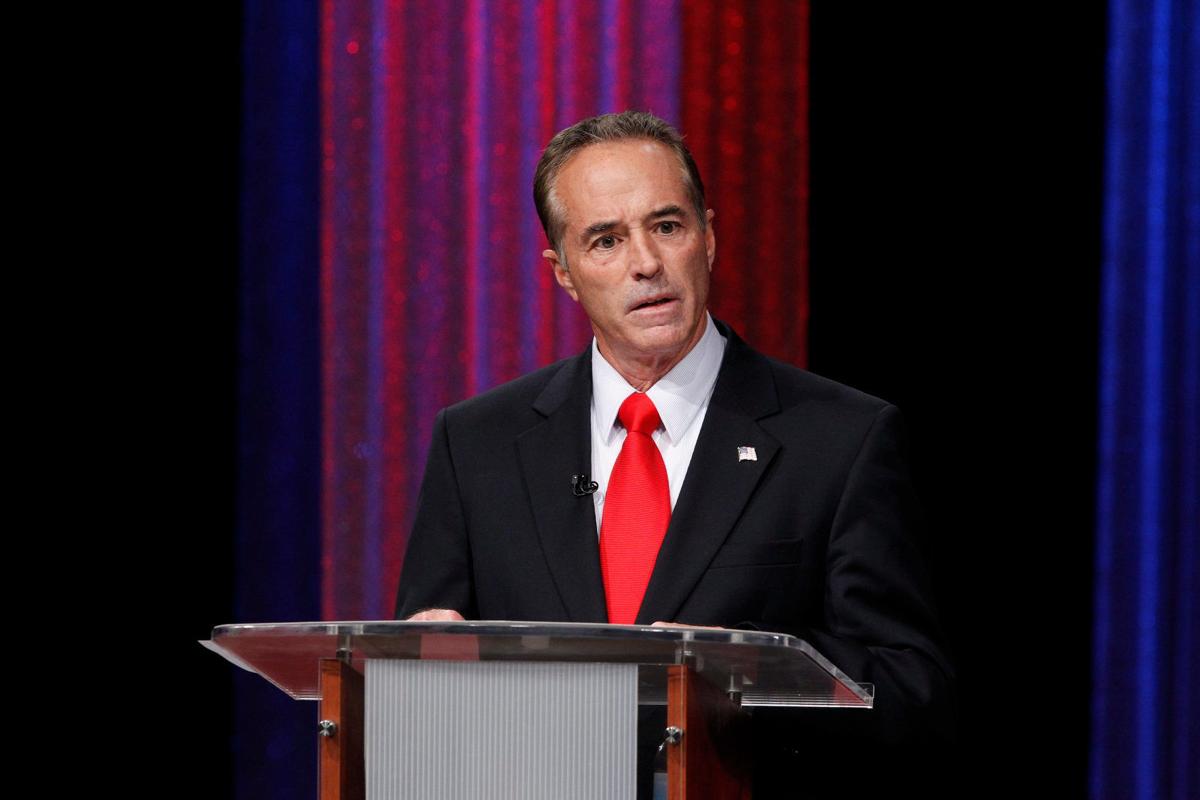 The fight to replace the indicted Rep. Chris Collins on the election ballot is likely to end up in court, officials from both major political parties said Monday.
While Republicans have not yet settled on a way to remove Collins from the ballot in New York's 27th Congressional District, Erie County Democratic Chairman Jeremy Zellner signaled that his party would challenge any effort if Collins moves to another state or if he opts to run for another elected office.
Those are the two ways that Collins can be removed from the ballot at this late stage in the electoral process, and Erie County Republican Chairman Nicholas A. Langworthy said he fully expects the two parties to clash in court over the matter.
Langworthy said he expects party leaders to settle on a way to remove Collins from the ballot soon.
"We're talking to some of the best election lawyers in the state, and in due time, we will exercise an option here" to get Collins' name removed from the ballot, Langworthy said.
The eight county Republican chairs in the congressional district will meet Tuesday night in Batavia to begin discussions on how to remove Collins from the ballot.
Republicans across the district indicated that it would be most likely that they would push for Collins to run for another, minor office, clearing the way for another congressional candidate.
Zellner, however, said his party would challenge any effort to remove Collins' name from the ballot in that way.
"To me that sounds like a fraudulent activity," Zellner said, adding: "I know there are already lawyers looking at this."
That came as no surprise to Langworthy.
"Of course they're going to litigate," Langworthy said. "We fully expect them to bring every lawyer in the country in here if they have to to fight this. They want to win this congressional seat on a fluke."
Despite the fact that Republicans have a heavy enrollment advantage in the 27th District, Democrats would seemingly have a stronger chance to defeat Collins – who was indicted on federal insider trading charges last week and announced Saturday he had suspended his re-election campaign – than a new candidate.
Not surprisingly, then, Democrats insist that Collins is the rightful Republican candidate for Congress.
"I believe the nomination has been made and it's too late to get Chris Collins off the ballot," Zellner said.
Republicans face limited options in removing Collins' name from the ballot.
Ralph M. Mohr, the Republican elections commissioner in Erie County, indicated Monday that it might not be an option for Collins to leave the ballot by moving out of state.
He cited a 2008 court case in which the U.S. Court of Appeals for the Second Circuit refused to overturn a decision by U.S. District Court Judge Richard J. Arcara. Arcara ruled that Jon Powers – defeated in a Democratic primary for Congress but still on the Working Families Party line – could not be removed from the ballot.
Republican attorneys, arguing on behalf of Republican congressional candidate Chris Lee, maintained that the state Board of Elections lacked authority to remove Powers from the ballot. Arcara agreed, ruling that taking Powers off the ballot would disenfranchise those voters who already voted for him by absentee ballot in the fall election.
While any legal action this year would take place far earlier in the election cycle, Mohr said the precedent set in that case could make it difficult for Collins to try to remove his name from the congressional ballot by moving.
"I'm not quite sure how that could work," Mohr said.
Without the option of moving out of state, Collins "is still going to have to be a candidate somewhere," Mohr said. "He's going to have to accept a nomination for another office."
That decision depends on Collins as well, of course, Mohr noted.
An inquiry on that question to Sarah Minkel, Collins' congressional spokeswoman, went unanswered.
Langworthy and several other county chairs in the district declined to speculate on which office they would press for Collins to run for, but Democrats seemed ready to make the most of it if the indicted congressman's name were to appear on any ballot, anywhere, for any office.
Nathan McMurray, the Grand Island town supervisor and the Democratic candidate for Congress in the 27th District, slyly speculated on the prospect of Collins running for a town board seat somewhere.
"What if he wins?" McMurray asked. "What a curse on that small town."