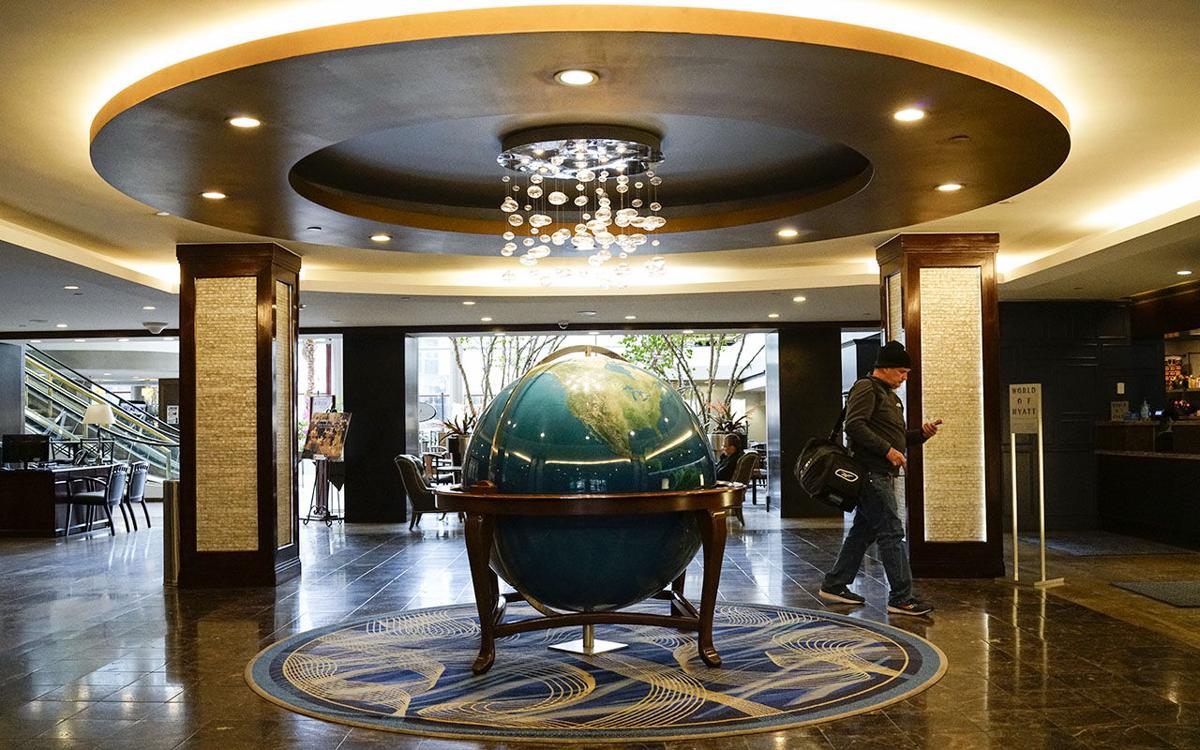 Buffalo's Hyatt Regency Hotel is under the control of a receiver, but might keep its flagship brand if the parties to a pair of lawsuits fulfill their goals to maintain operations of the downtown hotel.
Snyder Corp. no longer controls the 396-room hotel at 2 Fountain Plaza, after the lender on the hotel filed for foreclosure last month, citing the hotel owner's default on a $25.5 million loan.
Although that litigation is still pending in state Supreme Court, the hotel will be operated by a third-party management company, acting under the direction of the court-appointed receiver, Raymond Walter of Magavern Magavern & Grimm.
The hotel is still owned by Snyder Corp., but LNR Partners – the Miami-based special mortgage servicer that represents the Wall Street investors who hold the mortgage – is seeking to take over as collateral on the debt.
The hotel has been closed since April 1 and its employees are on furlough in response to the coronavirus pandemic and the plunge in tourism and business travel. 
"The goal of everyone involved in this matter is to have the hotel up and running as soon as possible, if it is possible," Walter said Wednesday. "As far as a firm date for reopening, I can't at this point confirm whether there is a firm date for reopening."
Sandra Snyder Schoellkopf, executive vice president of marketing and business development at Snyder Corp., told the Buffalo Place board of directors Wednesday that the hotel would reopen Sept. 1. But Walter said that's not "written in stone."
"It's certainly a goal of mine, but I can't say," Walter said. "There's a lot of moving parts that have to be worked out before we can actually open it. It's an important piece of the community. There's a lot of employees that I'm certainly very concerned about, and the goal is to make sure we do everything we can to keep this asset and the folks that work there an ongoing operation."
It is uncertain what name the hotel would carry.
That's because Hyatt Hotels Corp. is now free to withdraw from operating and managing the Hyatt Regency, after the hotel's owner failed to comply with terms set by Supreme Court Justice Emilio Colaiacovo as a condition for a preliminary injunction blocking Hyatt's move to end its management agreement for the property.
The hotel chain announced in May that it would end its affiliation and management agreement with Snyder's Genesee Hotel Properties LLC, which had been in effect since 1982.
According to Snyder's lawsuit against Hyatt, the hotel corporation had demanded that Genesee provide $2 million in working capital in early April, plus additional infusions in the coming weeks and months. Snyder's attorney, Kevin English of Phillips Lytle LLP, called it "a thinly veiled attempt to have Genesee fund Hyatt's carrying costs during the Covid-19 pandemic shutdown without any contractual obligation requiring Genesee to do so," at a time when the hotel was shut down.
The parties negotiated back and forth, but Hyatt still demanded $1.3 million, first by May 11 and then by May 20, as a condition of delaying action until June 14, but only if the money had no restrictions on its use so that Hyatt could cover previous payroll expenses. Snyder had planned to use $900,000 in proceeds from a government loan and $400,000 in additional working capital, but Hyatt refused, leading to its termination announcement. 
The hotel's owner went to court and obtained a temporary restraining order on May 29 to stop Hyatt, accusing the corporation of violating the 38-year-old management agreement. It then came back and got the injunction on June 22 to prevent further action until the merits of the lawsuit could be decided.
Colaiacovo didn't rule on those arguments, but issued that order based on his conclusion that allowing Hyatt to terminate the contract now would cause "irreparable harm" to Snyder and the local hotel, and "greater injury than the imposition of the injunction would inflict" on Hyatt.
The judge also imposed conditions on Snyder, saying "this cannot continue to be an open-ended relationship, where Hyatt runs the hotel and pays all the expenses." He noted that while some of Hyatt's claimed expenses "are speculative," others "are necessary" and require working capital that falls under Snyder's responsibility.
In a June 22 order, he required Snyder to deposit $1 million into the hotel's working capital account within 10 days and also to post a bond of $843,000 to cover other potential expenses, or the injunction would be lifted.
LNR filed for foreclosure June 15. The servicer demanded payment of $21 million that was still owed on the original mortgage, and asked the court to appoint a receiver for the property. Walter was appointed on June 29, and hired Aimbridge Receiver Services LLC to manage the hotel.
Hyatt continues to manage the closed hotel, but Walter said there are "ongoing discussions" between LNR, Aimbridge and Hyatt to allow for a transition to new management, with a goal of maintaining the Hyatt brand.