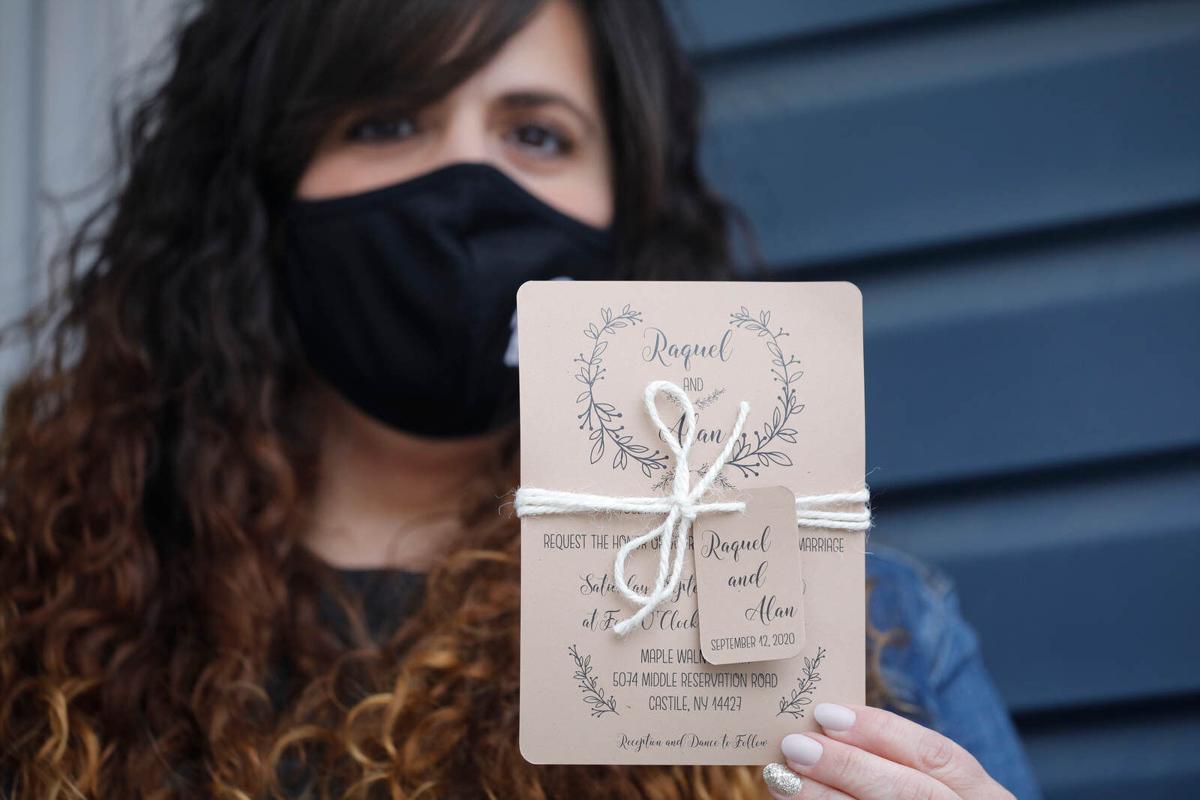 Dancing must be socially distanced. Guests must wear masks any time they aren't seated and eating. No one can be admitted without a negative Covid test.
It's not exactly the makings of a dream wedding. Gov. Andrew M. Cuomo's latest regulations are such a downer, in fact, that some brides would rather postpone their weddings – again – than celebrate under such dour circumstances.
The brides realize that, in the grand scheme of things, doing the chicken dance is less important than keeping their friends and family safe. But if they can't celebrate their marriage without being within 6 feet of their loved ones, some have decided to wait until they can.
That's the case for bride Michelle Raczka from Depew. She has already postponed her wedding once, from September to June, but she is prepared to wait much longer if it means fewer restrictions.
She doesn't mind that her guests will have to be tested for Covid, but not being able to cut loose on the dance floor is a deal breaker.
"What's the point of even going to a wedding?" she said.
The first time around, Raczka waited until the very last minute to postpone the ceremony. Invitations had already gone out, all of the details had been set in stone, and she had even had her bridal shower. But with 130 people on the guest list and with gatherings restricted to 50 people at the time, she bit the bullet and sent out "change the date cards."
Now brides are allowed as many as 150 people in attendance, or half the capacity of a venue (whichever is smaller). But if state rules don't change to allow a more festive atmosphere as June approaches, Raczka may be stuck postponing again until 2022. There are no open dates left at her venue this year.
Still, it will be worth it, she said.
"That's probably the best part of going to a wedding – dancing and mingling with everyone you haven't seen in a while," Raczka said.
Raquel Bracco of North Tonawanda was supposed to get hitched in September at Maple Walnut Farm in Castile, but it ended up closing before her big day.
"We're stuck. Everything was done. We have to literally redo everything," she said. "And the rules keep changing."
Rather than take her chances rescheduling this year, or worrying about competing with other rescheduled brides next year, she is shooting for 2023. By then, she hopes, everything will be back to normal – or as normal as possible.
"I would rather wait until you can hug," she said. "I'm Italian. I need to have that contact with people."
Besides, her bridesmaids already bought burnt orange gowns for what was planned as a rustic outdoor barn wedding, and she doesn't dream she will be able to land a fall date when she is in competition with so many other postponing brides. Her flower girl will even have grown out of her dress by then.
"I don't want people being uncomfortable, having to stay 6 feet away from each other, not being able to dance," she said. "It's my wedding, I just want it to be perfect."
Adding to the stress is the state's lack of clarity on the new rules, which will take effect March 15, said Syrie Roman, founder of event planning company Social Maven. Some of the rules are straightforward enough, such as the requirement that guests wear masks and leave contract tracing information. But the state's guidance that "ceremonial and socially distanced dancing" are allowed only "under strict guidelines" is more confusing.
"What does socially distanced dancing mean? Is it like my Catholic school dance where I have to be a pool noodle away from a boy?" Roman said. "If we're being tasked with policing things, they have to be a lot more descriptive about what they need us to do."
Roman's clients "freaked out" when they saw the rule about socially distanced dancing. She told them to take the news with a grain of salt, considering how quickly and often the state has been changing direction.
The state released additional guidance Wednesday, which included more details but more onerous regulations, and left many questions unanswered.
Designated attendees may participate in "ceremonial dances" such as a father-daughter dance with members of their immediate party, household or family – but they must remain 6 feet away from other guests while they do it. Members of the same immediate family or household seated together may dance together in "designated and clearly marked areas or zones that are assigned to them and spaced at least six feet apart from any other dancing areas or zones or tables." Each of those dancing areas or zones should be no less than 36 square feet, and dancers from one zone are not allowed to visit other dancing zones.
Good luck doing the Cha Cha Slide in those conditions.
In addition, guests must stagger their entrance and exit times to avoid congestion. They are forbidden to "congregate." Only members of the same household can stand closer than 6 feet apart from one another. Floors and stairs must direct guests on a one-way path. Live music performers (especially anyone playing a woodwind instrument) must remain 12 feet away from guests or behind a partition.
If the restricted dancing rules stick, Roman expects at least half of her clients to reschedule their weddings.
"You don't have a wedding to have a dinner, you have a wedding to have a party," Roman said. "Especially those who have had to postpone from 2020. They've been waiting and they want to have their party."
But the mask thing is probably not going away anytime soon, she said, and couples will have to come to terms with that.
"If you just can't imagine seeing your wedding photos with people wearing masks, you've gotta put a pause on your wedding," she said.
Roman warns brides, though, that venues and vendors will not be as flexible rescheduling contracts signed after the pandemic as they were with those who were caught unaware. 
"It's not like before the pandemic where people could say they didn't know this was going to happen," she said. "Now they can't say they didn't know."
https://buffalonews.com/news/local/hotel-henry-received-666-000-ppp-loan-couples-say-it-wont-return-their-wedding-deposits/article_910c7d0c-73b4-11eb-b7a0-cfa5e60ed4eb.html?fbclid=IwAR1OvikNQeijA5ApUNSZk6ckuAzbW-eike6R2C3hgW6NSDkO_56t7qfx-7Q