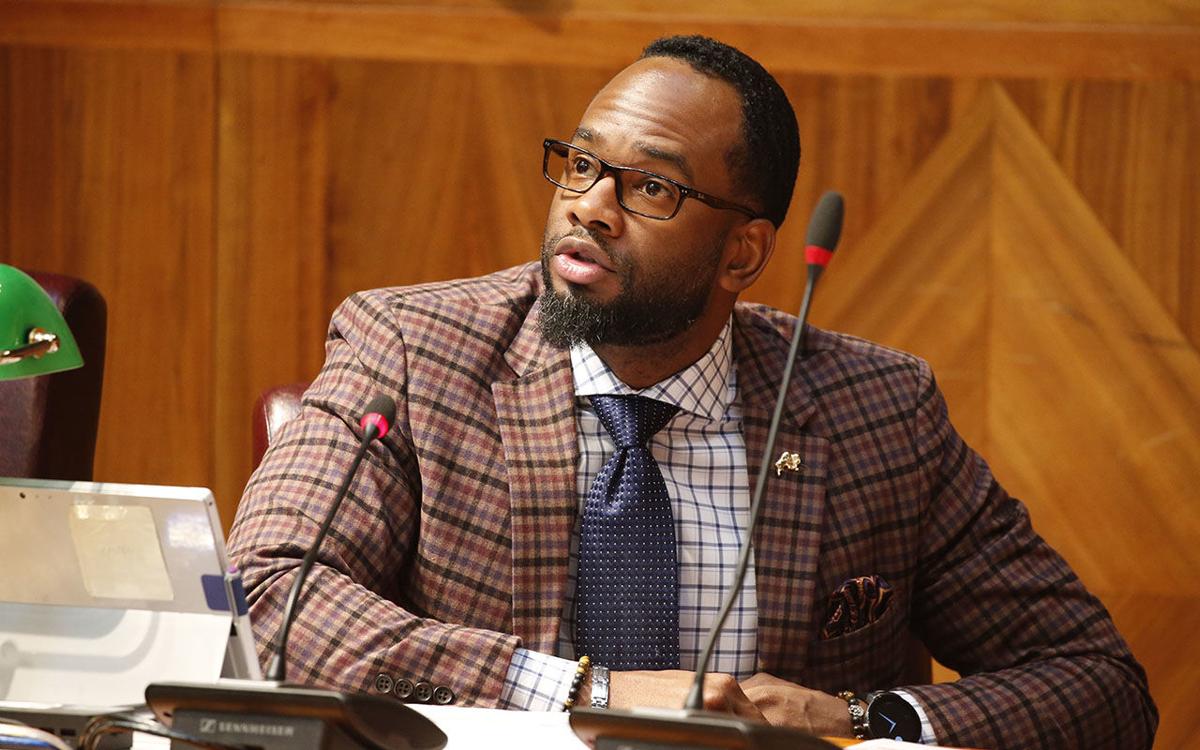 A Buffalo Common Council member has been barred from stepping foot on Buffalo Public School property after bringing a loaded gun inside a city high school earlier this week.
Masten District Council Member Ulysees O. Wingo was notified Friday by the school district that he is "not permitted to be on, in, or around any Buffalo City School District property or attend any events sponsored by the Buffalo Public Schools without the express written permission of the superintendent," according to a statement released by the district.
Wingo allegedly broke state law and school district policy that "prohibits firearms on school property for anyone other than commissioned law enforcement officers," according to a district statement.
District officials said they are especially vigilant on this issue at a time when the nation's schools are besieged by gun violence.
"It is inexcusable for any person to enter school property with a firearm," the district said in a statement. "In the event that a gun is known to be on school property, police will be called and a report will be filed. The uncompromised safety of our schools is always our first priority."
Reached late Friday, Wingo referred to a statement posted on his Facebook page.
"To bolster public safety, I was concerned with disarming and securing my weapon, ascertaining the school's protocol for this type circumstance and to ensure the continued safety of the students," said Wingo in the statement, adding that he regretted the event.
The fallout stems from an event Tuesday at Riverside High School, where a new college scholarship was being announced for one Riverside senior. Wingo attended. The council member, who has a permit to carry a concealed weapon, told the principal about his gun and checked it in at the office, where it was secured in a safe, according to officials familiar with the incident.
The school district did not notify authorities until two days after the incident, according to law enforcement sources. The district, however, said that was inaccurate, that it called 911 the following day as soon as central office officials were made aware of the incident, and that there is a recording of the call. Two police officers went to the high school on Thursday morning, when the issue was brought to the attention of the police department's chief of school safety and security.
The matter was then forwarded to the Erie County District Attorney's Office for review, law enforcement sources said.
"Buffalo police are aware of the situation and are working with the District Attorney's Office at this time," said spokesman Michael J. DeGeorge.
Police officers called to the school did not initially file a report.
The officers seemed unsure why they were asked to be involved if the principal had properly stored the weapon, according to district officials.
The two officers then stepped into the hall and made a phone call. When they returned, the two officers indicated there was no crime committed and no reason to file a report, according to district officials. The police left.
But by Friday, Superintendent Kriner Cash made the decision to bar Wingo from school grounds. The principal at Riverside, Jerome Piwko, also was placed on paid administrative leave while the district investigates how he handled the situation.
News quickly spread throughout City Hall.
"I was just recently made aware of the situation that is still currently under investigation involving a council member. Unfortunately I cannot speak or provide any details until the investigation is completed," Common Council President Darius G. Pridgen said late Friday afternoon.
Wingo, who is running for re-election this year for his Masten District seat, has made education his platform as a council member, serving as chairman of the Common Council's Education Committee for the past three years.
Last week, he proposed a $25,000 annual salary for Buffalo School Board members, up from $5,000. The Citizens Salary Review Commission had only recommended a $10,000 annual stipend, but the Council ultimately approved $15,000.
Earlier this year, Wingo advocated for school zone signs at every school in the district and increased police patrols to monitor speeding at schools during morning drop-off and afternoon dismissal.
And in 2016, after a 6-year-old boy was allegedly sexually molested by a boy twice his age while riding on a Buffalo school bus, Wingo was out in the forefront, calling on the school district to put aides on every bus.
"Of course everyone knows how important education is to me personally," he said during a recent committee meeting.
This is not the first time Buffalo has had to deal with this issue.
In 2014, a Buffalo community activist set off a lockdown at Harvey Austin School on Sycamore Street after he mistakenly brought a loaded gun to the school where he worked as a mentor in the after-school program. At the time, Dwayne A. Ferguson was serving as president of the MAD DADS chapter and a volunteer with Buffalo Peacemakers, which seeks to defuse violence in neighborhoods and at public events.
Ferguson was arrested and charged with felony counts of second-degree criminal possession of a weapon and criminal possession of a weapon on school grounds, as well as a misdemeanor count of obstructing governmental administration.