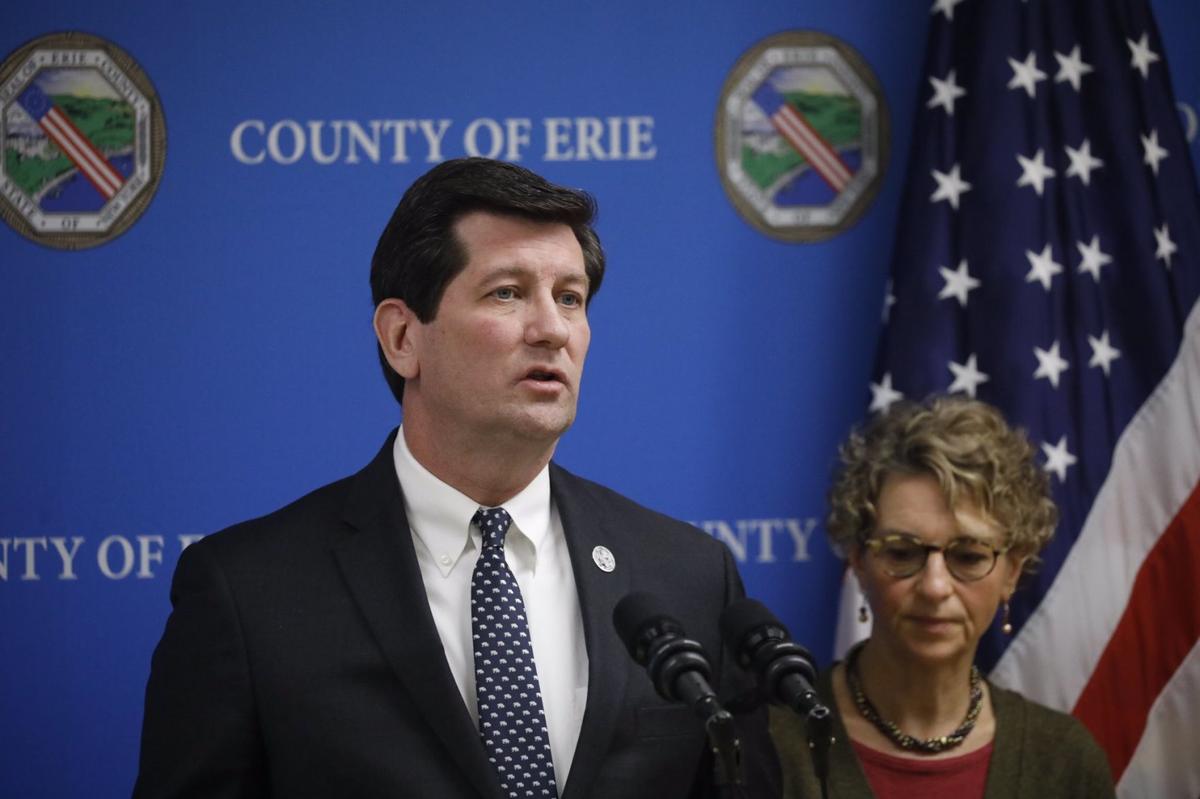 The Buffalo-Niagara Convention Center is out as a mass vaccination site.
Erie County isn't receiving thousands of Covid-19 test results from SUNY campuses.
And, while 40% of residents in some Amherst communities have been vaccinated, some poorer Buffalo communities have only vaccinated 12% of residents.
In a media briefing Tuesday, Erie County Executive Mark Poloncarz and Health Commissioner Dr. Gale Burstein offered the latest updates on how the vaccine rollout is progressing.
No to the convention center
Poloncarz said last month that it was his hope to have a round-the-clock "super mass vaccination site" open at the Buffalo-Niagara Convention Center by sometime this month.
But the state never gave the county the green light to move forward with those plans.
"If the state doesn't want to approve it, we move on, and that's what we've done," he said.
The county is now looking to create an outdoor mass vaccination site toward the end of April, possibly, as the weather gets warmer.
"We could utilize an outdoor mass vaccination site where we can get even more people through quicker," Poloncarz said. "We're just not at that point yet. We don't have the vaccine from the state and federal government to do that."
New information has led Erie County to advance plans to convert the Buffalo Niagara Convention Center into a 24-hour mass vaccination clinic.
State withholds campus testing data
Local SUNY campuses have been conducting thousands of Covid-19 tests a week on their student population at the University at Buffalo, SUNY Buffalo State and SUNY Erie community college.
But only the positive test results are being shared by the state with the Erie County Health Department.
"We're not receiving the results of up to 10,000 tests," Poloncarz said.
Because the county is not receiving any negative test results, Poloncarz said the county's reporting of daily and weekly positive test rates may be inaccurate.
So, instead of providing those percentages, as it has in the past, Poloncarz said that the county will present raw case numbers.
Those confirmed cases show that 2,002 people in Erie County tested positive for Covid-19 last week, the highest number in five weeks. But Poloncarz said with more people being tested, more positives are expected.
Erie County has also stopped seeing any decline in patients admitted to hospitals with Covid-19 over the past two weeks. In fact, as of Sunday, the number of patients in hospital intensive care units had risen to 30, the highest number in two weeks.
This trend reversal has transpired as reopening guidelines have loosened. Poloncarz and Burstein said they believe that residents have simply become more lax in their adherence to social distancing and mask-wearing guidance as the weather has warmed and the vaccine rollout continues.
"We want people to understand we're not out of the woods yet," he said.
"If New York State changes their school guidance, then that will be the new standard for all school districts in Erie County," Erie County Health Commissioner Dr. Gale R. Burstein said Tuesday.
Neighborhood vaccine disparities widen
The vaccination rate disparity between wealthier and poorer communities in Erie County continues to widen.
Vaccination rates, sorted by ZIP codes, show that wealthier suburban communities in Amherst, Clarence and Evans had roughly 40% of their residents vaccinated, Burstein said.
Meanwhile, eight poorer Buffalo ZIP codes had vaccination rates near the bottom, ranging from 12% to 17%. Rural communities also tended to have lower vaccination rates.
"We want to be able to increase availability in some of these areas where it has been low," Poloncarz said. "And we're going to continue to do that as long as we can, as long as we have vaccine doses to do pop-up clinics, whether it's a rural area like the Town of Concord, or the City of Buffalo."
Number of new county vaccine doses stagnates
The Erie County Health Department continues to receive less vaccine than it received two weeks ago, and was originally expected to receive even fewer doses this week than just last week, even though state eligibility has expanded to include those ages 50 and older.
Moderna and Pfizer vaccines continue to be allocated, but the Health Department received no Johnson & Johnson vaccine, Poloncarz said.
Because the county's capacity to administer vaccines still exceeds supply, the state has allowed 1,500 unused pharmacy doses that were left over from the nursing home vaccination program to be transferred to the county Health Department this week, bringing the total doses this week to 5,810.
Some rural communities, such as Allegany and Cattaraugus counties, are receiving greater allocations of the vaccine, as are other counties that have seen cuts in doses in the past.
"As best as I can tell, New York State has not really received more doses in the last few weeks, and they're juggling the doses around, giving it to areas that hadn't gotten as much in the last couple of weeks and reducing it to ours," Poloncarz said. "I'm not thrilled about it, but it's not something I can control."
Pharmacies and private providers
More vaccines are being sent to pharmacies, which have pipelines of doses from both the state and federal governments. Poloncarz encouraged individuals looking for vaccine to contact their local pharmacies. Pharmacies are allowed to vaccinate:
• Anyone age 50 and older
• Those with certain underlying health conditions
In addition, Poloncarz said, some physician practices are also starting to receive doses for the first time.
"As always, eligibility does not mean availability," he said.
Looser restrictions on catered events
This week, the state's relaxed capacity guidance for catered events and amusement centers take effect.
Catered events occurring outside of New York City may be held at either 75% capacity (outside New York City) or up to 100 people indoors or 200 people outdoors – whichever is less. 
If an event involves Covid-19 testing of all guests, the indoor capacity limit is raised to 150 people indoors, Burstein said.
As of Friday, amusement centers and amusement parks will be allowed to open. Indoor amusement centers and arcades may open at 25% capacity, while outdoor places may open at 33% capacity.