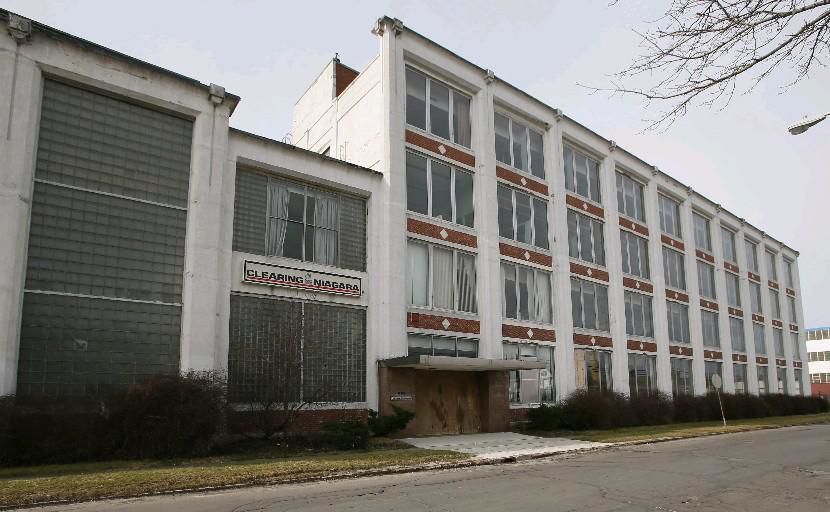 Construction is set to begin on the new Western New York Workforce Training Center on Buffalo's East Side, now that the city Planning Board has approved the Buffalo Billion project and the city is set to finalize a "bridge" loan to support it.
The Buffalo Urban Development Corp., which owns more than 35 acres of industrial buildings and vacant land in the Northland Corridor area, wants to start work in June to convert 100,000 square feet of space at 683 Northland Ave. into the new training facility. That will occupy a large part of a bigger 232,000-square-foot complex formerly owned by Niagara Machine & Tool Works and later Clearing Niagara.
The immediate plans call for stabilizing, renovating, remediating and redeveloping the main building, while also constructing new parking lots at 664, 688 and 690 Northland. Those lots – one to the west and two directly above on Northland, as well as a small parking area for deliveries and staff parking for the cafe – will be rebuilt for a total of 215 spaces.
The rest of the 106-year-old building will be renovated for other commercial or industrial tenants, including Buffalo Manufacturing Works, which plans to relocate to the site. Officials hope to complete work by July or August 2018.
The adaptive reuse project at 683 Northland, estimated to cost about $58 million, will be funded by $44 million in state Buffalo Billion funds and city grants, as well as by an estimated $20 million in state and federal historic tax credits and state brownfield cleanup tax credits. BUDC is also seeking sales, property and mortgage recording tax breaks from the Erie County Industrial Development Agency.
But the tax credits won't come into play until after all the work is done. So BUDC will obtain a $20 million bridge loan for up to 30 months to cover the costs in the short term. After soliciting bids, the agency on Wednesday selected KeyBank, which offered an interest-only loan at 2.7 percent, to be repaid later from the tax credits.
"They were considerably more aggressive than any of the other proposals," BUDC Vice President David A. Stebbins said. "They really took it up a notch in terms of what they wanted to do to establish a relationship... This was obviously something they thought was important."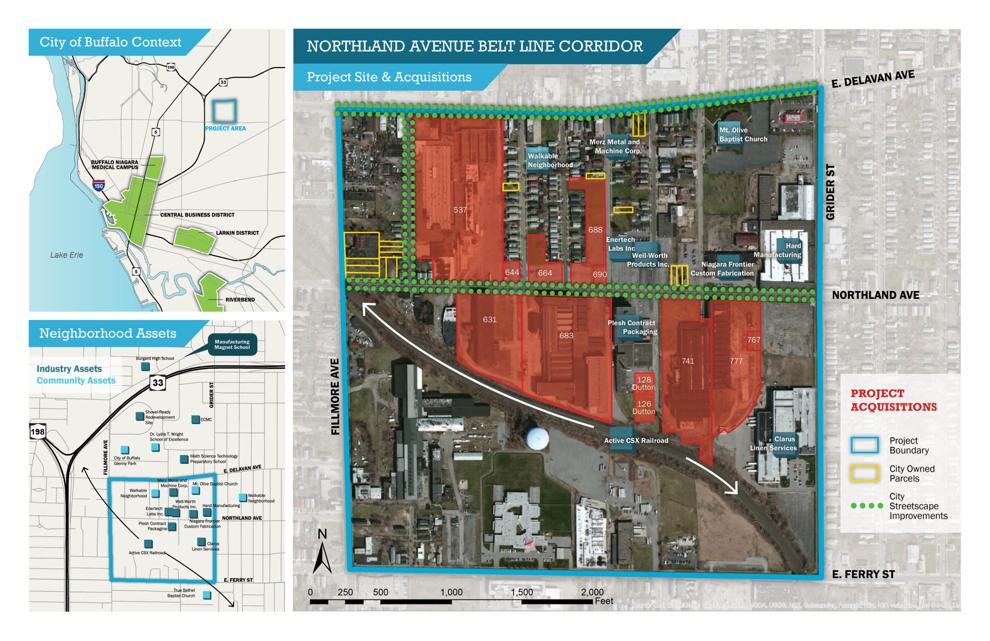 The planned new light-industrial hub is one of several large economic development initiatives that Gov. Andrew Cuomo has supported in Buffalo, including the SolarCity project at Riverbend and the medical and high-tech centers downtown. The project, which is also backed by Buffalo Mayor Byron W. Brown, is designed to help an otherwise impoverished East Side community by developing a new skilled workforce from the surrounding neighborhood while also bringing new jobs and investment to the area.
"Clearly this is a really exciting project for the East Side, and for this building," said Planning Board Vice Chairwoman Cynthia Schwartz. "Every meeting lately, we have another exciting East Side project. It's so refreshing."
The overall Northland zone includes more than a dozen buildings, multiple properties and more than 700,000 square feet of space. Besides 683 Northland and a second major industrial property at 537 E. Delavan Ave., BUDC also owns eight other properties on Northland and two on Dutton Avenue. Some will be demolished and cleared, while others will be redeveloped for new commercial and industrial use.
The agency is working with the city, Empire State Development Corp. and New York Power Authority on the overall redevelopment, expected to cost more than $75 million in all. But the Workforce Training Center is "the highlight of the project," said BUDC President Peter Cammarata.
The facility will include an Advanced Manufacturing Center and a Future & Clean Energy Training Center, with classroom space, hands-on simulation, offices, food service and other amenities. It's expected to serve 300 to 350 low-income and disadvantaged residents of Erie County every year, according to BUDC's application to the ECIDA.
The remainder of the building will be marketed as the Northland Small Business Center, with tenant-ready flexible spaces of up to 20,000 square feet for startups. That could create jobs for almost 300 other people, BUDC told the ECIDA.
"A lot of what you've heard about this has been behind the scenes," Cammarata said. "We're excited to get to the remediation of this particular piece of the building and then move forward with construction of the Workforce Training Center."
At 683 Northland, officials want to develop a new plaza in a large open area directly to the west of the building, to be used by students and faculty, with a combination of landscaping, public art, sculptures and "hardscape," said architect Robert Sanders of Watts Architecture & Engineering. There's also going to be a small plaza to the east, as a "spillout area" for a small cafe in the building, Sanders said.
BUDC will maintain two existing entrances on Northland Avenue, and will create an access loop around the building for deliveries and firefighting to the 7.28-acre site, Sanders said.
Workers will repair brick and concrete, and reglaze skylights, in accordance with historic preservation standards, and will use original documents and images to re-create window openings, doors and other entry points. And the building's "saw-tooth" skyline features and step-pattern facade will also be re-created. "There's hardly a surface untouched on the surface of the building," Sanders said.
Meanwhile, demolition is slated to begin within a couple of weeks on 537 E. Delavan, as part of a state-mandated and supervised cleanup of the site. The city will manage the demolition, to be performed by Regional Environmental Demolition for $727,448 and funded with community development block grant money.
But BUDC on Wednesday agreed to hire LiRo Engineers for construction management, administration, inspection and asbestos air monitoring, for $87,278.
BUDC also moved forward with rehab work for 612 Northland, a pair of buildings totaling 15,000 square feet on the south side of 537 E. Delavan, where officials see opportunities for a small business center. The agency hired Comprehensive Employee Management Inc. for asbestos removal for $96,400, Western New York Mortgage Field Services for nonhazardous debris removal for $28,605, and Bynum Brothers for roof replacement for $210,670. The work will be paid for using Restore New York and brownfield funds.
"This project we're particularly happy about moving forward with," Cammarata said. "We really envision this ... as being great space for entrepreneurial folks to come in and do some light manufacturing."
Finally, the city is working with Clark Patterson Lee on streetscape redesign, including a greenway along the sidewalk, new lighting poles and other features. Cammarata said that work will cost $5.1 million, of which the Buffalo Sewer Authority and Water Board will cover $1.8 million, while BUDC and the state handle the rest. The work will go out to bid in May, with full construction this year.