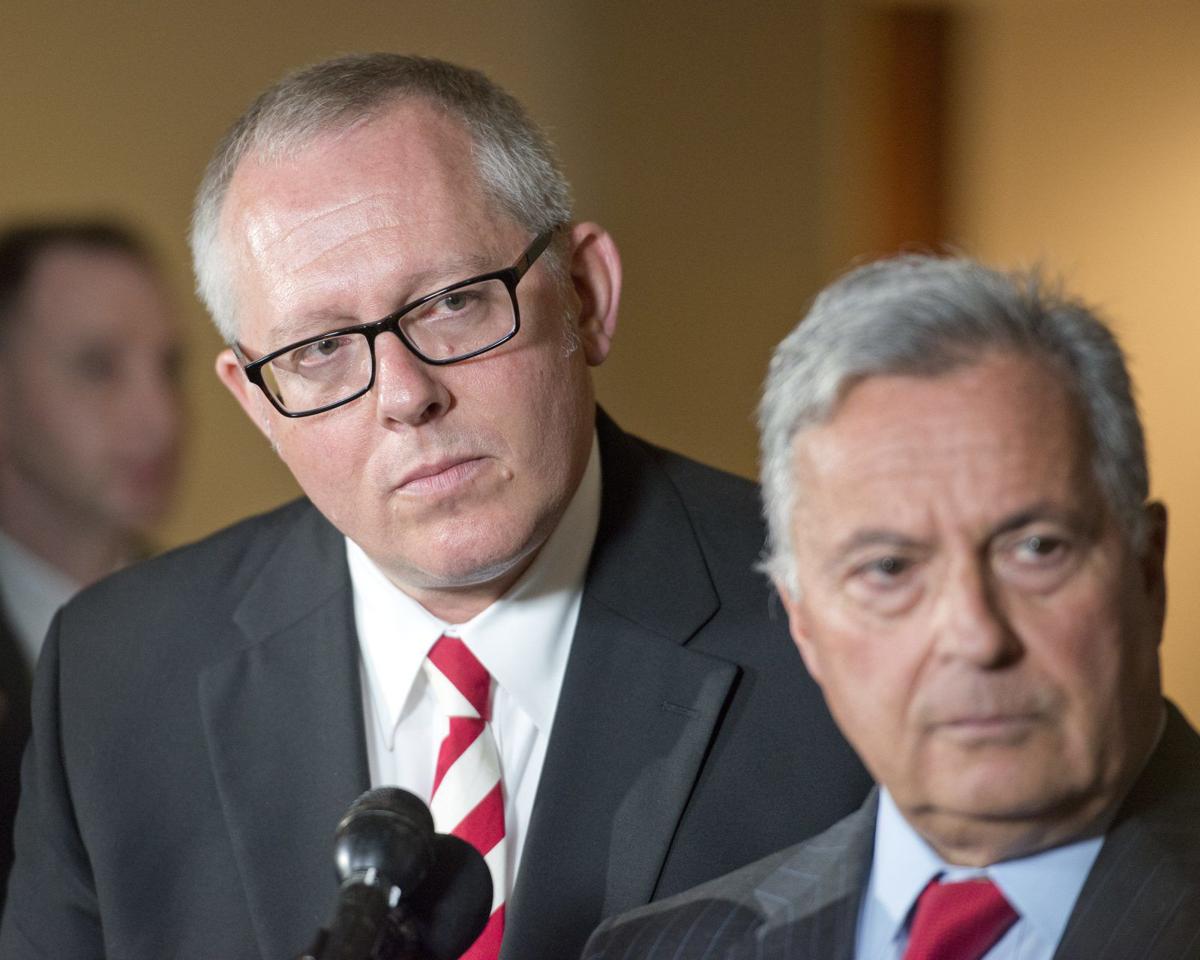 WASHINGTON – A new lawsuit accuses East Aurora political consultant Michael R. Caputo of serving as a public mouthpiece for indicted Republican politico Roger Stone, who is under a federal gag order barring him from discussing the criminal case against him.
In an unusual courtroom clash of conservative figures, conspiracy theorist Jerome Corsi and Freedom Watch founder Larry Klayman sued Caputo and Stone in the Superior Court of the District of Columbia earlier this month, accusing Caputo of defamation.
It's all because of what Caputo had to say on MSNBC last month about special counsel Robert Mueller's investigation of Russian meddling in the 2016 election. There, Caputo speculated that Corsi will testify against Stone at his upcoming trial on charges that Stone tried to get and share emails from WikiLeaks that would damage Democrat Hillary Clinton's campaign.
"The Mueller team finds himself at the end of the hallway at the end of this entire game and they're staring at Jerry Corsi, who believes the most wild conspiracies in the world," Caputo said on "The Beat with Ari Melber" on March 29. "Dozens of years of Yale law school education and they end at the freak show tent."
But Corsi isn't mad enough to sue just because Caputo called him part of a "freak show." Corsi and Klayman, his lawyer, allege that Stone enlisted Caputo to serve as his media surrogate – in violation of the gag order barring Stone and his associates from speaking out about his case.
In addition to filing a lawsuit, Corso and Klayman delivered a statement to U.S. District Court Judge Amy Berman Jackson, who is presiding over Stone's case, to accuse Caputo and Stone of breaking Jackson's order that Stone remain silent and avoid media appearances.
"Stone is employing surrogates, specifically in this instance his longtime associate Michael Caputo, to continue to smear and defame Dr. Corsi and his counsel Larry Klayman, while directly violating this court's February 19 'gag' order," Klayman wrote in the statement.
Caputo referred all questions on the matter to his attorney, Dennis C. Vacco.
"I think it's a publicity stunt more than anything," Vacco said, noting that neither Caputo nor Stone have been served with the court papers Klayman filed. "So from our perspective, the litigation has not commenced."
Asked about the lawsuit's specific allegations – that Caputo acted as Stone's mouthpiece and then slandered Corsi – Vacco said: "From our perspective, the allegations contained in the complaint are are frivolous."
The case seems to be an extension of one that Corsi and Klayman filed against Stone in U.S. District Court in D.C. in February.
According to Corsi's complaint in that case, "even before Defendant Stone was indicted, he began a public relations campaign in this district, nationally and internationally to smear, intimidate and threaten Plaintiff Corsi, a material witness in the 'Russian Collusion' investigation."
The Corsi/Klayman clash with Stone and Caputo marks another unusual chapter in the lives of four men with unusual political careers.
Corsi is best known as the co-author of "Unfit for Command: Swift Boat Veterans Speak Out Against John Kerry," a widely criticized book that included questionable allegations about then-Sen. John Kerry, the 2004 Democratic presidential nominee. Corsi then went on to play a prominent role in the "birther" movement that inaccurately said then-President Barack Obama was not born in the United States.
Klayman founded Judicial Watch and Freedom Watch, right-wing organizations that filed repeated lawsuits against President Bill Clinton and later Hillary Clinton on issues ranging from the president's alleged affairs to his wife's role in the 2012 terror attack on the U.S. consulate in Benghazi, Libya.
Stone has a tattoo of Richard Nixon on his back and a long-standing close relationship with President Trump.
And Caputo is an East Aurora political consultant and sometimes radio show host with a colorful history that includes a period of time working in Russia during its 1990s experiment with democracy and serving for a time on Donald Trump's 2016 campaign staff. Mueller's investigators interviewed Caputo as part of their probe, which ended without any charges against him.