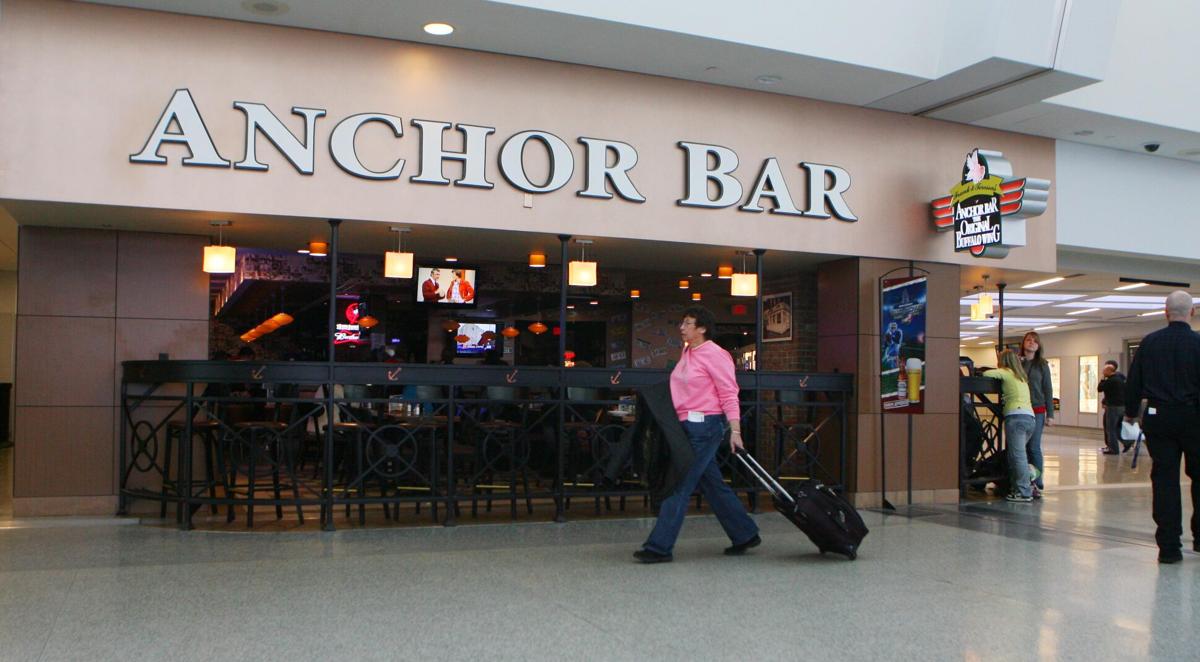 If there is an official "Buffalo style" sign of normal life returning to Buffalo Niagara International Airport, it has to be Wednesday's reopening of the Anchor Bar.
The iconic Buffalo business with an airport branch was shuttered for almost 15 months as air travel withered to record low levels in response to Covid-19 concerns. But  now it's back in business as airport officials witness an uptick in passenger traffic regularly cracking 50% of normal levels.
"It's all good news," said William R. Vanecek, director of aviation for the Niagara Frontier Transportation Authority. "We're seeing pretty good lines at the checkpoints and that means that we are steady."
Indeed, there are signs of near normal parking operations, and concession operator Delaware North reports similar upturns in business.
Delaware North business at the airport has rebounded to about 50% of the pre-pandemic level and nearly all of its employees there have been recalled, said Delaware North spokesman Glen A. White.
Other airport concessions with phased reopenings as passenger traffic picks up include Queen City Kitchen, Blue Zone, Market on Elmwood, Coffee Beanery, JetSet Market (West) and Fifth & Main. The second JetSet Market (East) at the airport is scheduled to reopen today. Delaware North is also planning to reopen the Tim Hortons outlet sometime this summer, White said.
Still, the inability of similar businesses throughout the country to hire workers is hampering Delaware North, too.
"Like the rest of the hospitality industry, Delaware North is struggling with recruiting for open positions at the airport, primarily cooks and other culinary positions," White said. "We are following a playbook that includes adjusting pay rates and other incentives, job fairs and marketing positions both internally and externally."
Another visible sign of renewed airport activity lies in parking lots along Genesee Street.
"Look no further than the parking lots," Vanecek said. "What looked like a ghost town early on is now recovering. We're one-half to three-quarters full in the long-term lot, and that tells me people are traveling."
Darrin Ziemba, agent/officer for Teamsters Local 264 representing Standard Parking workers at the airport, estimated two-thirds of the parking lots have reopened. Only the economy lot, he noted, is still closed.
"Cashiers have been called back to start and most drivers have returned," he said, referring to shuttle operators.
Ziemba credited Standard Parking with protecting the jobs of furloughed employees until they could be recalled.
"We got it done," he said.
Nevertheless, Vanecek said Buffalo airport remains at a substantial disadvantage compared to other airports because at least 30% of its passengers are Canadians, who are still barred from crossing the closed border because of Covid-19 concerns.
"We're the only airport in the country that gets a really big flow from another country," he said, noting Canada's continued Covid-19 issues means no immediate end to the problem.
"We've been hurt the most by that," he said.
Vanecek pointed to other signs of new life at the airport, including:
This week's return of curbside check-in by Southwest Airlines.
The Club, the VIP facility that provides access for food, drink and other amenities, will be back in business June 23.
The Fisher-Price play area is set for reopening on June 16, providing a play area for youngsters waiting with their families for flights.