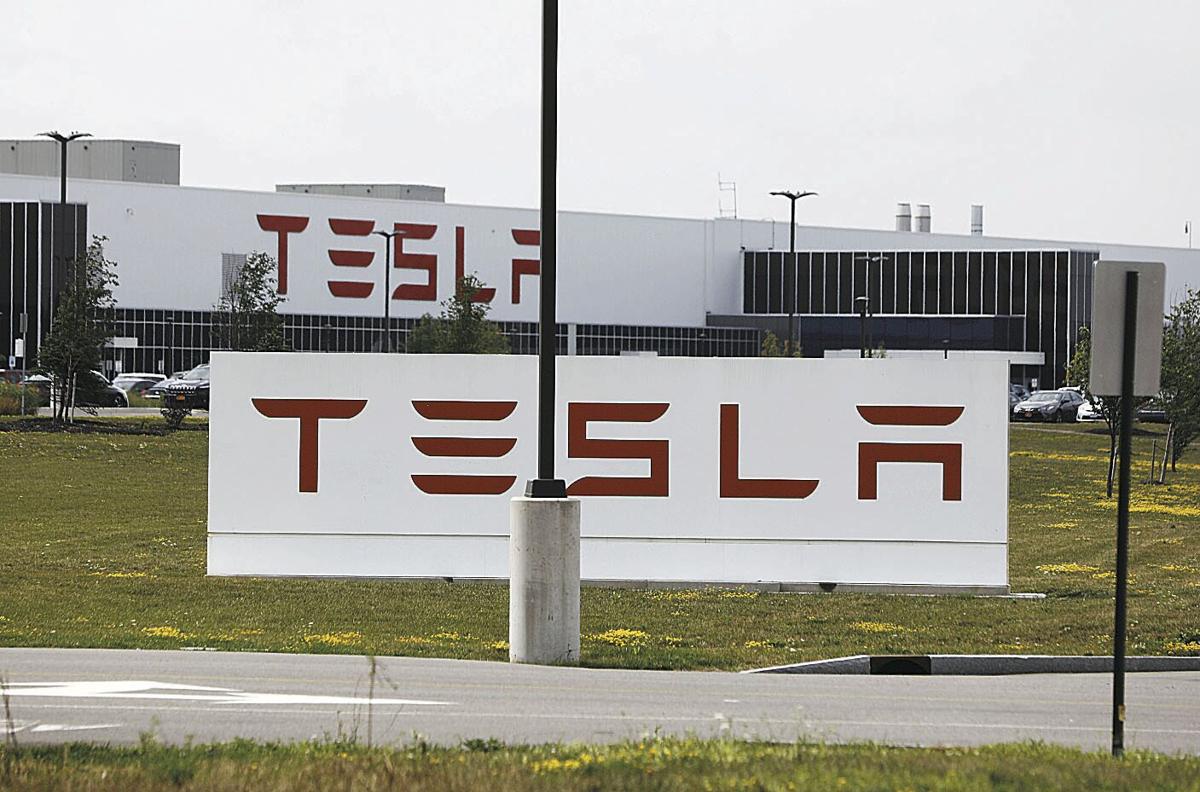 An African American recalls complaining, along with other Blacks, about a white coworker who constantly used the N-word openly in the workplace – only to see the offender get promoted.
A Puerto Rican says he was demeaningly referred to as "Mexican" by coworkers, who also used "Spanish language phrases in mocking, heavily accented language."
When she was let go, a Black woman who says she was constantly harangued about her earrings and dress found out she had multiple write-ups in her disciplinary file – most stemming from a white coworker – that she had never been told about or given a chance to respond to.
Those are just some of the allegations made by three former Buffalo Tesla workers in an interview with The Buffalo News, as well as in a complaint filed with the Equal Employment Opportunity Commission on behalf of a half dozen Black and Hispanic employees who were let go. Lawyers are preparing a second complaint on behalf of additional former workers.
They allege Tesla used downsizing and firings as an excuse to get rid of workers of color they considered problems amid an atmosphere of open racism and sexism.
In fact, the local complaints mirror those in three lawsuits filed on behalf of Black workers at Tesla's Fremont, Calif., plant.
But what makes the Buffalo complaint even more galling is the fact that New York State spent more than $950 million to build and equip Tesla's solar roof factory on South Park Avenue.
That's 950 million reasons – beyond the moral imperative – that taxpayers should be mad because, if the allegations prove true, it means we are subsidizing racist and sexist behavior and management's blind eye to it.
A Tesla spokesman did not respond to requests for comment on the EEOC filing and the allegations in it. In a 2018 New York Times story detailing allegations at the Fremont plant, Tesla rejected any portrait of a "pattern of discrimination and harassment" and said it tries to "provide a respectful work environment for all employees and do our best to prevent bad conduct."
The Buffalo workers who take issue with that didn't want to be identified, either, because they are looking for new jobs or have relatives still at Tesla. But the common themes in their accounts paint a picture of a workplace rife with hostility toward women and people of color, even on the part of managers of color who bought into the workplace culture.
One fired employee who worked there about 18 months told The News that what had been a fair environment changed about six months into his tenure when a new supervisor and manager came on and the atmosphere became one of "promoting white males almost exclusively."
He had worked the overnight shift, which he said was commonly called the "hip-hop shift" because that's where they put young Black men, people they didn't want to deal with and those they didn't want seen when visitors came to the office during the day. He said he could see the difference in the racial composition of the shifts when the morning crew arrived as he was leaving.
Because of improvements in the overnight shift's productivity, he said he was put on the day shift to try to facilitate the same type of gains. He was warned there was a racial divide on that shift, with Blacks and whites working separately. But not all of his problems were with whites.
He said an Hispanic manager constantly spied on him, trying to catch him using his cell phone – even though that was part of his job, which involved making calls to resolve problems on the production floor. In one incident, he said the manager accused him of being on the phone for half an hour – until he produced phone records showing he wasn't even using the phone at that time.
Nevertheless, when he was fired, the papers cited excessive phone use.
"I got terminated for doing my job," said the former worker, 31, who had come to Tesla with the idea of carving out a career, with its promises of advancement. Instead, he said he found constant harassment.
"People don't understand what it does to you mentally," he said.
A white female who worked the day shift also thought she'd build a career at Tesla, but said she immediately encountered a white male supervisor who called her "honey." She said she got no support when she complained to a manager.
She said she heard whites consistently refer to African Americans as "boy." Still, things generally went OK until she went over and started working with the Black employees in the segregated workplace. That's when things went downhill, she said, with sudden complaints about her being "lazy" or committing infractions whites routinely got away with. She said the manager even ordered someone to time her bathroom breaks.
She filed complaints with human resources over the disparate treatment, some of which she shared with The Buffalo News, but said she never heard back from them.
When she finally quit after eight months, "I made it very clear that the reason I was quitting was harassment on a daily basis.
"That job was my career .. working with the environment," the 31-year-old said wistfully of the idea of making solar panels.
A 36-year-old Black man said he was labeled "confrontational" when he suggested reforms such as rotating shifts or shift swaps to make the work schedule more equitable and flexible for workers who needed time off for family events. That's even though the company supposedly had an incentive program for coming up with good ideas.
"Once you become not a 'yes' man, you become a problem to them," said the worker, who was terminated after 11 months.
Attorney Parker R. MacKay, who filed the complaint in November, said he has not yet gotten a response from the EEOC. His complaint noted that while workers of color made up only 40% to 50% of those on the factory floor, they were 80% of those terminated when the plant made cutbacks in early 2019.
An EEOC spokesman said by email that the agency can't comment on specific charges or investigations, but probes generally average about 10 months and can involve site visits, interviews and the gathering of documents. If discrimination is found, remedies can range from ordering a hiring or promotion and back pay, to the granting of court costs or compensatory or punitive damages, with monetary caps depending on the size of the employer. The agency also offers voluntary mediation.
The Clean Air Coalition of Western New York has also contacted the state attorney general's Civil Rights Bureau on behalf of the former employees, complaining that Tesla is "further institutionalizing white supremacy in the workplace." The coalition got involved at the solar plant because of its interest in an economy that transitions away from fossil fuels. A "just transition" also involves good paying jobs and fair working conditions, said Linnea Brett, the coalition's community organizer, who noted that workers of color – including many who were let go – had been involved in a union organizing drive to try get protection against what they considered harassment and unfair treatment.
While Tesla insisted it tries to provide a proper work environment and prevent sexist or racist behavior, the Buffalo EEOC filing indicates it may not be trying hard enough.
Elon Musk's company has a reputation for being progressive when it comes to technology, but the allegations from the former employees make the Buffalo plant sound like something from the 1950s – ironic in a city banking on Tesla to help build its future.