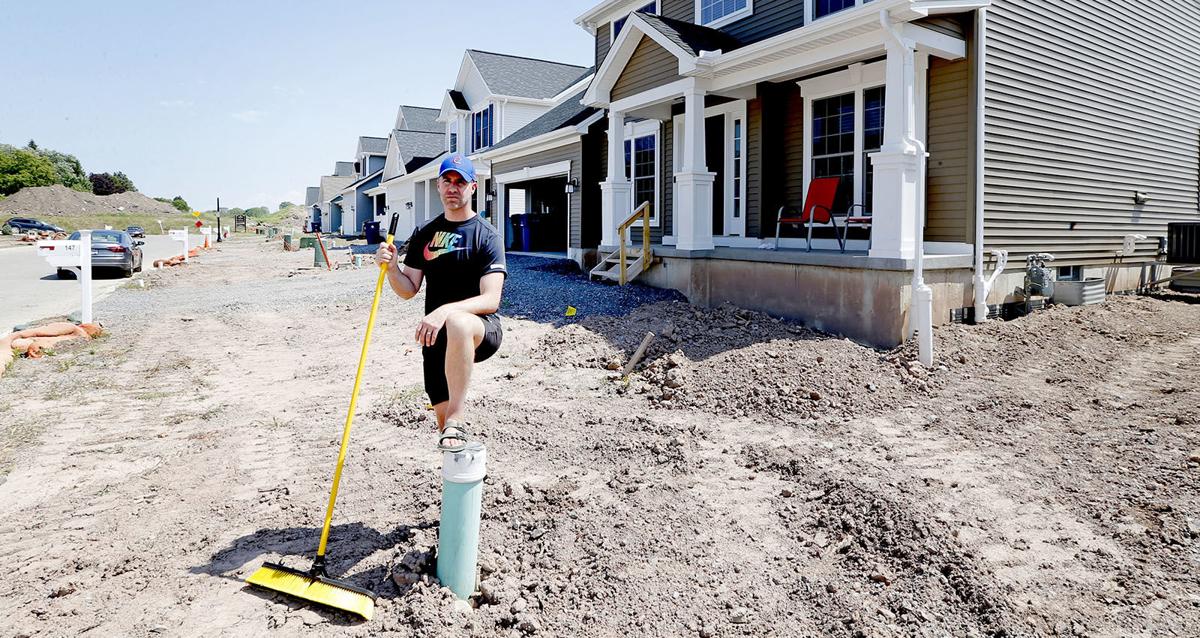 When Brett Barrett's husband got a surgical residency in Buffalo, the couple left Chicago for the Colvin Estates neighborhood of North Buffalo. They closed in May on their new $369,000 Marrano home and moved in about a month later, confident they wouldn't have to do a lot of work on it.
But as happy as they are with their three-bedroom home, they are dismayed that Marrano hasn't completed the exterior of the 1,800-square-foot house, including the paint job. There's also no finished driveway, sidewalks or lighting, and no guarantee on when that will get done.
"We got here hoping it would move quickly and it hasn't," said Barrett, 39.
Barrett said he understands that the rainy spring and early summer were a factor in the initial delays. But he and his neighbors are concerned about safety, and they can't understand why the work hasn't been completed yet, since the weather has turned drier since July.
"It's just been hard for people, and while we understood the weather, what's the excuse now?" he asked.
James Marrano, executive vice president of operations for Marrano/Marc Equity Corp. and its subsidiary, explained that the weather remains a problem for the company. That's because the ground remains very moist underneath because of all the water that fell earlier, so any additional rain comes on top of that.
As a result, he said, crews got a late start on the ground preparation – late June, instead of late April or early May – and every rainy day pushes the work back further.
The developer also struggled to find good topsoil to fill in the land, after two initial sources didn't pan out. And the company is limited by manpower, because "there's only so many contractors that do this type of work."
He noted that the developer is not in breach of its contracts, which give Marrano until Aug. 31 to complete the work. But he said the company also has a financial incentive to act fast, because the bank withholds the remaining money in escrow until the houses are completed.
"We're going as fast as we can, to get it done," Marrano said. "I'm trying to accommodate every customer. I'm trying to get to them as fast as I can."
The wet spring is the latest challenge for the region's largest locally owned homebuilder since it took over the first new major housing development in the city in years. Located on a former railroad bed between Colvin and Starin avenues, north of Taunton Place, the neighborhood of single-family homes on the new Rachel Vincent Way encompasses 23 acres, with plans for 126 homes when completed.
The $40 million project was originally started by former property owner David Gordon and builder David Burke, who put up 24 homes in the last decade, all of which are occupied. Another six were approved as part of that first phase, but not built.
To get the development finished, Marrano acquired those lots last year, along with the remaining 18 acres, for $4.48 million. The subsidiary of Marrano/Marc Equity Corp. then began developing the vacant land last August, selling 23 of 34 new homes by December, at prices ranging from $327,000 to $527,000. The rest were sold in the next few months. So far, 32 of the homes are built, while work just finished on another and the last one is under construction.
But it's been a challenging project.
The problem, Marrano explained, is that "the outside work can't be done in the winter." That includes painting the homes' exteriors, since "the paint's not going to last in the cold weather," he said. Crews also had to start preparing the land for the driveways and lawns, but first they needed a good source of new topsoil.
On top of that, the soft ground impaired progress on the outside of the new houses, including their driveways, landscaping and lighting.
"A two-ton bulldozer can't push mud around," Marrano said. "Every time we get a downpour, it sets us back a day. ... On the surface it may seem dry, but when you put a bulldozer on it, it may sink."
The elevated former railroad bed is higher than the yards on nearby Taunton and St. Lawrence Avenue, so after crews started clearing the land by removing 300 trees in the first two phases of the project, stormwater from rain and snow flowed into those yards and basements. So Marrano had to work with the city and Sewer Authority to implement a drainage plan that would take water away from the nearby streets.
The construction activity also disrupted wildlife in what had been a wooded area, driving rats and other animals out of their hiding places.
Now, it's Marrano's clients who are complaining, but he isn't concerned. He said the north side of the street is now completed, with only eight houses remaining on the south side.
"We're just waiting for them to dry," Marrano said. "We should have them done before our contract says we even have to."
Get local news delivered to your inbox!
Subscribe to our Daily Headlines newsletter.