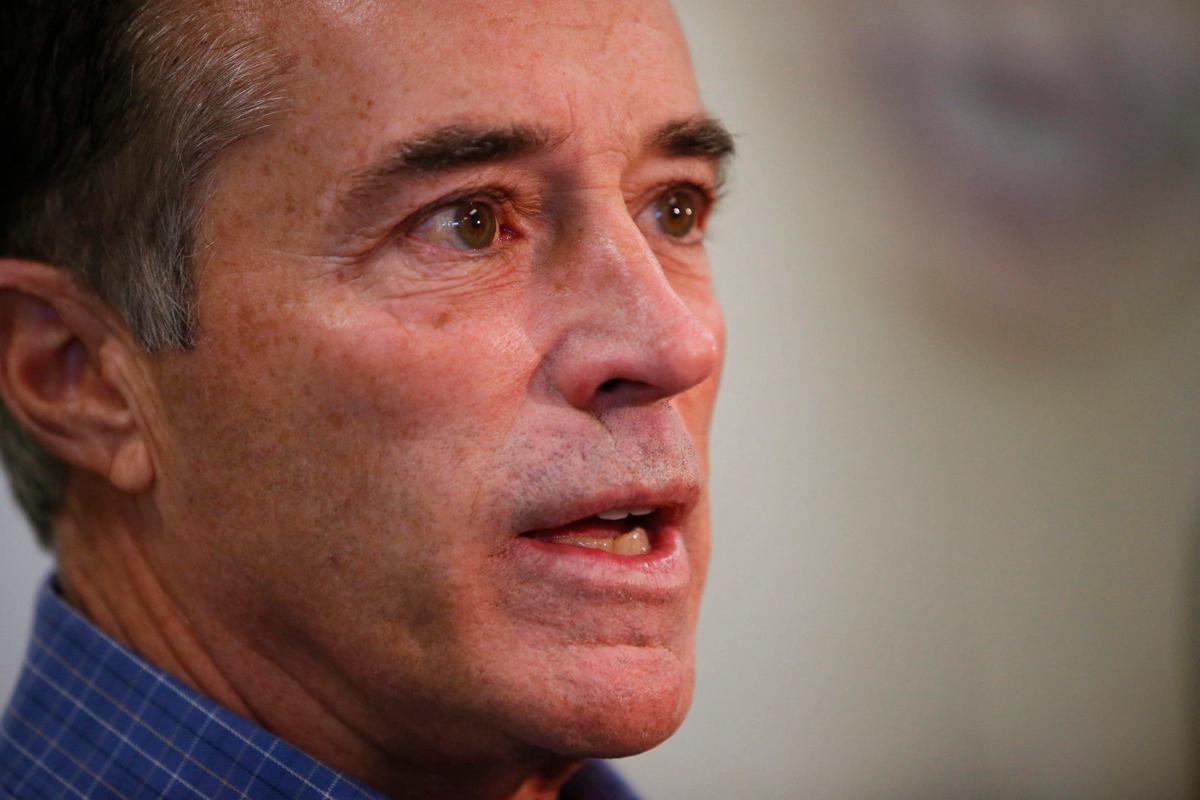 WASHINGTON — In dollar terms, Rep. Chris Collins' legal problems are at least five times worse than the money issues faced by the Democrat who wants to replace the Clarence Republican in Congress.
Collins, who was charged last week with 11 felony counts related to an alleged insider trading scheme, spent $253,938 on legal fees in the year ending June 30, federal records show.
A Collins spokesman said all of that money went to legal work on a House Ethics Committee investigation, not the Department of Justice criminal case and a parallel civil case filed against Collins last week by the Securities and Exchange Commission.
While Collins was piling up more than a quarter million dollars in legal bills, Nate McMurray, the Democrat who's running for Congress from New York's 27th district, spent $50,576 on his entire campaign as of June 30.
The disparity between Collins' legal fees and McMurray's bare-bones early campaign spending spells out two important facts.
First, Collins needed help from one of the nation's top law firms long before he turned himself in to authorities in Manhattan last week.
And second, McMurray was a huge underdog in his race for Congress — at least until Collins was arrested.
Collins' legal fees in the House Ethics case are detailed in his periodic filings with the Federal Election Commission.
Those filings show that Collins made his first payment to BakerHostetler, one of the nation's largest law firms, in July of last year, presumably for work done in the previous quarter, when the Office of Congressional Ethics began examining his stock trades.
That July 1, 2017 payment totaled $45,055.41, and was the second-largest of nine five-figure payments Collins made to BakerHostetler over the course of the next year.
All of that money went to pay for legal work connected to the long-pending House ethics investigation into Collins' involvement with Innate Immunotherapeutics, an Australian biotech firm in which Collins was the largest investor.
"Campaign funds were used for the Ethics Committee, which are what's included in filings," said Trevor Francis, a spokesman for Collins' legal team. "Personal funds are financing his legal defense on the SEC/DOJ case."
BakerHostetler is representing Collins in both matters, Francis said.
Collins' criminal lawyers at the firm, Jonathan Barr and Jonathan New, issued a statement after the lawmaker was indicted.
"We will answer the charges filed against Congressman Collins in court and will mount a vigorous defense to clear his good name," the lawyers said. "It is notable that even the government does not allege that Congressman Collins traded a single share of Innate Therapeutics stock. We are confident he will be completely vindicated and exonerated."
Barr and New did not respond to an email late last week seeking comment.
Collins faces charges of securities fraud, wire fraud, conspiracy and lying to a federal agent in connection with his relationship to Innate Immunotherapeutics. He withdrew from his race for re-election on Saturday, leaving Republican leaders in the district scrambling to get Collins off the ballot and replace him with another candidate.
Prosecutors say that on the night of June 22, 2017, Collins received a phone call from Innate's CEO, saying the clinical trial of its experimental multiple sclerosis drug had failed.
Within minutes, Collins, who was at a picnic on the White House lawn at the time, called his son Cameron. And the next day, according to the indictment, Cameron Collins started dumping Innate shares before the company made its bad news public — and started a chain of calls so that others could do the same.
Cameron Collins and his prospective father-in-law, Stephen Zarsky, also face insider trading charges in federal court in Manhattan.
The arrests last Wednesday, along with Collins' decision Saturday to not run for a fourth term, reshaped the race for Congress in New York's 27th district, a stretch of suburb and farmland surrounding metro Buffalo and stretching all the way to Monroe County.
Suddenly, McMurray became a much more viable candidate. He had struggled to raise funds up to that point, pulling in $133,775 as of June 30.
But on Sunday, McMurray said he has raised another $100,000 or so since Collins' indictment on Wednesday.
"We're getting small dollar-amount donations from everywhere," the Democratic candidate said. "Fundraising is going well for the first time."