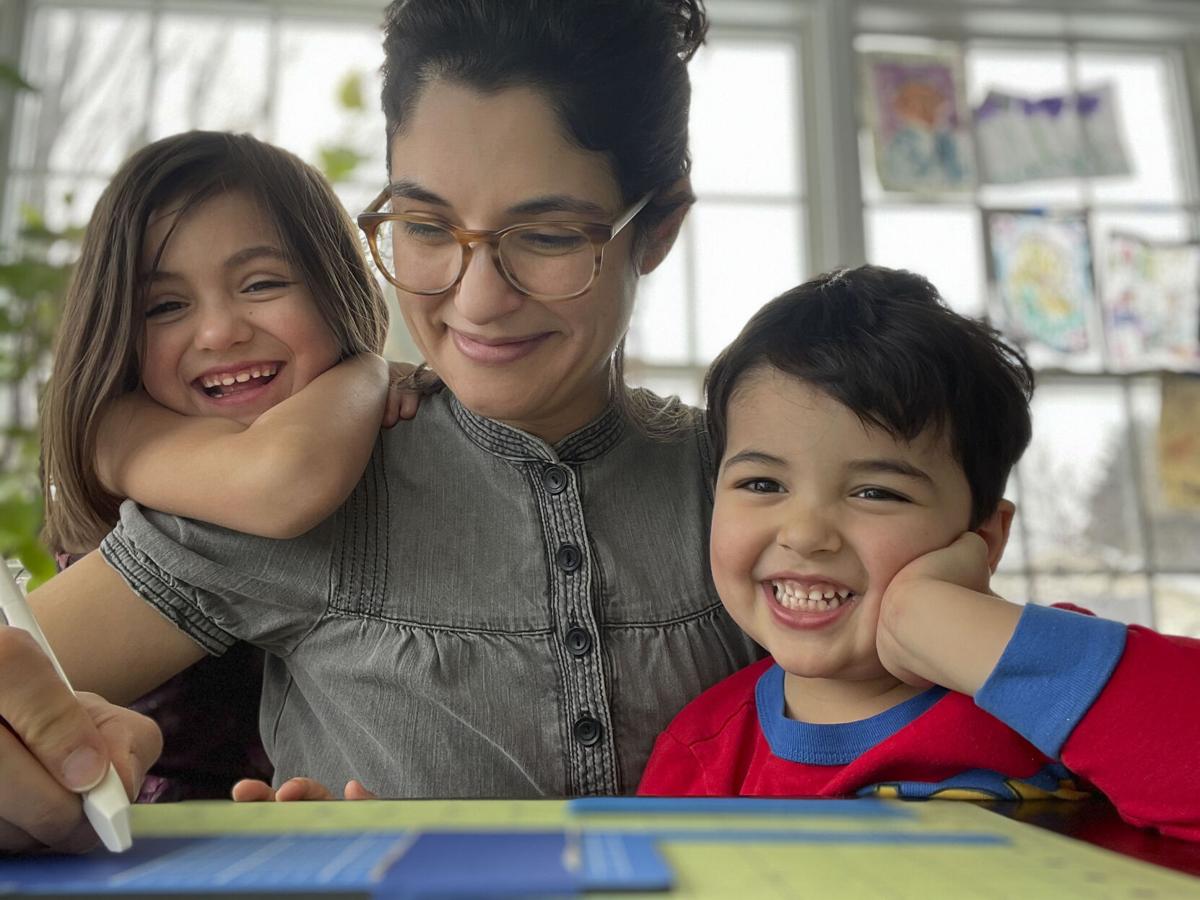 Vanessa Snowden counts herself among those who started making masks for friends and family after the coronavirus pandemic started last spring.
She also is among the six in 10 Americans who wear glasses, so has learned firsthand about the oft-strained relationship between spectacles and facial coverings, especially in winter.
"Foggy glasses cause people to mess with their masks, wear them below their nose, touch their faces," and sometimes skip masks altogether when they should wear them, Snowden said. "The fogging is really a symptom of your mask not fitting right."
The 38-year-old married mother of two decided to tackle the problem last fall in the most modern of ways. "I looked on Amazon," she said.
She found cleaning sprays that were of little help, so Snowden decided to take a different approach. She started her own company, Foggoz – pronounced "fog goes" – that sells adhesive strips you can place on the inside top of any mask for a better fit. 
"It creates a seal, but not so tight that it feels like taking off a Band-Aid," said Snowden, who scoured the internet and was surprised nobody thought of something similar first.
She credited a mindset that always has shaped her decision-making.
Her mother, Venezuelan-born Vilma Snowden, is an Orchard Park High School Spanish teacher. Her father, Scott Snowden, is a software engineer who has long encouraged her to find "the simple and elegant solution to a problem."
Snowden, also born in South America, was raised in Clarence and educated at Princeton University. She moved to France after she got her English degree, taught the language to French-speakers, and while there met and married her husband, Sebastien Fargeat. The couple moved to New York City afterward and stayed seven years before starting a family. They moved to Western New York six years ago to live with Snowden's parents and raise their kids, Leonora, 6, and Lucas, 3, in a multigenerational household.
Snowden quit her job as a high school English teacher. Her husband continued to work remotely as a corporate travel specialist before the pandemic cratered his industry and he lost his job. For a time, he delivered packages for Amazon.
The couple, mindful they were living with loved ones in their early 60s, have been religious about physically distancing, frequent hand-washing and wearing masks.
Snowden hopes to land a teaching job in the fall but meanwhile sought a business opportunity. She loves to sew, and made masks that became popular with many people she knows who wear glasses, including her parents, sister, Erica, uncles and an aunt.
In September, Snowden decided to tackle concerns from customers about foggy glasses.
She reached out to SCORE – a nonprofit that pairs retired entrepreneurs with people like her who want to start a business – and dug into potential solutions.
"I wanted to see if there were different mask designs that would be fog-free," she said. "People would say the nose wire works, or this design works or that design works, and I was not finding one that worked reliably for me, even with the nose wire. And I didn't find that there was really any mask design that was going to work for everybody's facial structure."
She started researching different materials, mostly in the subculture of medical-grade adhesive companies she never knew existed.
"I had to learn the language of silicone polymers," she said, "and I had to talk to all of these manufacturers who were not used to getting random phone calls from a mom and teacher and sole proprietor about their products."
She ended up arranging to buy castoffs from giant rolls of adhesive to make strips that can be put in almost any mask, cloth or medical, to improve fit and reduce mask-related glasses fogging.
The adhesive also is used to make wound dressings, so it can hold fast, but gently, even on delicate skin.
Five strips, 3/4-by-5-inches in size, can be purchased at foggoz.com for $9.99.
"I'm a teacher, so of course I have a paper cutter at home," Snowden said. "I found tools – again back to Amazon – that creates a score in the lining. And I set up my own jig. I don't have a marketing team, I don't have someone who's coming up with the packaging, so I had to do all that, too."
She learned Adobe InDesign while teaching in New York and used that knowledge to create her website.
One Foggoz strip can be applied to the face up to a dozen times and go through a delicate wash cycle once or twice, Snowden said.
"My mom wears them all day when she teaches," she said. "What I do suggest, however, is if you're wearing it all day indoors, that you will want a mask that is breathable because your breath is now not escaping from the top of your mask. It's going to be going through your mask. If you have a mask that isn't very breathable, it'll get pretty hot."
Snowden said she has sold more than 300 packages of strips since mid-December. She believes if her product catches on, it might continue to be used in the construction and hospital trades after the pandemic ends.
Meanwhile, she said those who wear glasses and masks will protect three potential coronavirus entry points on their faces. Some infectious disease control physicians have said the eyes can be a portal for infection, though not nearly as much as the nose and mouth.
At this point, Snowden family members are sold. Not one has contracted the virus.