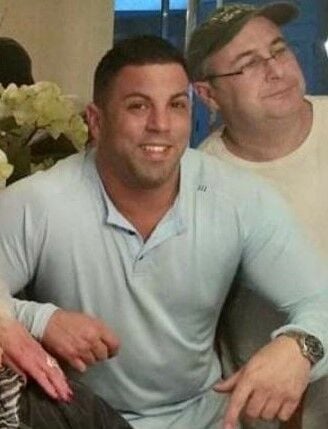 A Clarence man who pleaded guilty to a firearms charge related to his drug dealing was sentenced Thursday to five years in prison.
Anthony Gerace, 41, who has been linked by federal law enforcement officials to an ongoing investigation into organized crime in Buffalo, was sentenced by U.S. District Judge John L. Sinatra Jr., who gave him the mandatory minimum period of incarceration prescribed under federal sentencing guidelines.
Federal prosecutors have named Gerace as an unindicted co-conspirator in the case of a former federal drug agent accused of taking $250,000 in bribes from narcotics traffickers with links to the Buffalo Mafia.
Gerace was charged after a Jan. 28, 2019, raid at his home, where Homeland Security Investigations agents and investigators from the Erie County Sheriff's Office found 14 guns, more than 500 rounds of ammunition, $103,360 cash and several hockey bags loaded with marijuana and THC.
Gerace, who said nothing during in his court appearance today, pleaded guilty last year to a felony charge of possessing 14 firearms in furtherance of drug trafficking crimes. He has agreed to forfeit $103,360 as well as the firearms and ammunition seized from him.
Assistant U.S. Attorney Brendan T. Cullinane said that Gerace sold marijuana, THC, cocaine, hydrocodone and other drugs between 2006 and the date of the police raid.
Gerace admitted in his plea agreement that the firearms were used to protect him, his home on Michael Douglas Drive and the proceeds of his drug distribution operation, prosecutors said.
Court records show the home was purchased for $450,000 about a month before the raid.
Federal authorities estimated the street value of the seized drugs at $98,850. 
Bongiovanni and Peter Gerace Jr. have pleaded not guilty to the charges.
Prosecutors have identified Anthony Gerace, a former employee of Pharaoh's, as an unindicted co-conspirator in the Bongiovanni case, but have not charged him criminally in that case.
The Gerace brothers are nephews of Joseph A. Todaro, whom federal agents and Assistant U.S. Attorney Joseph M. Tripi have identified in court statements and documents as the leader of the Buffalo Mafia.
Todaro has not been charged in the ongoing investigation. He told The Buffalo News that any attempts to link him to organized crime are "nonsense."
Todaro said he has nothing to do with his nephews and would never become involved with narcotics trafficking.
Anthony Gerace has been in home confinement, under electronic monitoring, for "more than two years, with no incidents of any kind," his attorney, Thomas J. Eoannou, told the judge during Thursday's sentencing. Sinatra allowed Gerace to remain on home confinement until his incarceration date, which will be arranged by the U.S. Bureau of Prisons.
The judge could have fined Anthony Gerace up to $250,000, but elected not to fine him, saying Gerace would be financially unable to pay. He was described as unemployed in court papers filed by prosecutors after the raid on his home.
Eoannou said his client could have faced a minimum sentence of 15 years if convicted on all the charges originally filed against him.
There was no mention of Peter Gerace or Bongiovanni during Thursday's proceeding.
Also involved in the Anthony Gerace investigation were the FBI, Amherst police, the U.S. Bureau of Alcohol, Tobacco, Firearms and Explosives and U.S. Customs and Border Protection.