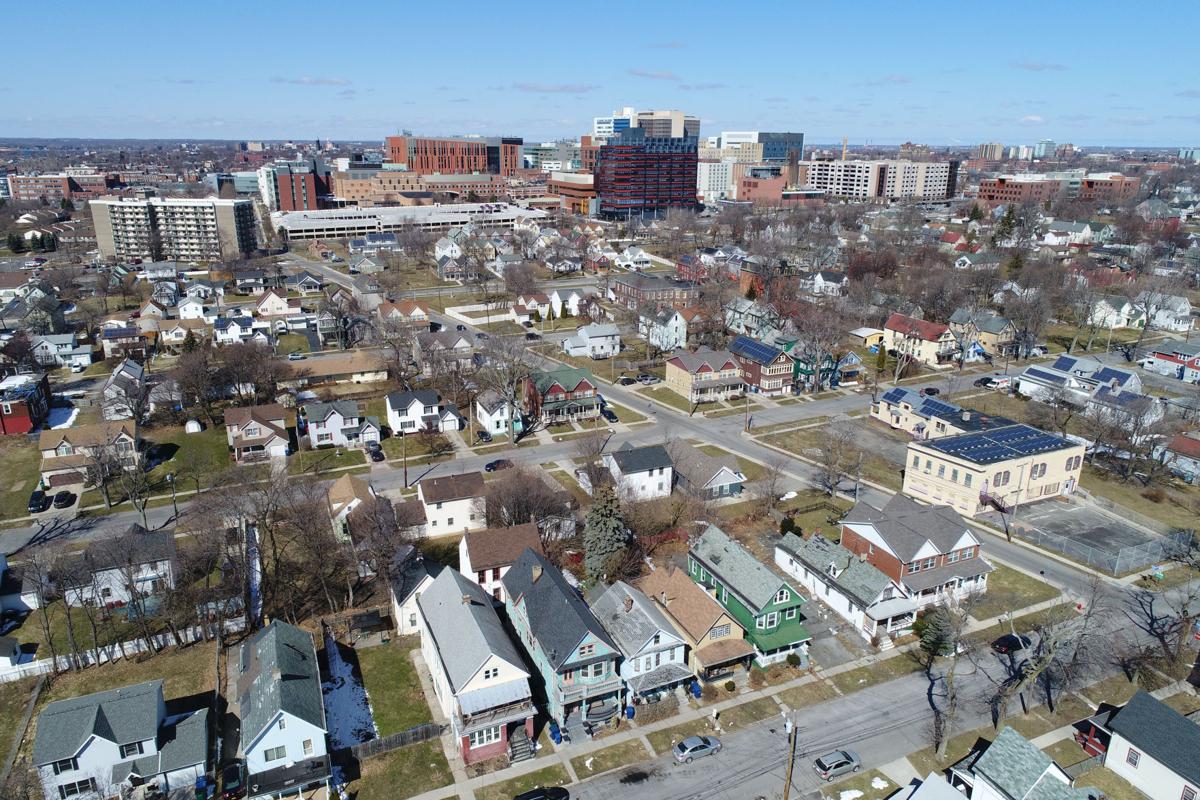 A 2 1/2 year moratorium on the sale of city-owned property in the Fruit Belt was partially lifted Tuesday after the Common Council approved a strategic development plan for the largely low-income neighborhood abutting the Buffalo Niagara Medical Campus.
Also, the Council agreed to initially transfer four of what could be 20 or more vacant lots the Fruit Belt land trust – the F.B. Community Land Trust – is expected to eventually obtain from the city for development of affordable housing.
The Council also authorized the city to begin seeking potential developers for an historic but run-down vacant property at 204 High St. that once was site of a doctor's home and office.
In addition, the city has offered to sell vacant lots to homeowners living adjacent to those parcels.
Plans for other lots in Buffalo's inventory of some 200 vacant Fruit Belt parcels will be discussed in coming weeks, as the city begins lifting them from the moratorium, said Buffalo Common Council President Darius G. Pridgen.
Commercial as well as residential development is possible, including lower-income as well as market-rate and mixed-income, he said.
A key component for those properties, and all city-owned properties under the new strategic development plan, is that the Fruit Belt community will have a voice in how they are developed, he said.
"It empowers people to vet development in the community," said Pridgen, who, as Ellicott District Council member, represents the Fruit Belt neighborhood.
Prospective development will be reviewed by a Fruit Belt Advisory Committee, which will make recommendations to the city, Pridgen said.
"I'm very happy," Pridgen said of the strategic development plan. "This is one of my crown jewels in my term as councilmember. To save some of the city-owned land in the Fruit Belt for low-income and working class who want to stay, it's a good day."
India Walton, a founding member of the land trust, also praised the agreement.
"I'm very excited," Walton said. "We've been able to find a way to work in concert with the city so we see development happen, but see it in a way that benefits the people who have been caring for this community for so long."
More voices will be included in a decision-making process aimed at preventing displacement and preserving housing affordability, added Harper Bishop, director of equitable development with Open Buffalo, which has been advocating for a land trust in the Fruit Belt.
As the Buffalo Niagara Medical Campus has continued to grow, Fruit Belt residents have been increasingly concerned that rents, home prices and therefore property taxes in their neighborhood will steadily increase, forcing some lower-income families out of their homes.
In response, the Council – at Pridgen's request – imposed a moratorium on city-owned Fruit Belt property in December 2015. The moratorium was to remain in effect until the Brown administration developed a strategic plan for the sale of the properties.
The strategic plan from the Brown administration isn't a "silver bullet," but is one tool in preventing gentrification, Pridgen said.
The F.B. Community Land Trust has played a continuing role in the discussions. The city is expected to eventually transfer at least 20 vacant parcels to the land trust to develop into affordable housing. But the organization is going to start with four lots in the High Street area. The land trust is looking to partner with Habitat for Humanity and Belmont Housing on its initial projects.
The larger goal, Walton and Pridgen said, goes beyond housing.
"People want retail and services back," Pridgen said. "They don't want to have to drive across town for goods and services."
The Fruit Belt community also wants opportunities for jobs and wealth generation in their community, Walton said.