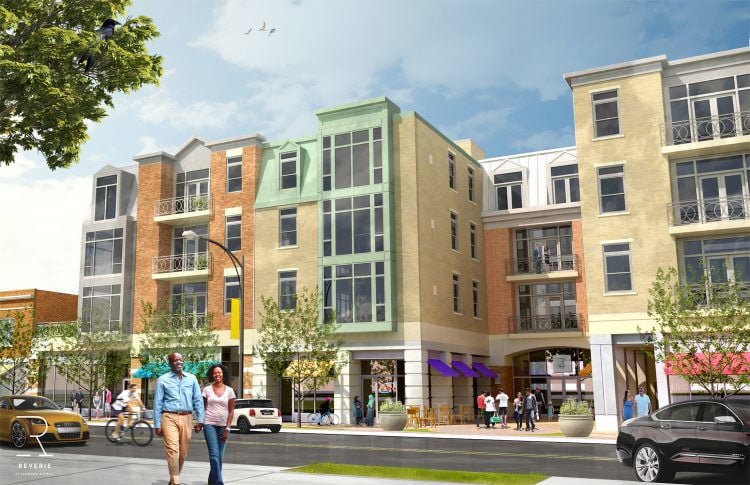 The Arbor + Reverie project proposed for Elmwood Avenue is now just Reverie.
Ciminelli Real Estate Corp. has decided to focus on gaining approval for a four-story building that would be built north of Potomac Avenue. The company is withdrawing the more controversial part of the project at the corner of Elmwood and Bidwell Parkway, said developer Paul Ciminelli.
"We are going to focus on separating the two projects," Ciminelli said Wednesday. "We have refined our approach, and that's how we're going to be focused from this point on."
The project has sparked concern and mounting opposition in Elmwood Village over its size and scale.
Reverie calls for a four-story, brick and stone building, with a courtyard, that would extend past Ashker's on Elmwood coffee shop to the first three houses after the former J.P. Bullfeathers, with the last one fronted by the Gutter Pop comics shop.
Ciminelli plans 51 units for the Reverie site, with properties on Potomac and Ashland Avenue adding a dozen more. There would be 129 indoor parking spaces on two levels and four retail spaces.
The Arbor project stood almost five stories high, and would have added 34 more residential units, along with more retail space and 14 additional parking spaces.
The Reverie project would require a height variance, since it would be nine feet taller than the three-story height restriction in the new Green Code. Another variance would be needed for the courtyard designed to break up the mass of the building but not meeting the new code's zero setback requirement.
Company attorney Adam Walters said demolition permit applications for two structures off of Elmwood – part of the Bidwell project – are being withdrawn. The company still wants a demolition permit for the building on Ashland, but it would not be demolished unless a site plan is approved, Walters said.
"There are no plans to do any demolitions before the Green Code gets adopted, and before the site plan is approved," Walters said.
It remains to be seen how Elmwood Village residents will receive the revised proposal. But Delaware Council Member Joel Feroleto, informed of the change by the developer before Thursday's announcement, said he thought the concentration on Reverie is a step forward.
"I think their plan to withdraw the application for Arbor will be welcomed by the community," Feroleto said. "Reverie is not as controversial as the Arbor building. The majority of comments I have received have been about Elmwood and Bidwell, specifically."
Ciminelli said he regretted recent combative statements made by his company representatives. The company for more than a year has tried to build goodwill, he said. The comments were a result of "passionate" company representatives who got caught up in the moment, he said.
At a Jan. 12 Buffalo Preservation Board meeting, attorney John G. Schmidt Jr. made comments interpreted by some as a veiled threat to sue to prevent the existing buildings from becoming local landmarks.
"It's pretty uncharacteristic of how we operate and collaborate with the community," Ciminelli said. "We're not a litigious company by any means. We recognize the fact the community is an integral part in terms of being a stakeholder, so we apologize for that."
By focusing on the project north of Potomac, Ciminelli said the company will be able to see how fast Reverie fills up with residential and retail, and at what rates before making any decisions on Arbor. It will also allow more time, he said, to revisit and refine the Arbor proposal.
Walters suggested the public would like Reverie if it's approved, saying it would contribute to Elmwood's vitality by adding residents, retail and parking. He said that could affect how people approached future plans for Bidwell.
"Elmwood and Bidwell is considered by many to be an iconic corner, and certainly by us," Walters said. "This decision gives more time to cool things down, and for people to work together."