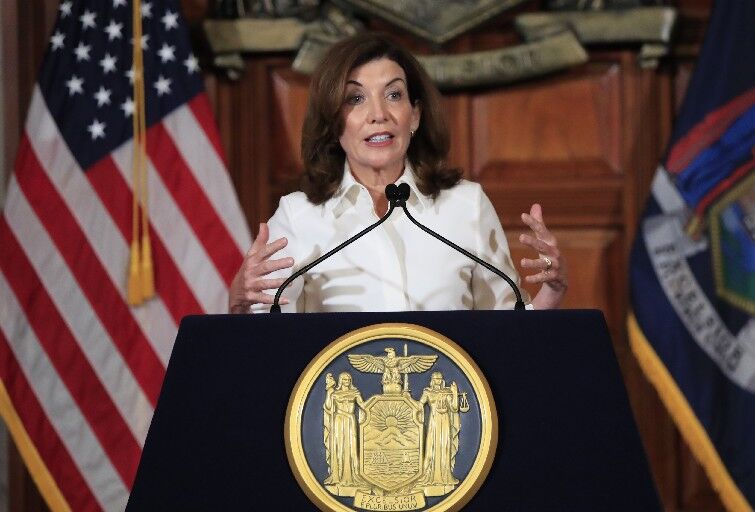 Christian Central Academy filed a lawsuit Tuesday, seeking to keep Gov. Kathleen Hochul – among others – from imposing a mask mandate the school says threatens its very survival.
The legal action came a day before classes start at the private Williamsville school.
Key among the new school reopening mandates is that everyone has to wear a mask inside schools and on buses.
And it came 10 days after the state Health Department filed an emergency regulation requiring face masks for everyone entering schools, as Hochul promised when she took office.
By the time the emergency regulation came, Christian Central Academy had already formulated its parent-choice masking policy.
Dozens of parents chose to enroll their children on the basis of the parent-choice masking policy, and the school fears many of them will pull their children out of the school because of the mask mandate, according to the State Supreme Court lawsuit.
"We are continuing to monitor the numbers and consulting with health experts, but we need everyone to do their part," Gov. Kathy Hochul said in a statement Saturday.
The school said it relied on assurances from former Gov. Andrew Cuomo that individual schools would be able to develop and implement their own masking policies for the 2021-22 school year.
So after deciding on its parent-choice policy, the school spent more than $200,000 on alternatives to masking, according the lawsuit. The school hired five additional teachers, at a cost of more than $175,000, so the school could reduce its class size to 12 to 13 students per class, affording 6 feet of social distancing to each student in each classroom.
The school also spent $27,000 to install air purification systems in each classroom.
But now the mask mandate means that the school faces the loss of tuition from parents who have indicated they will pull their children from the school, according to court papers.
Lucian D. Visone, a board member and treasurer for the school, said in court papers that as many as 50 to 60 students – as much as 20% to 25% of its student body – may be pulled from the school if the school must enforce a mask mandate.
Gov. Kathy Hochul's announcement of a universal mask mandate in all state K-12 schools was welcomed by some, opposed by others, and not unexpected.
The school charges tuition of between $7,250 and $11,250 per student, depending on grade level.
If the school has to abide by a mask mandate, "it will lose hundreds of thousands of dollars of revenue," Visone said.
"A loss of revenue of this magnitude is highly likely to put (the school) out of business and force (it) to close and lay off its staff," Visone said in court papers.
The parents chose to enroll their children at the school because they did not want their children's education and development negatively affected by masks and a lack of normal human interaction for a third consecutive school year, according to the suit.
The mask mandate conflicts with the school's parent-choice masking policy by requiring all children over the age of 2 to wear a mask at all times when they are indoors at a school, regardless of whether the parents want their children to wear masks at school.
A universal mask mandate will be imposed by the state on all public and private schools as students get to return to classes in the coming weeks, and officials are looking at ways to mandate vaccines for school employees, Gov. Kathy Hochul announced Tuesday on her first day in office.
As she took office last month, Hochul pledged to issue "concise and consistent" guidance for schools, saying there would be a universal mask mandate in all schools in New York.
 "We have to keep that collective spirit going while this virus and its Delta variant remain a threat," she said the day after the emergency regulation required masks in schools. "Get vaccinated, wear a mask, follow the basic safety guidelines – that's how we beat the virus."
"So we have to, first of all, have mandatory masks, which is something that is not universally popular, but I think it's an important step toward getting safety in schools," Hochul told "CBS This Morning" in August.
But the emergency mask mandate lacks a basis in the state's public health law, said attorney Todd Aldinger, who represents the school.
"The Legislature's failure to reach an agreement on in-school masking ... does not give the executive branch authority to do whatever it pleases," Aldinger said in court papers.
Buffalo Schools Superintendent Kriner Cash said he supports vaccinations for staff, but will not require it.
When Cuomo terminated the state of emergency June 25, the in-school mask mandate then in effect also ended.
From June 25 until July 29, school officials studied the scientific literature related to children and Covid-19 and consulted with parents of students and potential students and its staff.
"They were told all summer they could have their own masking policy, and they came up with a responsible plan," Aldinger told The News. "Now, at the last minute, the state pulls the rug out from under them."
Nicole Opfer, the mother of an 8-year-old entering third grade, said in an affidavit accompanying the lawsuit that her child "does not want to wear a mask and frequently cries when told she has to wear one."
Her daughter is not learning the proper pronunciation of words because she frequently mishears words when they are spoken through a mask, she said.
Schools have updated their protocols with an eye toward making sure all students can safely return. 
She said she would almost certainly pull her daughter from the school if the mask mandate sticks.
"I have seen firsthand how the mask mandates impair the educational process," she said in her affidavit. "It has worsened the educational experience, degraded the emotional health of children, and significantly impaired the development of children's social skills. And I am unwilling to allow (her) to be harmed by having to wear a mask for another school year."
The school is seeking a temporary restraining order and preliminary injunction keeping the state from imposing the mask mandate at the private school. The school said the emergency regulation lacks a statutory basis in public health law. And it called the regulation a violation of the state constitution.
Also named as defendants are the state Department of Health, the New York State Public Health and Health Planning Council, state Health Commissioner Howard Zucker, Erie County Executive Mark Poloncarz, Erie County Health Commissioner Dr. Gale Burstein and the Erie County Health Department.
The lawsuit takes aim at the Erie County guidance for schools that Poloncarz and Burstein announced in August. Before Hochul took over as governor and the state's mask mandate, Poloncarz and and Burstein announced all Erie County students and staff will be required to wear face masks when the school year starts. The new guidance immediately applied to all public, private and charter schools and is built on guidance from the U.S. Centers for Disease Control and Prevention, they said. 
Tuesday was the first day for the 465 students at Niagara Falls Elementary School, which is housing pre-K through second grade this year. 
The county plan is endorsed by the New York chapter of the American Academy of Pediatrics and the Buffalo Pediatric Society.
The school wants a declaratory judgment from the court declaring the Erie County guidance illegal and non-binding on the school.
"The Erie County Attorney's Office will review any documents from the court and respond appropriately," county Health Department spokeswoman Kara Kane said. "We have no further comment at this time."
When he unveiled the county plan, Poloncarz said that parents opposed to mask wearing represent a vocal-but-small minority. Far more parents are willing to do what it takes to ensure students can safely return to school full-time, he said.
He also said parents and anti-mask groups wanting to sue the county over the mandates are free to do so.
"They can sue us," he said at the time. "You'll waste your money if you do that."
Aldinger said he wouldn't file a lawsuit if he thought it would waste his client's money.
"I think it's a very strong lawsuit," he said.