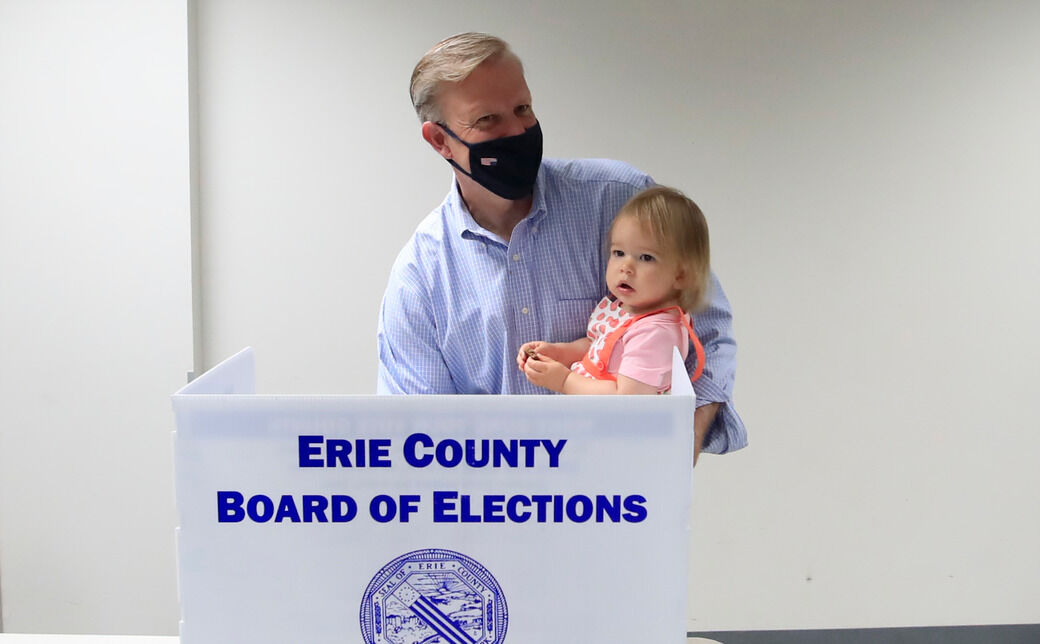 Christopher L. Jacobs left no doubt about supporting President Trump throughout his 13-month campaign for the GOP nomination in the 27th Congressional District – he was "all in."
On Tuesday that strategy paid off as he claimed an overwhelming victory in the three-way primary election against Stefan I. Mychajliw Jr. and Beth A. Parlato in an election centering on his support for Trump. The state senator from Orchard Park was crushing his opponents with the vast majority of districts reporting.
Jacobs claimed 62% (25,668 votes) to 21% (8,644 votes) for Parlato and 17% (7,190 votes) for Mychajliw in the primary election to determine who will face Democrat Nate McMurray in the Nov. 3 general election.
In the primary, Jacobs pulled ahead throughout the district. He won by similar tallies to his overall victory in all eight counties. In the big county of Erie he won 57% , and 63% in Niagara, along with 70% in Livingston.
Indeed, Mychajliw conceded the primary victory to Jacobs shortly before 11 p.m. to fill the vacancy stemming from the 2019 resignation of Republican Chris Collins, who plead guilty to federal charges of insider trading.
Shortly after the Mychajliw concession, Jacobs – the endorsed Republican with many other advantages in the race – declared victory.
"We're excited and believe we have clearly won in the primary and things looking very positive for the special election," he told The Buffalo News. "We have a significant lead. We really like where we are and are very excited and grateful to all those who were so supportive.
"Stefan Mychajliw called to concede, so I think it's pretty assured we won the primary," he added.
It had been thought the election results could be delayed for weeks as elections officials counted record totals of absentee ballots stemming from Covid-19 fears. They will not even begin to be counted through the district's eight counties until July 7. As a result, and contrary to traditional election night rituals, it appeared nothing official would be declared until all the absentees are counted.
As late as Tuesday afternoon, however, Jacobs was still playing the "Trump card." The president made automated phone calls on Jacobs' behalf throughout the district on primary day, doubling down on his four previous tweets of support dating to February. Though Mychajliw and Parlato strained to link themselves to the president – exceptionally popular in New York's most Republican congressional district – it was Jacobs, 53, who continued to reap presidential praise.
"Chris will help me fight crazy Nancy Pelosi and the radical socialist liberals trying to destroy our country," Trump said in the automated calls sponsored by the New York State Republican Party. "Chris stood up to the do-nothing Democrats in Albany and will do the same thing in Congress."
On Monday night, Jacobs also hosted a "tele-town hall" featuring Rep. Elise Stefanik of Saratoga County, Republican National Chairwoman Ronna Romney McDaniel – and Trump. It all added up to a "pull out all the stops" effort from the highest echelons of the GOP.
The president even noted that he did "really, really well" in Western New York in the 2016 presidential election.
"So I just wanted to make this call again, something I rarely do, but I feel so strongly that Chris is going to be just incredible," Trump told the listeners as part of extensive comments. "I've been watching him over the years."
But Parlato, a family law attorney from Genesee County, and Mychajliw, the Erie County comptroller, had waged strong efforts in their own rights.
Unknown just a year ago in most parts of the district, Parlato burst onto the scene last summer with encouragement from Erie County Conservative Chairman Ralph C. Lorigo. Indeed, he engineered the nomination of the state Conservative Party for Parlato, who earlier this year said she would not split the GOP vote in November and leave the ballot should she lose the Republican primary.
The Buffalo News: Good Morning, Buffalo
The smart way to start your day. We sift through all the news to give you a concise, informative look at the top headlines and must-read stories every weekday.