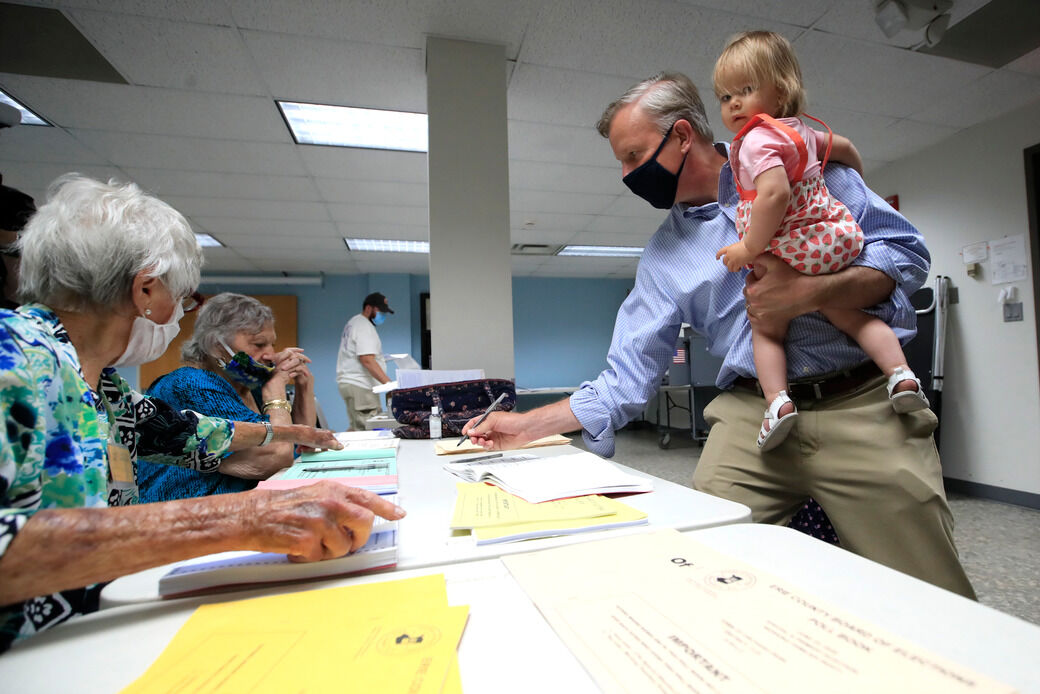 Republican State Sen. Chris Jacobs appeared headed toward a big victory over Democrat Nate McMurray on Tuesday evening in the special election for New York's 27th Congressional District.
"It will be mathematically impossible for him to catch up to us with the absentees so we are happy to say we're announcing that we are victorious in the special election," Jacobs said.
McMurray tweeted in response: "Typical. We need to count the votes Chris. I'm waiting for every last ballot to be counted, and then let's talk."
With Jacobs piling up large advantages across most of the eight counties that include territory in the district, Cook Political Report and Decision Desk 2020 called the race for Jacobs shortly after 11 p.m.
"No surprise here," tweeted Dave Wasserman of Cook Political Report.
Jacobs was a heavy favorite in the race, given that President Trump won the district by 24 points four years ago and that Trump has gone through extraordinary lengths to boost Jacobs' candidacy in recent weeks. On Monday, for example, Trump joined Jacobs for a telephone "town hall meeting," and on Tuesday Republican voters in the district got a robocall from the president, urging a vote for Jacobs.
Nevertheless, McMurray — the former Grand Island town supervisor who narrowly lost a race to the then-indicted Rep. Chris Collins in 2018 — said the huge number of mail-in ballots would break heavily in his favor, given that most of them came from Democrats. Voters were encouraged to vote by mail because of the Covid-19 pandemic.
"If we truly do pull this off, it'll be one of the biggest upsets in American congressional history," McMurray said at his Hamburg campaign headquarters. "It'll be a massive upset."
As of shortly after 11 p.m., Jacobs led with 70% of the vote to 28% for McMurray. Libertarian candidate Duane Whitmer and Green Party hopeful Michael Gammariello split the rest of the vote.
Overall, Jacobs had a 30,639 vote lead — meaning McMurray would have to get a huge share of the absentee votes in order to narrow the margin. Boards of elections in the district reported receiving 65,509 absentee ballots as of Tuesday, but that total will grow in the coming days because voters had until Tuesday to mail in their ballots.
Elections officials said it could be as long as two weeks before they have all the ballots totaled and before they can declare a winner in the race.
The pandemic-inspired change in voting, and the pandemic itself, made for a strange election night. Neither of the major candidates in the congressional race scheduled a victory party. Jacobs, who celebrated his wedding anniversary Tuesday, gathered privately with family members. McMurray spent part of the evening at his Hamburg campaign headquarters and then headed home.
Oddly, then, election night lacked the drama that has been the 27th Congressional District's trademark for nearly a decade.
The drama started in 2011 when Rep. Chris Lee, a Republican in his third year in office, resigned after news reports that he had been advertising himself shirtless on Craigslist. That prompted a heated special election won that May by Democrat Kathy Hochul, now New York's lieutenant governor.
Collins, a Republican and former Erie County executive, ousted Hochul the next year and then won re-election handily in 2014 and 2016. In August 2018, though, Collins was arrested on felony insider trading charges.
Collins ran for re-election anyway and narrowly defeated McMurray, but then Collins pleaded guilty and resigned from Congress on Oct. 1. That prompted the special election, which was originally set for April 28. Gov. Andrew M. Cuomo pushed the special election to June due to the coronavirus pandemic.
That created an unusual electoral doubleheader, with the special election featuring Jacobs and McMurray, as well as a Republican primary between Jacobs, Erie County Comptroller Stefan Mychajliw and Darien attorney Beth Parlato occurring on the same day.
Jacobs had a wide lead in that race, and Mychajliw conceded the primary race to him, although Parlato did not. But like the special election, precise final results can't be determined until the many mail-in ballots are counted.
The special election will fill the congressional seat until January. McMurray and the Republican candidate — most likely Jacobs — will face off in November for a full two-year term that begins in January.
The Buffalo News: Good Morning, Buffalo
The smart way to start your day. We sift through all the news to give you a concise, informative look at the top headlines and must-read stories every weekday.