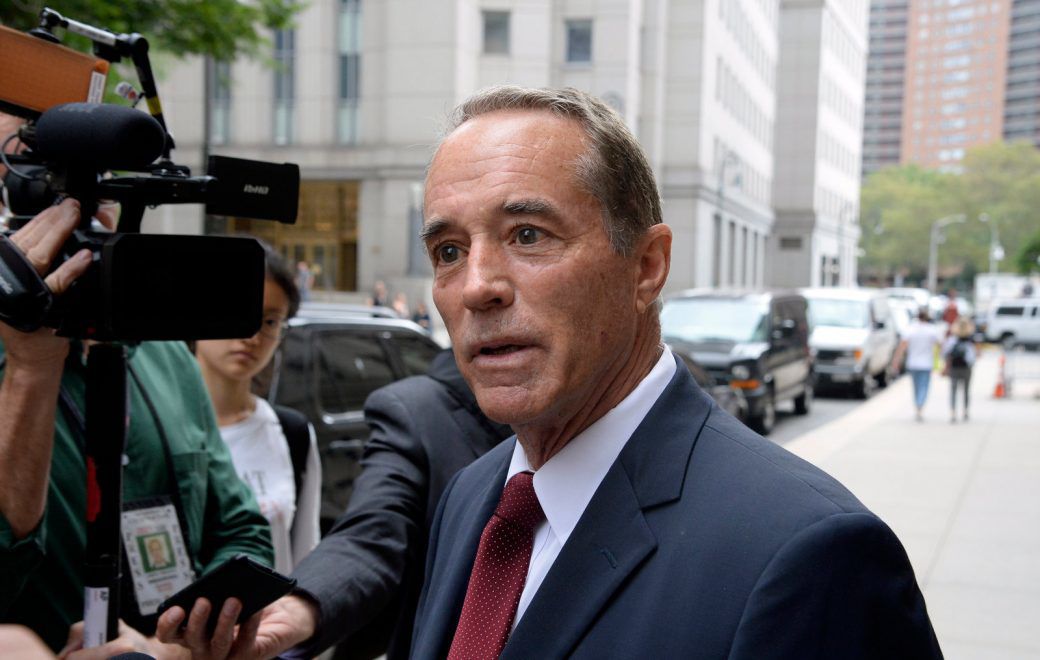 WASHINGTON – A CNN reporter buttonholed then-Rep. Chris Collins in the halls of Congress in November 2018 and asked the indicted lawmaker if President Trump should pardon him.
"Oh, no, that would not be appropriate," Collins said, dishonestly insisting he was innocent of insider trading charges.
Two years and one month later, and only 10 weeks into a prison term supposed to last 26 months, Collins left prison a free man. He accepted Trump's pardon late Tuesday and quickly departed the federal prison camp in Pensacola, Fla., in time to spend Christmas with his family.
But was Collins' pardon appropriate?
Legal experts across the country – and even as far away as Australia – don't think so.
"As usual, I think it is Trump's behavior here that is inappropriate, unethical and a breach of his constitutional duties," said John C. Coffee Jr.,  a law professor at New York University and expert in white-collar crime. "He is giving "Get Out of Jail Cards" free to all his political supporters."
There's little to stop Trump from doing that. The Constitution gives presidents "power to grant reprieves and pardons for offences against the United States, except in cases of impeachment," and imposes no other limit to that power.
Still, Trump has used the pardon power differently than many other presidents. Of the 65 people Trump has granted clemency to so far, 60 have personal or political connections to the president, according to an analysis by Jack Goldsmith, a law professor at Harvard University. Collins, for example, was the first House member to endorse Trump for president in 2016 and emerged as one of Trump's most televised defenders afterward.
Several of the other 15 people pardoned Tuesday also have ties to Trump. Former Rep. Duncan Hunter of California, who pleaded guilty to using campaign funds for everything from drinks to vacations to plane tickets for his family's pet rabbits, was the second House member to endorse Trump. Two people who pleaded guilty to charges in connection with the investigation into Russian meddling in the 2016 election, George Papadopoulos and Alex van der Zwaan, also received pardons.
The trouble is, the Founding Fathers intended the Constitution's pardon power to correct injustices, not to reward the president's friends and cronies, legal experts said.
"This is more literally corrupt than other things Trump has done," said James A. Gardner, a professor of constitutional law at the University at Buffalo. "This is just directly undermining the rule of law for the benefit of his friends and supporters."
It's nothing new for Trump to issue pardons to fellow conservatives. Joe Arpaio, the anti-immigrant sheriff from Arizona, and right-wing provocateur Dinesh D'Souza are two such figures whom Trump pardoned long ago.
But Jonathan Entin, a professor of constitutional law at Case Western Reserve University, called it particularly noxious for Trump to pardon lawmakers who endorsed him.
"The pardons of the members of Congress are legal in the sense that the president has the authority to issue them, but they really just don't pass the smell test," Entin said. "The Collins pardon is particularly troublesome. He pleaded guilty to a crime – insider trading – that he committed with a phone call he made from the White House grounds."
Collins did so at a White House picnic in June 2017. Soon after he received an email with devastating news about Innate Immunotherapeutics, an Australian biotech where he sat on the board, Collins called his son Cameron and advised him to start dumping his Innate shares. Cameron Collins did just that and more, telling his future father-in-law, Stephen Zarsky, to do the same. All three men ended up pleading guilty, but only the former congressman got sentenced to prison.
Trump pardoned the former Republican lawmaker from Clarence even though the U.S. pardon attorney – the government employee who vets claims of clemency – never reviewed Collins claim.
While experts said such moves would be unusual for other presidents, they're not unusual for Trump. Goldsmith's research found that only five of Trump's 65 pardons and sentence commutations were based on recommendations from the pardon attorney. 
One thing about the Collins pardon stands out, said Jeffrey Crouch, an assistant professor of American politics at American University and author of the book "The Presidential Pardon Power."
"What's unusual about Collins' pardon in the bigger picture is that he was just sentenced in January and began serving his sentence in October," Crouch noted. "Historically, pardons are granted to people who have committed older crimes, shown remorse and reformed. Collins arguably has not had time to do this yet."
Washington ethics experts, meanwhile, reacted angrily to the Collins and Hunter pardons, along with the commutation of the sentence of former Rep. Steve Stockman of Texas, who was imprisoned for personal use of campaign funds.
"In Duncan Hunter, Chris Collins and Steve Stockman, you have three of the most corrupt members of Congress in recent history, including the first two members to endorse Trump," said Noah Bookbinder, executive director of Citizens for Responsibility and Ethics in Washington. "They are prime examples of politicians using their positions to benefit themselves rather than look out for their constituents."
Also offering a scathing review was Meredith McGehee, executive director of Issue One Reform, which works to reduce the influence of money in politics.
"The pardons of three politicians who abused the public trust IS the swamp," McGehee posted on Twitter. "These actions by President Trump undermine public faith in our democracy at a critical juncture in our history."
Preet Bharara, who served as U.S. attorney in the Southern District of New York – the office that indicted Collins more than a year after Bharara left it – took to Twitter to say: "Purely partisan pardon today of two corrupt GOP congressmen."
Meanwhile, Richard W. Painter – who headed the White House ethics office under former President George W. Bush – said the Collins pardon should lead to reform in Congress.
"A GOP congressman in prison for insider trading gets pardoned," Painter said on Twitter. "Sickening. All the more reason members of Congress should be barred from trading individual stocks."
James Wheeldon, an Australian securities lawyer who was an investor in the company involved in the Collins stock scandal, was as aghast at the Collins pardon as all those American ethics experts.
"Collins' pardon is an embarrassment to the U.S. and also to Australia," Wheeldon said via email. "Collins admitted at his sentencing that he committed criminal breaches of Australian law. He should be prosecuted in Australia for insider trading and breaches of his director's duties, but he won't, because Australian regulators never conducted a proper investigation at the time of his crimes."