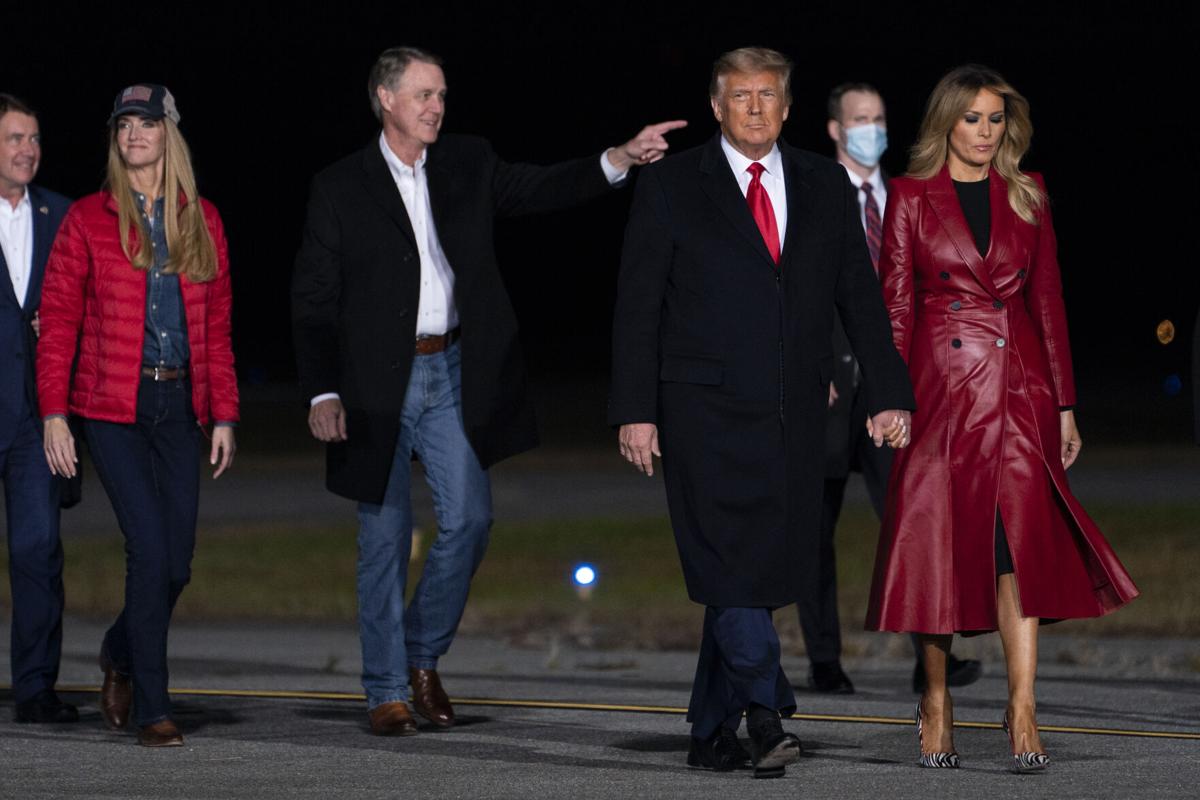 WASHINGTON – Weeks before two Georgia runoff elections that will decide which party controls the U.S. Senate, Democrats were hammering Sens. David Perdue and Kelly Loeffler over stock trades that, to critics, seemed suspiciously well-timed – and not entirely unlike the ones that landed former Rep. Chris Collins in federal prison.
"The Justice Department investigated Perdue for insider trading!" noted an ad from a Democratic "Super PAC."
"Corrupt stock trades!" proclaims another Democratic Super PAC ad attacking Loeffler.
In fact, federal investigators dropped their probes into Perdue's stock trades, as well as Loeffler's – but the duo from Georgia are by no means alone among senators whose trading habits raised suspicions this year. Similar allegations swirled around Sens. James Inhofe, an Oklahoma Republican, and Dianne Feinstein, a California Democrat, but investigators dropped their probes of those two senators, too. And Sen. Richard Burr, a Republican from North Carolina, remains under investigation for stock trades that followed a private congressional briefing about the Covid-19 pandemic. 
To ethics watchdogs, these are all signs that despite the cautionary tale that prosecutors spun in putting Collins in prison – and despite a 2012 law aimed at ending insider trading among lawmakers – it is still all too easy for members of Congress to invest in ways that at least appear to be in their own interests rather than the public's.
"Whether or not any individual engaged or didn't engage in something illegal, all of this looks terrible for our democracy," said Beth Rotman, money in politics and ethics program director at Common Cause, a government reform group. "I mean, it just shakes us to the core."
None of the senators who have faced insider trading questions did anything quite so brazen as Collins. In June 2017, he made a phone call to his son from a White House picnic, advising him to dump shares of an Australian biotech based on inside information. That call resulted in guilty pleas from Collins, his son, Cameron, and Cameron's father-in-law, Stephen Zarsky, as well as a 26-month prison term for the former Republican congressman for New York's 27th district.
Legal experts across the country do not believe it was appropriate for President Trump to pardon former Rep. Chris Collins, who pleaded guilty to insider trading.
Collins' federal prison stint was cut short last week after President Trump pardoned the former lawmaker.
Collins began his sentence in a federal prison camp in Pensacola, Fla., in October, a few months after five senators found themselves fending off inquiries about stock trades that, according to critics, seemed suspiciously connected to their official duties.
Facing the most scrutiny recently has been Perdue, who, according to the New York Times, has made 2,596 stock trades during his first term in the Senate.
"What, did he have a Bloomberg terminal under his desk?" quipped Richard W. Painter, chief White House ethics officer under President George W. Bush, referring to the computer that's ubiquitous among stock brokers.
Critics are concerned about the quality of Perdue's stock trades, as well as their quantity. The Times reported that the Justice Department looked into Perdue's sale of more than $1 million in stock in Cardlytics, a financial company where Perdue used to serve on the board, two days after the company's founder sent the senator an email mentioning "upcoming changes" at the firm. Cardlytics' stock price plummeted when its founder announced his departure a few weeks later.
The Justice Department dropped its probe into Perdue and Cardlytics, allowing the senator to recently run a campaign ad saying: "Perdue was totally exonerated."
And that, it seems, is part of a pattern. Loeffler, Inhofe and Feinstein all faced Justice Department and Senate Ethics Committee inquiries about stock sales that they made after a January briefing for senators about the economic risk posed by the looming coronavirus pandemic – a briefing that took place only weeks before the market tanked. 
Those three senators all denied any wrongdoing, saying investment advisers or relatives made those trades on their behalf. And prosecutors dropped their investigations into those three senators without comment in May, prompting a Loeffler spokesman to say in a statement that the decision "affirms what Senator Loeffler has said all along – she did nothing wrong."
Even so, ethics experts agree that the trades those senators made don't exactly look good.
"Those senators were privy to information that the general public didn't have," said Usha Rodrigues, chair of corporate finance and securities law at the University of Georgia, who said she remains "very concerned" about potential insider trading among lawmakers.
Burr, the senator from North Carolina, was at the same private coronavirus briefing as those other senators, and then dumped upwards of $1.7 million in stock Feb. 13, ProPublica reported. He remains under investigation.
"Suddenly, after the congressional briefing on the economic consequences of the pandemic, he (Burr) made 33 trades in one day," said Craig Holman, government affairs lobbyist for Public Citizen, a good-government group. "That just reeks of possible insider trading, so the Justice Department just couldn't not pursue that one."
"The president has the right to grant this pardon," Reed, of Corning, said in a statement. "The Collins family has paid a price for Chris' transgressions and justice has been served."
All of those dropped investigations leave government reformers to answer a difficult question: If prosecutors and ethics investigators don't seem to care about the stock trades of members of Congress, why should the public?
Those reformers offer a twofold answer. For one thing, they say, we can't assume that a prosecutor's decision not to file insider trading charges means that insider trading didn't happen. And secondly, even without trading on insider information, lawmakers remain in a position where their stock trades can pose conflicts of interest.
It has been illegal for members of Congress to trade on inside information that they garner as part of their official duties since the 2012 passage of the "STOCK Act," which the late Rep. Louise M. Slaughter of Fairport and Sen. Kirsten E. Gillibrand of New York authored. But to hear the experts tell it, the STOCK Act has run up against a hard fact that has hampered prosecutors for decades: insider trading is very hard to prove in court.
"Especially with members of Congress, it's going to be challenging to find that smoking gun, that kernel of inside nonpublic information, and then find the correlating stock trade," said Delaney Marsco, legal counsel for ethics at the Campaign Legal Center.
Collins' own cell phone proved to be the smoking gun in the case against him: not only did prosecutors find a video of him speaking into it as he called his son from the White House lawn, but they also found records tracing his calls to his son and his son's subsequent stock trades.
In other potential insider trading cases, such open-and-shut evidence often doesn't exist, leaving investigators trying to prove the unproveable.
"It's very difficult to know what's actually in somebody's head and their heart when they vote on a bill or when they buy a stock," said Rotman, of Common Cause.
Painter, now a professor of corporate law at the University of Minnesota, said it is particularly difficult to investigate federal lawmakers on insider trading charges because of the Constitution's Speech and Debate Clause, which shields any evidence related to lawmaking from the prying eyes of prosecutors. Collins himself cited that constitutional clause as the heart of his defense until prosecutors threatened to try his son – who wasn't shielded by the Speech and Debate Clause – before him.
And even when there's no evidence that lawmakers are buying or selling stocks based on inside information, ethics experts say that they could very well be voting in Congress not in the interests of their constituents, but in the interest of their investments. In fact, that's just what political scientists Jordan Carr Peterson of North Carolina State and Christian Grose of the University of Southern California found in a recent study.
Examining four major pieces of financial legislation, Peterson and Grose concluded: "Legislators' financial self-interest, and in particular the amount of their personal investments in the industries subject to regulation, oversight, and intervention, play a larger role than district characteristics and play a role that is relatively large even when compared to the impact of legislator party."
Given the growing number of lawmakers who have had to defend themselves – publicly, at least – against insider trading allegations, there is increasing talk in academic and reformist circles about banning lawmakers from owning individual stocks.
"That's kind of the only way that we can get around this issue now," said Marsco, of the Campaign Legal Center.
"That would make it a lot simpler," Gillibrand, a Democrat, said.
But Peterson and Grose noted that banning members of Congress from owning stock might discourage people from running for office.
And Rodrigues, of the University of Georgia, said Congress doesn't necessarily have to go quite so far as an outright ban on stock investments. She proposed requiring federal lawmakers to put their stock holdings in blind trusts, where an investment adviser would make the buy-or-sell decisions without any conversations with those lawmakers.
So far, though, Congress has shown little interest in reform. Sens. Jeff Merkley of Oregon and Sherrod Brown of Ohio, both Democrats, last year proposed banning lawmakers and their top staffers from owning individual stocks. Their legislation has no cosponsors, and a companion bill in the House has only nine of the 435 representatives signed on in support.
"It's tough because members of Congress obviously don't like putting restrictions on themselves," Marsco said.
Asked what could possibly persuade lawmakers to get tougher on insider trading, experts said one thing might do the trick: a congressional insider trading scandal of epic proportions, one that would dwarf what Collins did.
After all, "reform follows scandal," Marsco noted.