A common and sometimes severe respiratory virus that tends to hit young children the hardest began to pick up steam in Buffalo in late summer, more than two months before it typically strikes.
Leading doctors in the region fear the early arrival of respiratory syncytial virus, or RSV, could also portend an earlier flu season at a time when acute-care centers across the region – including Oishei Children's Hospital – are seeing patient capacity at the highest levels since the pandemic began.
Neither RSV nor the flu barely made a blip late last fall and winter, when the region experienced its largest peak in Covid-19 cases amid lockdowns and limited public gatherings.
"We probably don't have very good immune memory" for either of the two, said Dr. Gale Burstein, Erie County health commissioner. "Also, we are now congregating again. We especially anticipate a lot of gatherings for the holidays. There will be opportunities for not only Covid-19 transmission, but also influenza and RSV transmission."
RSV usually causes mild, coldlike symptoms but can become serious, particularly for infants and older adults. It is the most common cause of bronchiolitis and pneumonia in children younger than 1. Almost all children get RSV by age 2. It is almost never fatal.
It is the most common respiratory illness treated at Oishei Children's Hospital, said Dr. Stephen Turkovich, chief medical officer.
The hospital typically sees cases start to climb in November. Last month, 107 patients were admitted, including 26 to the pediatric intensive care unit.
"With respiratory season last winter being nonexistent, we had zero patients admitted for RSV and one patient admitted for the flu," Turkovich said. 
The previous Oishei Children's Hospital RSV surge began in November 2019, with 44 children admitted, and got worse the next month, with 181 admissions, including 47 young patients who required care in the pediatric ICU.
Cases stretched into March 2020. By then, the hospital had admitted 410 children with RSV and 93 with the flu, Turkovich said.
Oishei Children's Hospital expected an earlier start this fall because hospitals in Australia, which typically see spikes during their winter months, experienced an unusually large number of cases in their recently completed summer, after mask mandates were relaxed, he said.
This year's surge at Oishei started in August, when 54 children were admitted, including 18 to the pediatric ICU.
The concerns in Western New York and other parts of the U.S. are how busy the new RSV season will get, how long it will last and if the same forces will take place with the flu.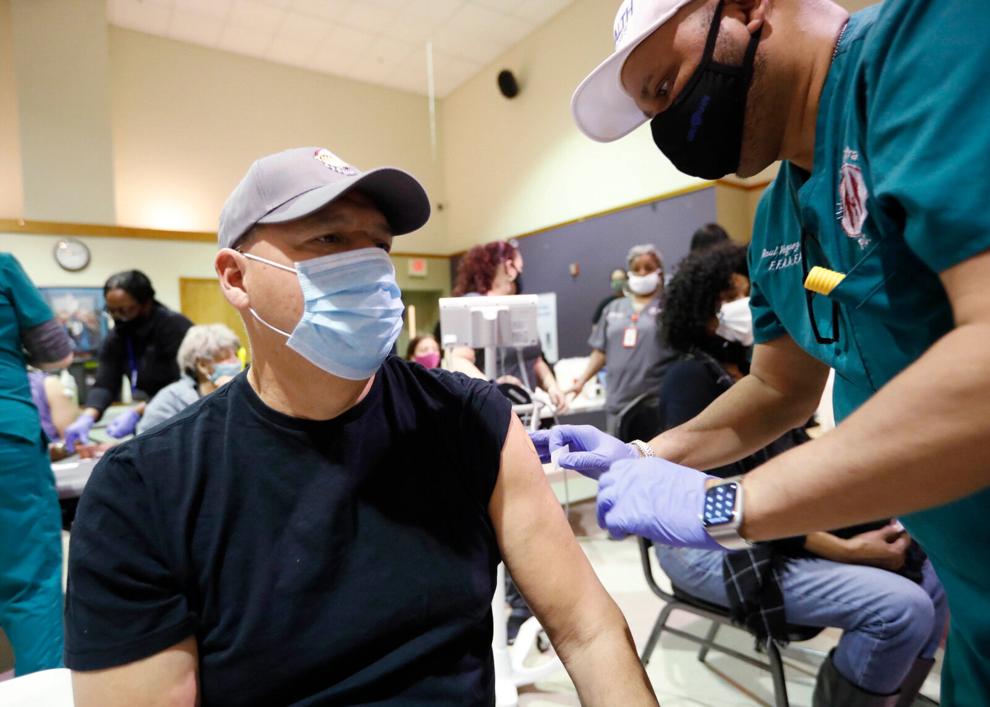 Oishei Children's Hospital treated two influenza cases last month, which also is earlier than usual, Turkovich said.
"We're certainly not seeing a lot of flu," he said, "but because we've seen it, we know that it's in our community. Respiratory viruses usually start with small numbers of patients, and then over the next four to six weeks, generally will start to increase."
The hospital's pediatric ICU has 20 beds. It has neared capacity many of the past several weeks, and at times during the past few days needed to use its overflow protocol, setting up intensive care beds outside the unit.
On Friday, 27 patients were hospitalized with respiratory infections. That included 20 with RSV; eight were in intensive care.
The respiratory condition is one of many medical and trauma cases the region's only children's hospital handles.
In September, it also managed 25 cases of Covid-19, tying April of this year for the most pediatric and obstetrics admissions since the pandemic began.
Since Oct. 1, the hospital has admitted nine Covid patients, including four pregnant women.
Expectant mothers who contract the virus tend more often to deliver early and by Cesarean section.
The hospital OB/GYN team on Friday was treating five pregnant women next door in the Buffalo General Medical Center intensive care unit for serious cases of the disease, Turkovich said. The team has treated 10 pregnant women admitted to Buffalo General since the start of September; three delivered prematurely.
No mothers or children infected with Covid-19 have died at Oishei Children's Hospital, Turkovich said, though that has not been the case elsewhere. The New York Times and other news outlets have reported about both – mostly in communities with lower Covid vaccination rates – as well as mothers with the disease delivering stillborn babies.
Large studies now show that the risks of Covid-19 to fertility and pregnancy are dwarfed by the benefits of becoming immunized against the disease.
In a large-scale study of more than 870,000 women in the U.S. who became pregnant during the pandemic, researchers reported in August that percentages of serious complications remained small in pregnant women who were vaccinated and unvaccinated.
Still, they found that those who contracted the coronavirus were six times more likely to be admitted to intensive care during pregnancy; 14 times more likely to suffer respiratory failure and need mechanical ventilation; and 15 times more likely to die, according to the study, first reported in JAMA Open Network.
None of the children or pregnant women admitted to Oishei Children's with Covid-19 in September or so far this month were vaccinated against Covid-19, Turkovich said.
"Children admitted with Covid that were less than 12 were obviously not eligible for the vaccine," he said. "We've been asking … and all but one of them were living with parents who were unvaccinated or had another adult in the house or older child in the house who was unvaccinated.
"One of the best ways to protect younger children from Covid and the flu is to ensure all the older children and adults they interact with are fully vaccinated. This has been referred to as cocooning the young child. Unfortunately we're seeing kids admitted, some of them less than a month of age, whose parents have not yet been vaccinated."
Researchers continue work on a vaccine for RSV.
Symptoms can include coughing, labored or rapid breathing, excessive sleepiness or difficulty arousing from sleep, and sometimes blue lips or fingers. A reduction in eating also signals the possibility.
"The way that babies essentially exercise is by eating," Turkovich said. "It takes a lot of energy and if they start eating less, it may be because they don't have enough energy to actually eat."
Coughing, vomiting and decreased feeding can lead to dehydration, so look for a decreased number of wet diapers, he said.
Call a pediatrician if symptoms develop. Visit an urgent care center or hospital emergency room if they are pronounced. Supportive measures – increased fluid intake; fever reducing medication; and IV fluids, oxygen or both for those who require hospital admission – are part of the treatment plan.