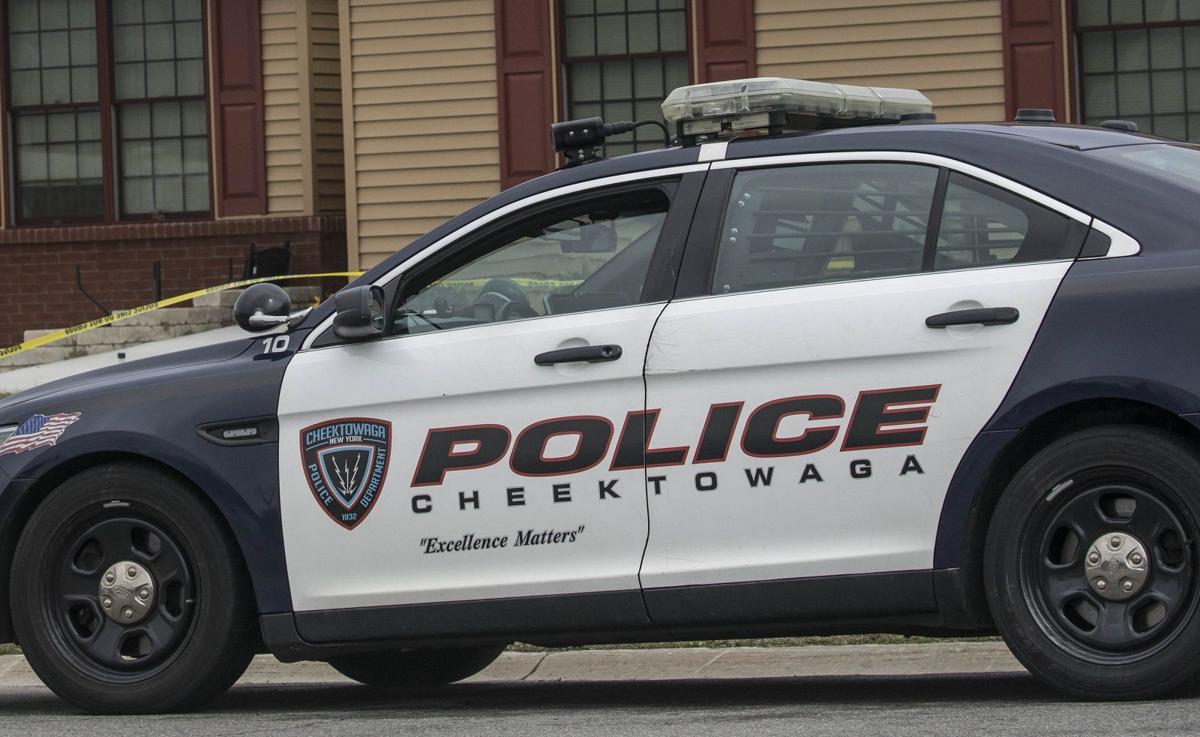 In theory, Christmas parties are happy events. But blood spilled when the union representing Cheektowaga police officers gathered for a holiday bash 13 months ago.
Bad feelings were brewing between an officer, Sean Trapper, and a sergeant, Garrett Slawatycki. They took it outside.
Slawatycki, a Marine veteran, and Trapper, a football player in high school and college, were both hired in 2010. The officers' union would later say they were friends.
Within minutes, the sergeant found himself on the ground with a broken tooth because, according to internal records, Trapper had punched him.
The police personnel who went to the scene the next day to investigate retrieved surveillance video and made a written note of the blood spotting the pavement where the two had quarreled.
The Sheriff's Office gave a deputy a letter of reprimand in 2018 after he violated rules by leaving work early on four days and falsifying his timesheet. 
The captain and lieutenant who investigated wrote a report concluding that Trapper's attack on a supervisor and his failure to show restraint violated the department's code of ethics, which governs an officer's conduct both for internal matters and when dealing with the public.
Further, Trapper could have been charged with the crime of assault had his victim been willing to press charges, the investigators wrote.
Weeks after the punch was thrown, incoming Police Chief Michael Sliwinski urged the Town Board to fire Trapper, and the board did so last April. But in an example of how difficult it is to fire a cop, Trapper and his union filed a grievance and took the case to arbitration. The arbitrator ordered him rehired, albeit without back pay.
The Buffalo News recently obtained records of this case through a Freedom of Information Law request. For years, New York allowed police agencies to conceal the disciplinary records of their officers, who are granted extraordinary powers under state law. But state leaders reversed course in 2020, after nationwide protests erupted from the death of George Floyd at the hands of Minneapolis police.
Erie County Sheriff's Office Deputy Daniel E. Zlotek was suspended for seven days in 2019 after he ran the license plate of a truck he saw parked in his girlfriend's driveway on a police computer and confronted the owner of the truck, then-Buffalo Bisons baseball player Anthony Alford. 
In many departments, firing a police officer is never the last word. A termination typically results in an arbitrator evaluating the penalty and imposing the final outcome. In many cities, arbitrators return police officers in a significant percentage of cases. A Washington Post examination of 1,881 cases of termination from the nation's largest police departments found that 451 of the officers, or 24%, got their jobs back.
Stephen Rushin, an assistant professor at the Loyola University Chicago School of Law, wrote a study that discussed how appeals and arbitration take disciplinary decisions out of the hands of police administrators.
"Police officers deserve procedural protections to avoid arbitrary punishment," Rushin wrote. "However, in many police departments across the country, disciplinary procedures seem as if they are designed to insulate officers from democratic oversight."
In Trapper's case, the Cheektowaga Police Club took the position that while discipline was warranted, termination was excessive, explained Joseph L. Guza, the union's lawyer. The union based its position on, among other things, Trapper's otherwise clean disciplinary record and on the commendations he received during his almost 10 years with the department, Guza said.
According to records that just came to light, Sheriff Timothy Howard's internal affairs team concluded in 2018 that three corrections officers had been too friendly with women they met at the Erie County Correctional Facility in Alden. 
The union contended that other officers accused of serious wrongdoing in recent years had not been fired. Cheektowaga officers accused of driving while intoxicated, fighting in bars and disabling the GPS systems in their patrol cars had kept their jobs, according to evidence presented to the arbitrator.
"An officer with an exemplary record did not deserve to be terminated for an off-duty dispute with another officer," Guza told The Buffalo News. "The people of the Town of Cheektowaga are better served and protected with Sean Trapper as a Cheektowaga police officer."
Town Supervisor Diane Benczkowski did not return a telephone message seeking comment for this article, nor did Sliwinski, the police chief. At the arbitrator's hearing, the chief countered the union's contention that Trapper was a valued officer. He described Trapper as "average," a record shows, and said he could have complained about the sergeant to a lieutenant but instead inflicted serious injuries.
Arbitrator Jeffrey M. Selchick found nothing to justify Trapper's decision to use his fists. He "took a work-related incident and, rather than engage in any number of appropriate ways to address it, stewed over the incident for weeks and then became the aggressor in a confrontation with his supervisor," the arbitrator wrote.
Still, Selchick agreed with the union that Trapper had "satisfactorily discharged his duties" over a "sufficient period of time." If restored to his position, Trapper would "continue to take his place in a paramilitary organization and discharge his duties in a professional manner," Selchick reasoned.
Selchick decided Trapper should receive a serious penalty, but not the termination that the police chief laid down in April.
Selchick dated his decision Sept. 30. In it, he said Trapper had to be rehired within 15 days, but with no back pay. Trapper, who had been earning about $85,000 a year, went six months off the payroll.
Despite state action this summer opening up police disciplinary records through FOI requests, some area police departments are slow to provide documents that expose wrongdoing by their officers.
In response to a FOIL request, the Town of Cheektowaga provided a list of 105 internal affairs investigations conducted over the years, with one case dating back to 1997.  
The records show one officer resigned after a spate of disciplinary matters, and another retired as a result of his case.
The only lasting "termination" on the list involved Dominic Schwartz. The officer had distinguished himself in 2017 by helping subdue a heavily armed man who fired shots outside a Dollar General store. But the town fired him after investigators determined he'd been meeting up during the work day with a woman on the sex offender registry.
The record sums up his matter as "conduct which brings discredit upon the department."
Officer Trapper's temporary termination sprung from an episode on Dec. 26, 2019, according to the internal file on his case. That evening, the officer was parked outside Walden Galleria as part of a detail of about 10 officers who were to stand by for any disruptions caused by young people wandering the sprawling mall.
Later in the evening, Slawatycki tried to dispatch Trapper to another call away from the mall, according to records in the case file. Trapper balked, explaining he was on the mall detail, and so did two other officers there who Slawatycki tried to dispatch to the call, according to the arbitrator's summary of the matter.
Back at the police station, Slawatycki vented his frustration and, according to the records, called the officers "retards, call dodgers, and liars." (Slawatycki was later suspended for three days, the records show. He did not respond to a request for comment.)
Word of the sergeant's insults reached the officers involved, and on Jan. 14, 2020, Trapper asked Slawatycki if they could talk privately.
Trapper, Slawatycki and other Cheektowaga Police Club members who work the afternoon shift were gathering for their holiday party at the Route 78 Street Bar, a sports bar on Transit Road in Depew.
When Trapper and Slawatycki stepped outside, they did not see eye to eye on the events from a few weeks earlier, according to the internal report. Trapper asked the sergeant why he referred to him as a call dodger, and Slawatycki told him because he had dodged a call, the report says.
Slawatycki soon turned to go back inside, and Trapper told him not to walk away, according to the report. The sergeant walked back to him, with his arms at his sides and his palms open, and Trapper shoved him, according to the investigators' analysis of the video.
Slawatycki walked toward Trapper again, in the same posture, and Trapper swung at Slawatycki's face, the report said.
The sergeant told an internal investigator that he didn't remember being hit, though the next thing he knew he was on the ground chewing on part of his tooth. He later had a swollen face, a cut lip, a black eye and a cut to his chin that required stitches, the report said.
While Slawatycki didn't remember the punch, a video from the bar showed it, and, according to the investigative report, Trapper then grabbed Slawatycki by the neck and a shoulder and took him to the ground.