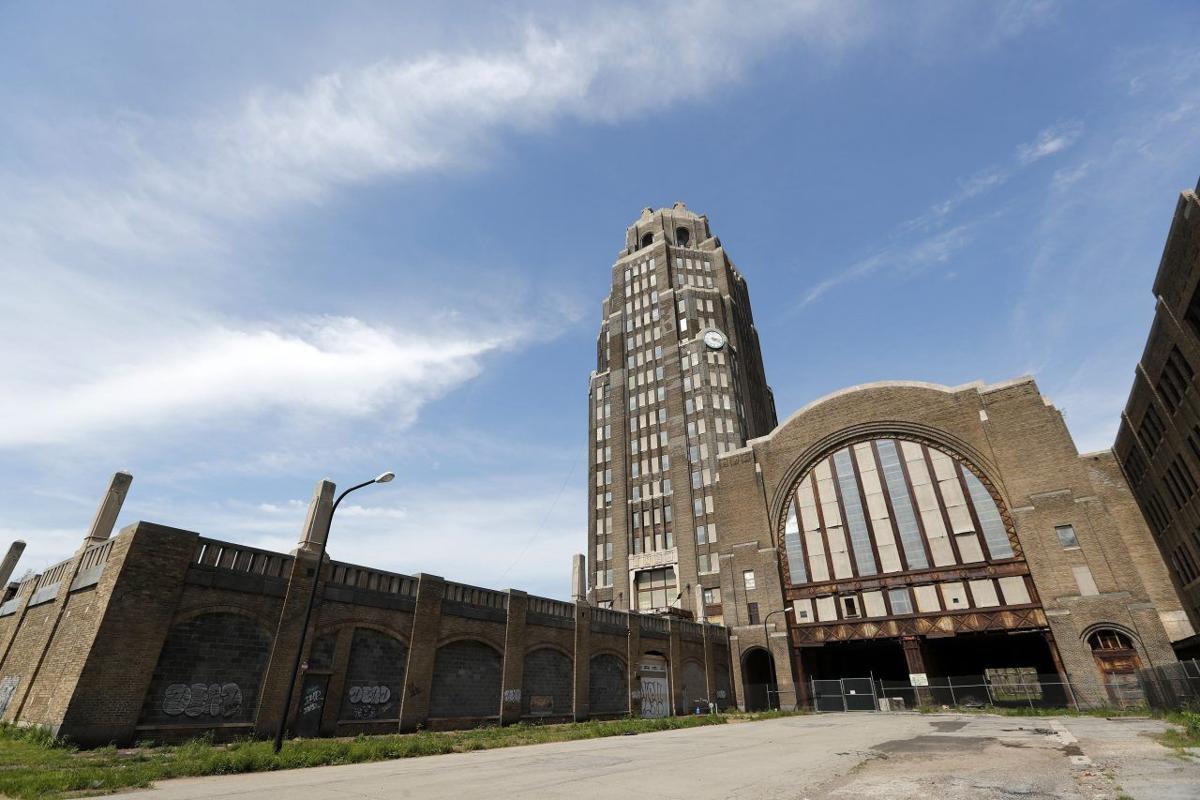 The Central Terminal in Buffalo is starting the first of its repair work on the historic East Side complex, in preparation for long-term plans to create a year-round event venue.
The Central Terminal Restoration Corp. is embarking on initial but critical repairs to the enormous former train station at 495 Paderewski Drive, focusing at first on replacing nearly all the flat roofs on the main concourse building, along with some fixing and repointing of adjacent masonry.
The work is "critical to beginning the long-overdue process of making the building weather-tight," said Scott Selin of CJS Architects, which is working with the nonprofit in designing the work.
Selin said the task involves reducing the roofs to their original substrate, and then installing either a dark gray roofing material that would be applied directly to the concrete deck – for those areas that are less likely to be occupied immediately – or a new membrane roof in those areas that are more likely to be reused in the near future.
Any original terra cotta roof tiles will be removed and stored onsite for future reuse, Selin added.
The planned work has been reviewed by the State Historic Preservation Office, and the city Preservation Board gave it a thumbs-up on June 11.
The 18-story terminal, which opened in 1929 and served more than 200 trains and 10,000 passengers daily at its peak, operated for 50 years until it closed in 1979. The nonprofit group acquired the site in 1997, and began restoration, cleaning and abatement work, and began hosting some events, but the building has still sat largely unused.
The ULI recommended converting the building into a regional event center, upgrading and using the spaces in the main concourse to operate all year – including the former waiting room and restaurant areas, as well as a seasonal terrace.
Noting the prominence and importance of the Central Terminal to the area around it, the panel also said the venue would have to appeal to a "diverse, multiethnic clientele," including residents of the surrounding Broadway-Fillmore neighborhood.
Suggested ideas for new programs included concerts and performances, galas and holiday parties, raves, town hall gatherings, weddings and catered events, business meetings, art shows, movie screenings, festivals, food stalls and other "wacky events."
Pellegrino-Faix said the nonprofit organization has spent much of the last year developing its plans, and is also embarking on neighborhood discussions.
The first phase will involve the 8,000-square-foot restaurant space, which the nonprofit would bring back to the Preservation Board for prior approval, she said.