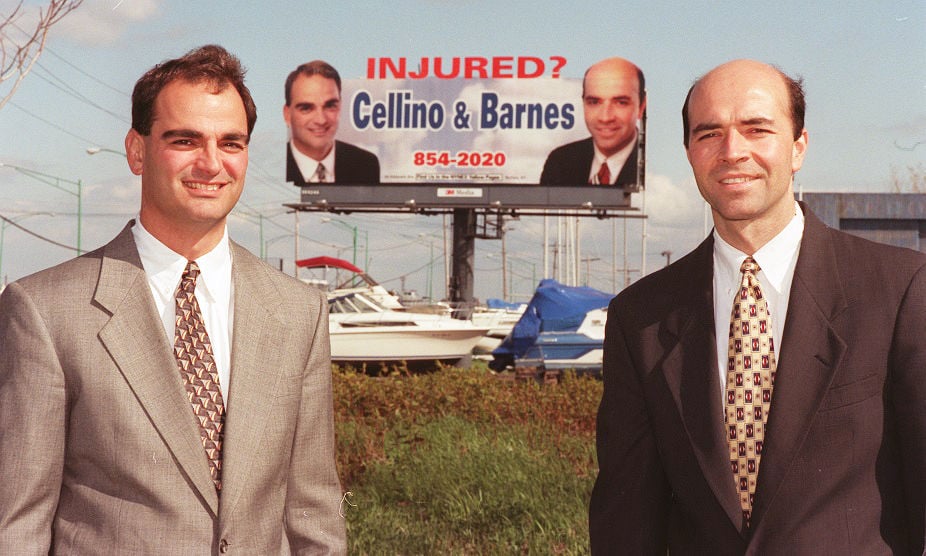 Remember the happier days of Ross Cellino and Stephen Barnes? The personal injury attorneys perfected the jingle, with their inescapable string of eights that seemed to play during every commercial break (and before that, the somehow memorable 854-2020).
Everyone from The New York Times to The Cut to Barstool Sports wrote about the breakup and court battle. (Buffalonians aren't the only ones subjected to the Buffalo-based firm's jingle or billboards.) In 2017, The News' Dan Herbeck reported that Barnes accused Cellino of trying to burn their firm "to the ground."
"Cellino v. Barnes," a comedic play written by and starring Buffalo native Mike Breen, along with David Rafailedes, is based on "the hearsay from family and friends" surrounding the breakup, Herbeck reported earlier this year. The duo originally performed their two-man show in Buffalo (Alleyway Theatre), L.A., Chicago and another theater in Brooklyn.
While both Cellino and Barnes told Herbeck they had not seen the play as of May ("Plays are not really my thing," Barnes told Herbeck), they'll have another chance Aug. 3 at The Bell House in Brooklyn.
The play's description says the show goes all the way "back to where it all began, the beginning" to figure out "what the fuzz happened to those two."
Tickets cost $10 in advance and $12 at the door. The play begins at 7:30 p.m., Aug. 3, at The Bell House, 149 7th St., Brooklyn.