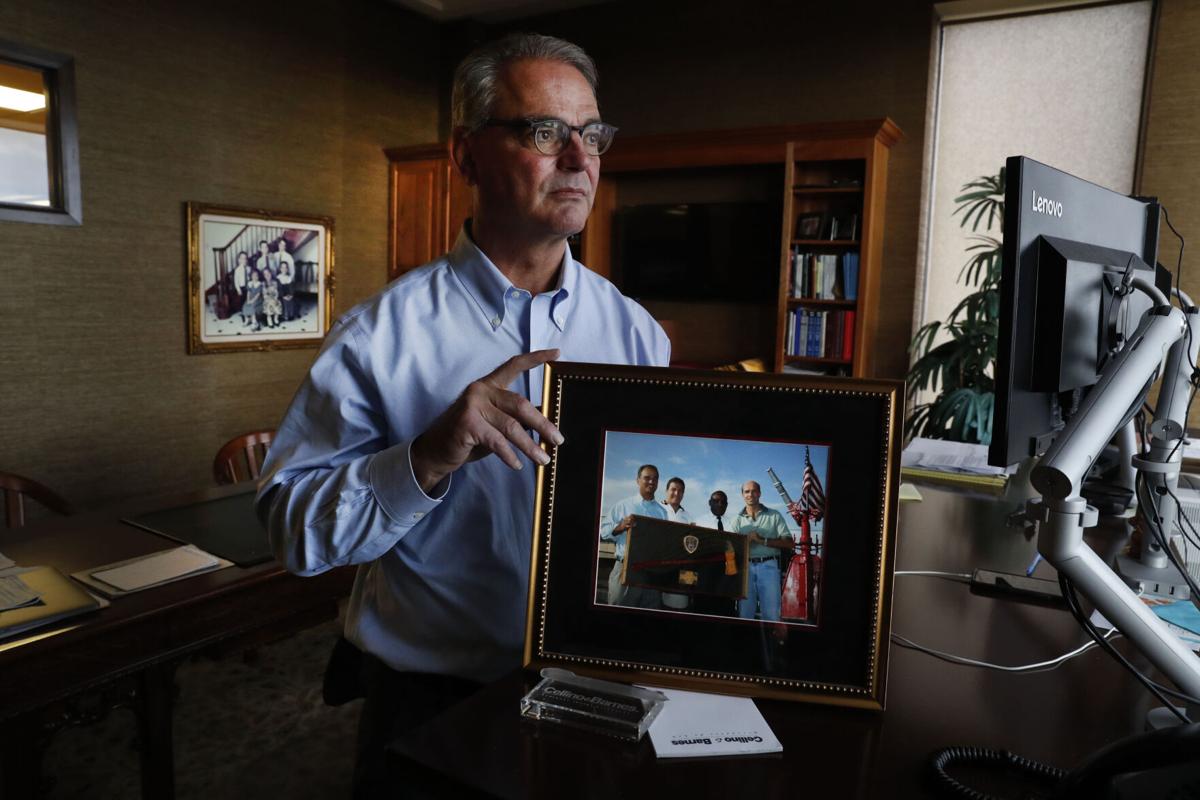 Today should have been an absolute blast for Buffalo attorney Ross M. Cellino Jr.
A huge advertising blitz was planned to coincide with the launch of his new law firm, Cellino Law. He was excited at the challenges ahead and the prospect of working with two of his daughters and 32 other personal injury attorneys.
Instead, it will be a somber day, as Cellino and his colleagues continue to mourn the death of Stephen E. Barnes, who founded the Cellino & Barnes firm with Cellino. Barnes and his niece, attorney Elizabeth Barnes, were killed in a plane crash in Genesee County on Oct. 2.
Cellino Law and the Barnes Firm – which would have been headed by Barnes – will open soon, but for now there will be no fanfare, no advertising blitzes.
"I spoke to the guys who will be running the Barnes Firm, and we all agreed that our launches will be put off until another date that we all agree on," Cellino said after he was contacted by The Buffalo News on Thursday. "This is a time to remember Steve and Liz. I still can't believe this happened. It's heartbreaking, totally devastating."
The past week has been a strange, sad and unsettling time for the 63-year-old Cellino. After working closely together for 25 years, he and Barnes got into a nasty and very public feud that lasted three years. Cellino's bid to break up the business partnership ended in his favor earlier this year, when he and Barnes agreed to start their own law firms.
Oct. 9 – today – was chosen as the launch date for the two firms.
"It's funny how all the crap that Steve and I went through over the past three years – all the posturing, arguing and insults – just disappeared from my mind when his plane crashed," Cellino said. "We argued very aggressively against each other in court, that's what lawyers do. But now that he's gone, all I can think about is the good times, all the milestones I passed with Steve.
"Despite everything that happened over the past three years, I always have considered him a friend, almost like a brother. I respected Steve Barnes. He was a great lawyer. He was my friend and partner for 25 years, someone I spoke to almost every day. We built something together, we analyzed and tried cases together, we helped our clients. I'm very proud of what Steve and I accomplished."
Their partnership made the two men millionaires, many times over. According to documents filed during their bitterly fought case in state court, Cellino and Barnes each made more than $1 million a month, even after their dispute became public knowledge.
And in their own weird way, Cellino acknowledged with a laugh, he and Barnes became celebrities together.
Their saturation advertising – from billboards to TV commercials – made them two of the most familiar faces in Western New York. They also had a national following, largely because of all the marketing they did in New York City and Los Angeles.
"When Steve and I would walk down the street together, people would come up to us, ask if they could shake our hands, ask for autographs. We'd pose for pictures with them," Cellino said. "Steve and I never minded it. It was fun. We got a kick out of it. ... How many personal injury lawyers get to have jokes made about them on 'Saturday Night Live?' "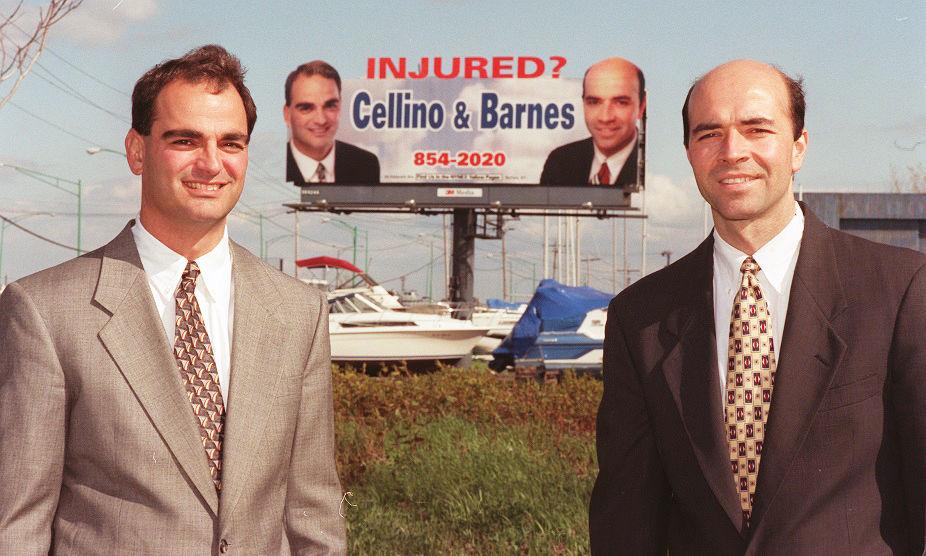 One of Cellino's favorite memories is the night in 2002 when he and Barnes briefly appeared on a University at Buffalo stage during a show featuring comedians Jimmy Fallon and Robert Smigel and a puppet called Triumph the Insult Comic Dog.
When Triumph threatened to sue Cellino & Barnes for putting so many commercials on the air, Barnes fired back: "You can't sue anyone. You're a (expletive deleted) dog."
"When Steve made his remark, the whole place erupted with laughter," Cellino recalled. "I told Steve, 'You got the biggest laugh of the night.' "
While acknowledging that marketing was a big part of Cellino & Barnes' success, Cellino said there was another, more important factor.
"Steve and I talked a lot about marketing, but we both agreed that the most important thing was doing good work for our clients," Cellino said. "We assembled a great team of attorneys. How many personal injury firms can say they got $2 billion in verdicts and settlements for their clients?"
Cellino said he wishes good luck to the Barnes Firm, which will continue on with Barnes' brother, Richard J. Barnes, Robert J. Schreck and other partners.
"My heart breaks for Rich Barnes, because he lost not only his brother but his amazing daughter in that plane crash," Cellino said. "I cannot imagine what he's going through."
Cellino said he is excited that two of his daughters – attorneys Annmarie Cellino and Jeanna Cellino-Pignataro – will be working with him in his firm.
"In my early days as a lawyer, I was lucky enough to work for my father," Cellino said. "Now I look forward to working with my daughters."
While he said he's not sure when the advertising campaigns will begin for his firm and the Barnes Firm, Cellino said people in Western New York will see plenty of ads and commercials.