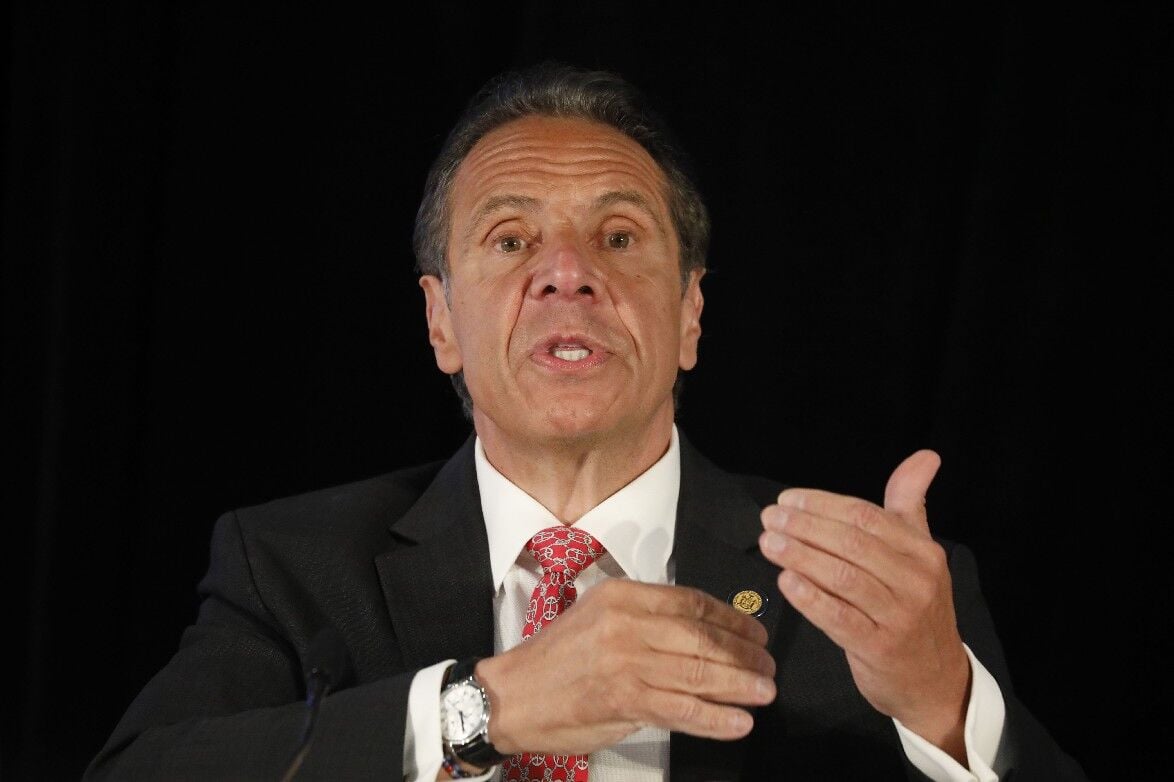 Thursday's announcement from the U.S. Centers for Disease Control and Prevention, ending the government's recommendation about mask-wearing, indoors or out in most cases, for fully vaccinated people, was no big deal in the 26 states that already had scrapped most of their Covid-19 restrictions.
It was somewhat important in the 16 states that had set dates or criteria for ending pandemic rules.
But in New York, one of the eight states that has done neither of those things, the CDC left Gov. Andrew M. Cuomo with a decision to make.
The CDC's announcement seems to undercut Cuomo's policy of mask mandates, social distancing and capacity controls even for fully vaccinated people.
For instance, the CDC's new guidance makes Cuomo's Wednesday statement, requiring masks for baseball fans attending Toronto Blue Jays games at Sahlen Field whether they are vaccinated or not, appear outdated.
"He has erred on the conservative side. I think we can all agree on that. He's been more conservative than most states, but he has embraced CDC recommendations," said Dr. Thomas Russo, chief of infectious diseases for the University at Buffalo Jacobs School of Medicine and Biomedical Sciences.
Cuomo's office Thursday evening said it was reviewing the new CDC guidelines along with nearby states.
"In New York, we have always relied on the facts and the science to guide us throughout the worst of this pandemic and in our successful reopening," Cuomo said in a written statement. "We have received the newly revised guidance from the CDC regarding mask wearing and social distancing for those with vaccinations and are reviewing them in consultation with Dr. Zucker and our partners and health experts in surrounding states."
Several local health directors said they are ready to roll back more rules for those who are vaccinated if the state gives the go-ahead.
"I think it's time to move forward with opening things up, as long as you can ensure a certain level of safety," said Daniel J. Stapleton, Niagara County public health director.
"I think it about time. It's a benefit for those who have gotten vaccinated, to know that they can feel safe to walk about without a mask," Dr. Kevin Watkins, Cattaraugus County health director.
He noted that it's still possible to contract the coronavirus after vaccination, but its effects are generally much less severe.
"We still have to maintain the cautionary measure in our minds when we're out and about, because you do not know who might be carrying the virus," Watkins said.
Wednesday in Buffalo, Cuomo was unmoved when asked to explain why he wasn't taking more steps toward reopening, or at least setting criteria for doing so.
"It's just a goal. It's not based on anything. I do it the other way. I say, you look at the numbers every day. We'll decide what to do today on today's numbers," Cuomo said.
"I mean, I don't know what could be more transparent or without theory or opinion, you know. Frankly, I don't like when these politicians get up and say, 'Well, I'm planning in September that we're going to reopen because the numbers are going to be low.' How do you know what the numbers are going to be in September? What basis do you have for that?" Cuomo asked.
He then went on to slam some past statements by federal officials about the pandemic.
"When we started, 'Don't wear a mask. It's unnecessary.' When we started, 'It's going to be over by Easter.' When we started, 'Oh, it gets transferred from surfaces.' They've been wrong more than they've been right. So it's not a criticism. It's just a fact. So I don't believe in prophesying, 'cause it's a guess," Cuomo said.
Although Cuomo, in an appearance in the Bronx Thursday, bragged about the state's positive Covid-19 test rate falling to 1%, he said nothing about when he will leave behind the era of face masks, social distancing and capacity regulations.
To be sure, earlier this month, he made some movement in that direction.
On Wednesday, most percentage-based capacity restrictions will be lifted, as long as people can maintain 6 feet of distance. But the indoor mask mandate remains in force.
"I still have misgivings in indoor settings, even with our cases down, if individuals are unvaccinated, because I think this virus is going to continue to percolate in our communities, probably with seasonal decreases," said Russo, who thinks unvaccinated people should wear masks.
"Those individuals pose a risk to others, particularly those that are compromised and may not have optimal protection," Russo said.
Among the 16 states that are planning to fully reopen, some have simply set dates so businesses can prepare. Others have set targets that must be met, generally pegged to the number of people vaccinated or the Covid caseload.
"Fully vaccinated people can resume activities without wearing a mask or physically distancing, except where required by federal, state, local, tribal, or territorial laws, rules, and regulations, including local business and workplace guidance," the CDC announced.
That puts the ball in the court of the governor, who has set New York's pandemic policies for the past 14 months.
"Totally unmitigated opening up of a state is still going to pose risks at this point," Russo said. "That may change in a year or two when enough people are vaccinated or have been infected and we don't have concerns about variants that can circumvent immunity."
In the meantime, Erie and Niagara counties both announced Thursday that their vaccination clinics offering the Pfizer vaccine will be open to 12- to 15-year-olds, in line with federal approval of that brand for adolescents, a measure Cuomo quickly adopted.
"I think his objective is to protect New Yorkers to the greatest degree possible from Covid. That's what his rationale has been," Russo said.
"I don't know what the state will do," Stapleton said of the next moves. "I just know that when the state gives us the criteria and the direction of what we need to do, we've always been prepared to do that immediately."