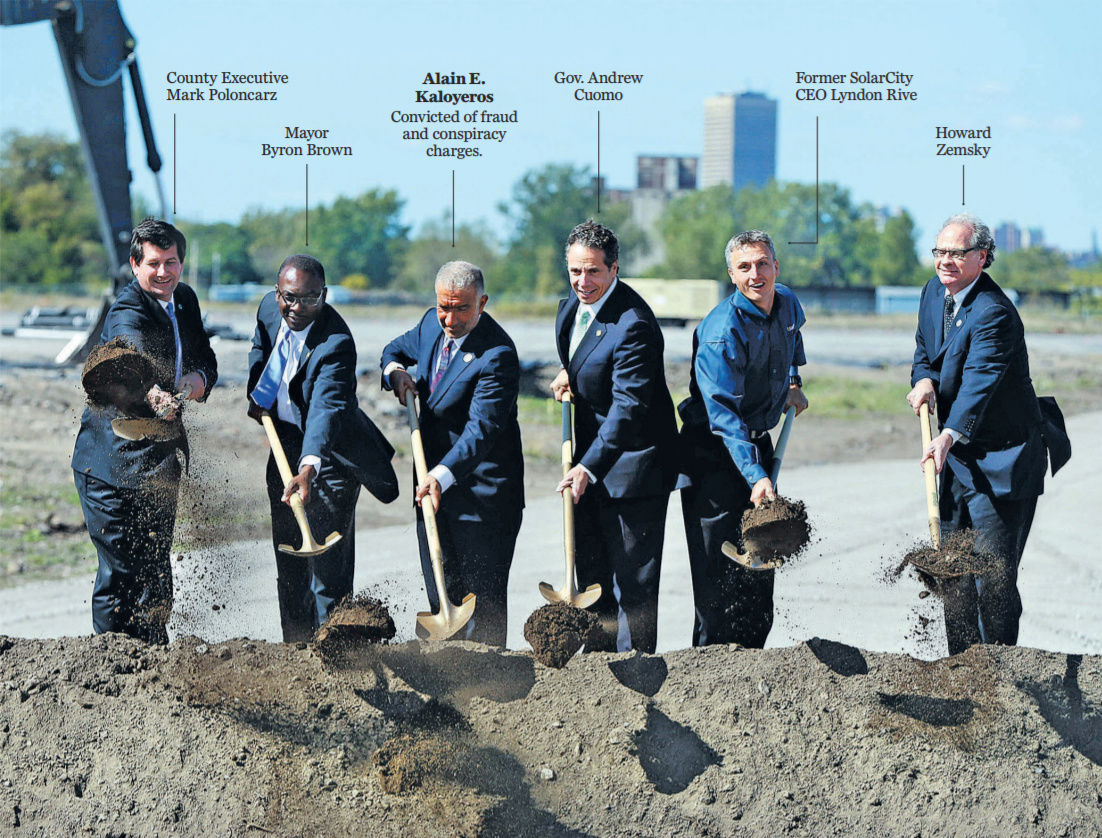 The federal conviction of Louis P. Ciminelli on wire-fraud charges could create more caution on the part of contractors in dealing with government bidding, leaders from various companies said Friday.
The local developers and contractors said the jury verdict — along with testimony from the four-week Buffalo Billion trial that included emails and witness statements about what happened behind the scenes before LPCiminelli won the RiverBend contract — may leave companies more wary about engaging in public-sector work.
"It's going to have a chilling effect on business," said developer Rocco Termini, owner of Signature Development Buffalo. "You can't talk to anyone anymore. If you do, you're immediately going to be accused of some sort of collusion."
Termini acknowledged some companies will likely still bid because "that's their bread and butter, so they're not going to shy away from it." But he and others said they could be more careful to avoid actions that in the past might have been more routine, including lobbying and communications with government officials.
"People are going to take a step back and pause before considering bidding on work like this," said James Swiezy, chief executive officer of Greenleaf Development. "The protocol, if you're bidding on state work, you have to be extremely careful on the process."
"Everybody tries to be as cautious as they can, but you can probably expect a little more rigor to be involved in the process of identifying firms to be part of projects," agreed developer Samuel Savarino, who declined to comment further because he is a first cousin of Ciminelli.
Others said the charges and guilty verdict represent a more unique or isolated situation — and not one that's going to have ripple effects on others.
"It was a very large-scale project. I don't think it affects the industry as a whole," said developer Mark Croce. "I don't think there's many people with the depth of capability to take on a project of that size."
The competitive landscape has changed dramatically with the expected loss of LPCiminelli, the general construction company that Ciminelli owned and ran until he was indicted.
Originally formed in the 1950s by Ciminelli's father — as the Frank Ciminelli Construction Co. — it later morphed into LPCiminelli and became the region's dominant general contractor, particularly for infrastructure and large-scale projects.
However, that firm's reputation and business were already heavily damaged by the investigation and indictment itself, and officials have already largely wound down its operations.
Current LPCiminelli CEO Kyle Tuttle and Senior Vice President John A. Ciminelli — Louis's younger brother — did not respond to requests for comment.
Developers and contractors said the company was dealing with sophisticated projects on such a large scale there were few, if any, other players engaged in that business who were positioned to compete.
"This was a $750 million deal. How many of those are going around town?" said Swiezy, who used LPCiminelli to build the Campus Walk student-housing project next to Buffalo State College. "I don't think the day-to-day, average construction guy or developer is going to be up against a situation like this."
The firm's demise has created a void at the top that is now being filled by out-of-town players, including from Rochester.
"It certainly cuts down on the competition in this area, and you're going to see prices going up because we don't have a major contractor here in Buffalo any longer," Termini said.
Louis Ciminelli's son, Frank Ciminelli II, split off and started his own construction management company, Arc Building Partners, to focus on private-sector projects, taking much of LPCiminelli's staff and business with him.
"Arc is a fantastic company," Swiezy said. "Frank is a very smart and sharp construction professional. I'd work with him in a heartbeat."
But Arc won't compete in the same public-sector arena LPCiminelli did.
"It has been a difficult few years for Frank and his family, and he is obviously very disappointed and upset with the verdict," said Matt Davison, a spokesman for Arc. "With that said, it's important to note that this outcome will not have any impact on Frank's own company, which is a totally separate entity and not at all affiliated with the incident."
Also separate is Ciminelli Real Estate Corp., the development firm that spun off from the original construction company in 1981, now run by CEO Paul Ciminelli — Louis' other brother.
But that company is a real estate developer, not a construction contractor, so it also would not bid on the major jobs LPCiminelli did.
Spokeswoman Anne Duggan at Ciminelli Real Estate Corp. declined to comment.
Rev. Kirk Laubenstein, executive director of the Coalition for Economic Justice, said he hopes the trial's outcome will change the way big, publicly funded projects are awarded in the future.
But, he said, that depends on changes implemented by the governor and legislature.
"(The verdicts send) a pretty clear message to the development community within state government, 'Don't do this,' " he said. "But it's hard to change a culture, especially when it seems as though it's been very much a part of state government for a long time now."
Calling the bid-rigging scheme "awful," Laubenstein added, "The Buffalo Billion was touted as this amazing opportunity to really rebuild our city, and now it has a pretty dark stain on it."
News Business Reporter Matt Glynn contributed to this report.